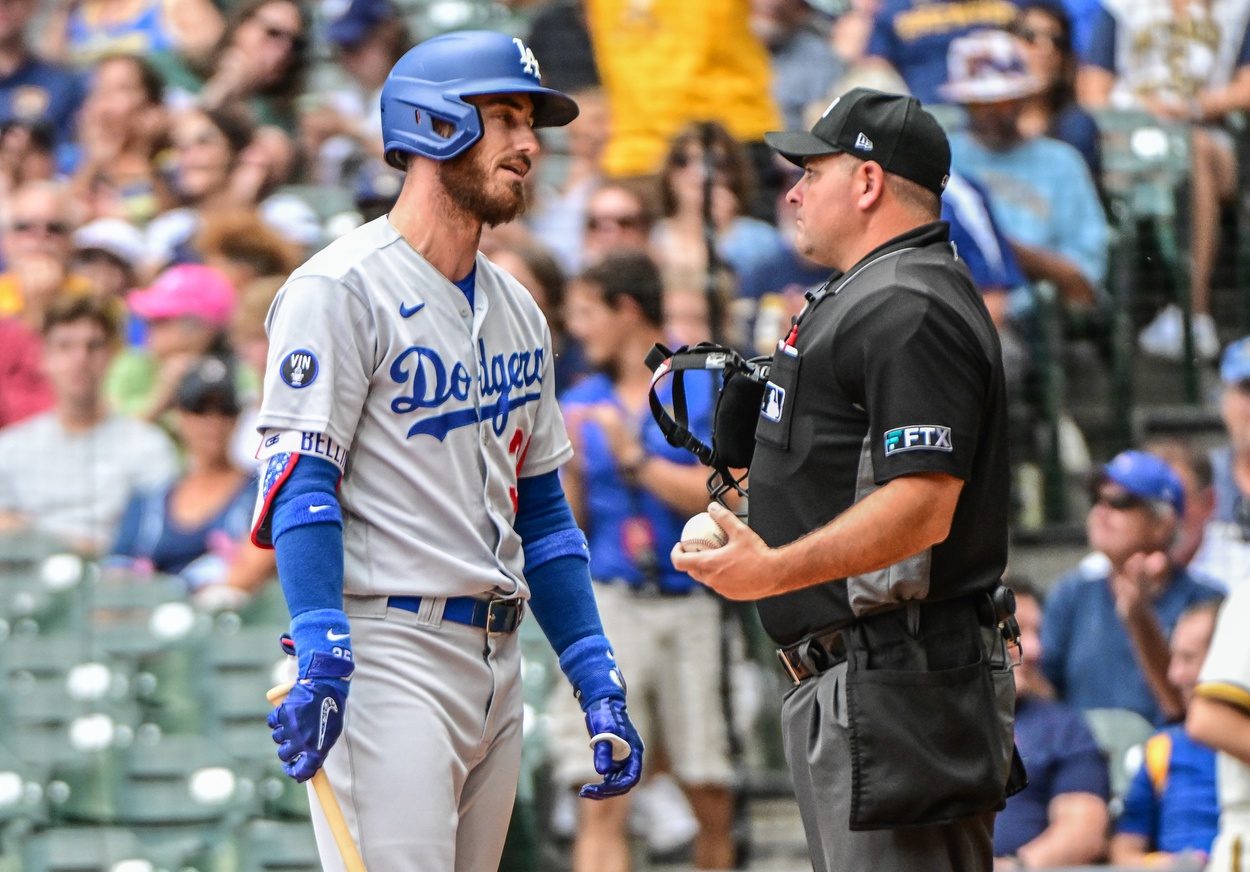 Dodgers Team News
Cody Bellinger News: As Dodgers Decision Looms, We're Reminded About Former MVP's Struggles
Friday is the deadline for MLB teams to officially "tender" contracts to players who haven't yet reached free agency. (Yes, November 18 is the only day of the year anyone still uses "tender" as a verb meaning "to offer or present formally.") For the Dodgers, there are plenty of easy decisions. Should they keep Will Smith and Evan Phillips? Sure, why not.
But there's a much more difficult decision coming on Friday, and that's whether to bring back Cody Bellinger. Bellinger was the 2017 Rookie of the Year when he hit 39 homers and the NL MVP in 2019 when he knocked 47 dingers with a 1.035 OPS.
Things went downhill from there. Bellinger started 2020 very poorly, posting a .489 OPS through the first 20 games of the shortened season. But he hit .284 with a .960 OPS the rest of the way to finish the year with a respectable 112 OPS+. It was a huge step back from his MVP season, but he ended on a high note (including some big hits in the postseason) so there was cause for optimism.
One of those huge postseason hits might have derailed his career, though. After hitting what ended up being the game-winning homer in Game 7 of the NLCS, Bellinger and former teammate Kiké Hernandez celebrated too exuberantly, resulting in an injury to Belli's right shoulder that required offseason surgery.
Then, just five games into the 2021 season, Bellinger suffered a freak leg injury after being kicked by A's pitcher Reymin Guduan as he legged out an infield single in the ninth inning of a 10-3 Dodgers win. Bellinger missed 46 games with a fractured leg, the first of three injuries that season.
From the time he returned in late May through the end of the 2021 season, Bellinger batted .162 with a .534 OPS, finishing the year with a .542 OPS (44 OPS+) and headed into the offseason hoping a healthy winter would help him get back on track.
Then the lockout hit, and while Bellinger was healthy, he didn't have access to the Dodgers' facilities or their coaches, so when the season started in April after a shortened spring training, Bellinger was still trying to figure things out at the plate.
He didn't.
The 2022 season was better than 2021, but that's like saying getting hit by a Hyundai Santa Fe is better than getting hit by a Chevy Suburban. Bellinger batted just .210 with a .654 OPS in 550 plate appearances in 2022. He was benched in mid-August for a "reset," but he had a .654 OPS before the reset and a .654 OPS after the reset, so it didn't really do much. After the reset, he took more walks but hit fewer homers, and it all evened out to finish off a lousy season.
In the NLDS, with the Dodgers trailing two games to one and their season on the line, Bellinger was benched for Game 4 despite the Padres sending a right-hander to the mound. It was the low point for a three-year span that has had some pretty low points.
Now, Los Angeles is faced with a tough decision. Bellinger has been working with their coaching staff over the past few weeks in Arizona, trying to get back to form offensively. The Dodgers don't need Belli to be the MVP he was in 2019, although it would be nice. In 2018, he posted a 120 OPS+, which would be outstanding when combined with his excellent defense in center field.
It's hard to let an elite talent walk away at just 27 years old. No player has ever won a Rookie of the Year and an MVP and then been non-tendered before reaching free agency naturally. But it's also hard to pay $17-18 million to a guy who has been 36 percent worse than the average hitter over the last two seasons.
That's the decision the Dodgers face, and no matter what they do, it will be Bellinger's play on the field in 2023 that decides whether they got it right.
Have you subscribed to our YouTube Channel yet? Subscribe and hit that notification bell to stay up to date on all the latest Dodgers news, rumors, interviews, live streams, and more!