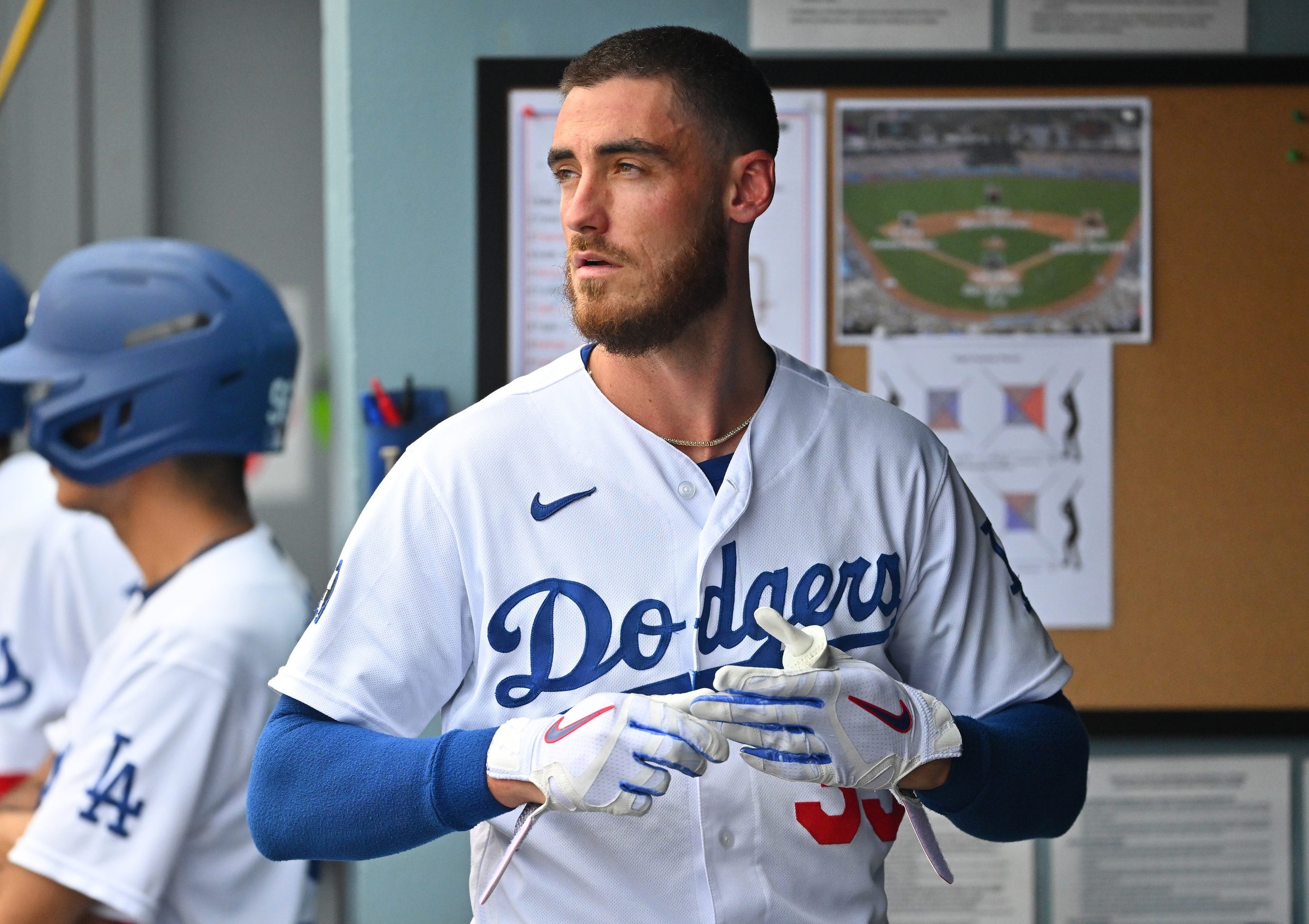 Dodgers Team News
Cody Bellinger News: The Dodgers Face a Big Question on Former MVP This Week
This week could bring a momentous day in Dodger history. Heck, in baseball history. There has never been a case of a player winning a Rookie of the Year Award and a Most Valuable Player Award and then being non-tendered by his team before qualifying for free agency. Could Cody Bellinger be the first?
Bellinger burst on the scene in 2017 with 39 homers and a .933 OPS to unanimously win the Rookie of the Year. Two years later, he mashed 47 taters and posted a 1.035 OPS to win the NL MVP.
Then the wheels came off. After a down year in the shortened 2020 season, he suffered a shoulder injury when he celebrated his game-winning home run in Game 7 of the NLCS too exuberantly, eventually having shoulder surgery after the Dodgers' World Series victory. His 2021 season was hampered by multiple injuries, including a fractured leg early in the season, and his OPS+ for the season was 44, meaning he was 56 percent worse than league average. The 2022 season was better, but it was still very bad, with a 78 OPS+ in a healthy season.
As Bill Plunkett writes in the Orange County Register, Andrew Friedman and the Dodgers face an unprecedented decision whether to offer Bellinger a contract in his final year of arbitration eligibility. He stands to make about $17 million in arbitration if they do.
The Dodgers agree that the shoulder surgery that followed the 2020 World Series could have changed Bellinger's strength and range of motion in the front side of his swing. The hairline leg fracture he suffered in April 2021 also seems to have affected the way he uses the lower half of his body during his swing.

And last year's lockout prevented the Dodgers from working with Bellinger on his strength or his swing during the offseason. That isn't the case this year and Friedman said Bellinger has been "talking through things" with the team's hitting coaches as well as the strength and performance staff.

"I think it's always easier in the offseason than it is in season," Friedman said. "In an alternate universe of no lockout last year, would it have played out differently? I don't know the answer. But at least do as much as we can over the offseason. His desire and willingness to attack it is not a question at all in my mind."
Fans (and pundits) have had a perception of Bellinger as lazy and/or unwilling to make adjustments, but recent statements from Friedman suggest the team doesn't see things that way. Between Bellinger's talent level and the underlying circumstances of not having a regular offseason last year, it has to be tempting for the Dodgers to just bite the bullet and give it one more shot with him. One way or another, we'll have a better idea by Friday, the deadline for the team to decide whether to tender him a contract offer.
Have you subscribed to our YouTube Channel yet? Subscribe and hit that notification bell to stay up to date on all the latest Dodgers news, rumors, interviews, live streams, and more!