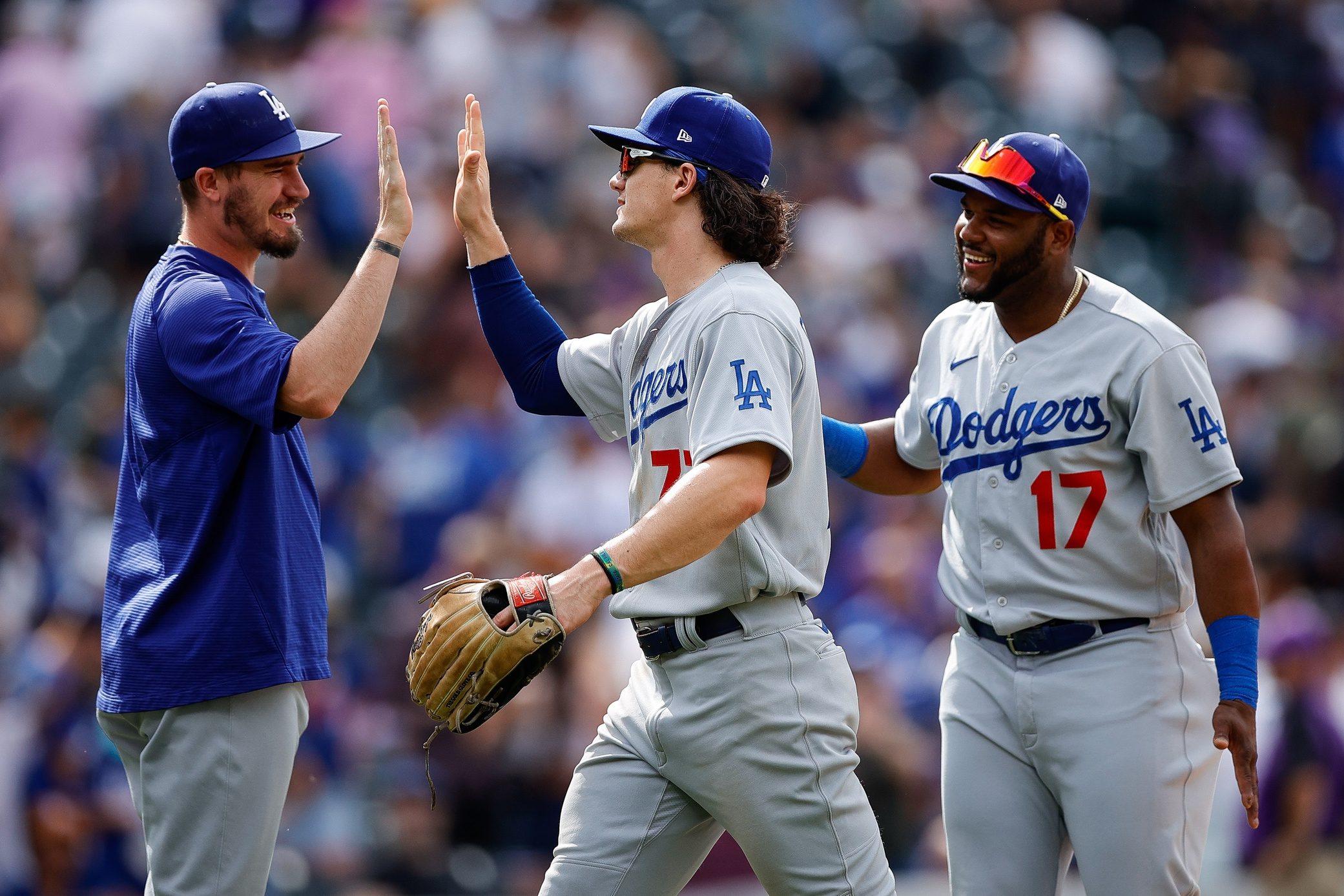 The Dodgers are having a "youth movement" of sorts, so a lot of the main storylines this spring are going to revolve around young players. Not all of those young players are prospects, of course — a huge story will be how Gavin Lux handles shortstop defensively, for example — but plenty of them are. So while we could make a list of 10 prospects to watch this spring training, we'll limit it to three here.
James Outman
Outman is a little obvious, but he's one of the biggest storylines coming into the spring. While fellow rookie Miguel Vargas has his role as LA's starting second baseman laid out for him, Outman will be battling to earn a starting spot in the outfield. That's actually two parallel stories, too: Can Outman earn a starting job? And if so, at which position?
Center field is open, and that's where Outman has played in the minors, but scouts are split on whether he's a big-league center fielder defensively. His best chance at a starting job would be to dominate in center, because the team has a lot more guys who can play left than center. And of course, he needs to hit.
Michael Busch
Busch is one of those options to play left field, and with Los Angeles deciding second base is Miguel Vargas's to lose, left field might be Busch's only chance. He's played second, first, and left, and two of those are locked down.
Busch's bat seems mostly MLB ready, but right now it seems likely he'll start the season in Triple-A and come up if and when someone gets hurt. But he could play himself into a role with a hot spring; he could also play himself into headlining a trade to a team with more playing time available. There are a lot of options with Busch, which makes him a fascinating player to watch this spring.
Jonny DeLuca
It's very unlikely DeLuca will break camp with the big-league team. He hasn't played above Double-A, and he was just added to the 40-man roster this winter.
But he is on the 40-man roster and he played very well at Double-A (.965 OPS in 119 plate appearances), so it seems pretty likely he'll see time in the big leagues at some point in 2023. In most seasons, nearly everyone on the 40-man ends up seeing time in the majors; 2022 was an exception because they had lower-minors guys like Jorbit Vivas and Eddys Leonard on the roster. This year, Vivas and Leonard still might not be ready, and top prospect Diego Cartaya is unlikely to play in the big leagues this year. But DeLuca and Andy Pages (and Busch, if you count him) are the only minor-league outfielders on the 40-man roster, so if someone gets hurt, it could be DeLuca time. For that reason alone, he'll be fun to watch this spring.
Again, we could have made this list three or four times as long. Cartaya is always fascinating. It will be interesting to get an eye on Pages' defense and see if it's as bad as some scouts say. Vargas's 2B defense will be a story. And we didn't touch on any of the pitchers, although I'm about to sit down and write about three pitchers to watch in spring training, and I suspect a prospect or two might pop up on that list.
Spring training will be more interesting that usual for the Dodgers, and that's exciting.
Have you signed up for the Dodgers Nation newsletter yet? Get the latest news, rumors, highlights and more right in your inbox every day! Keep up to date on every single thing involving your boys in blue!