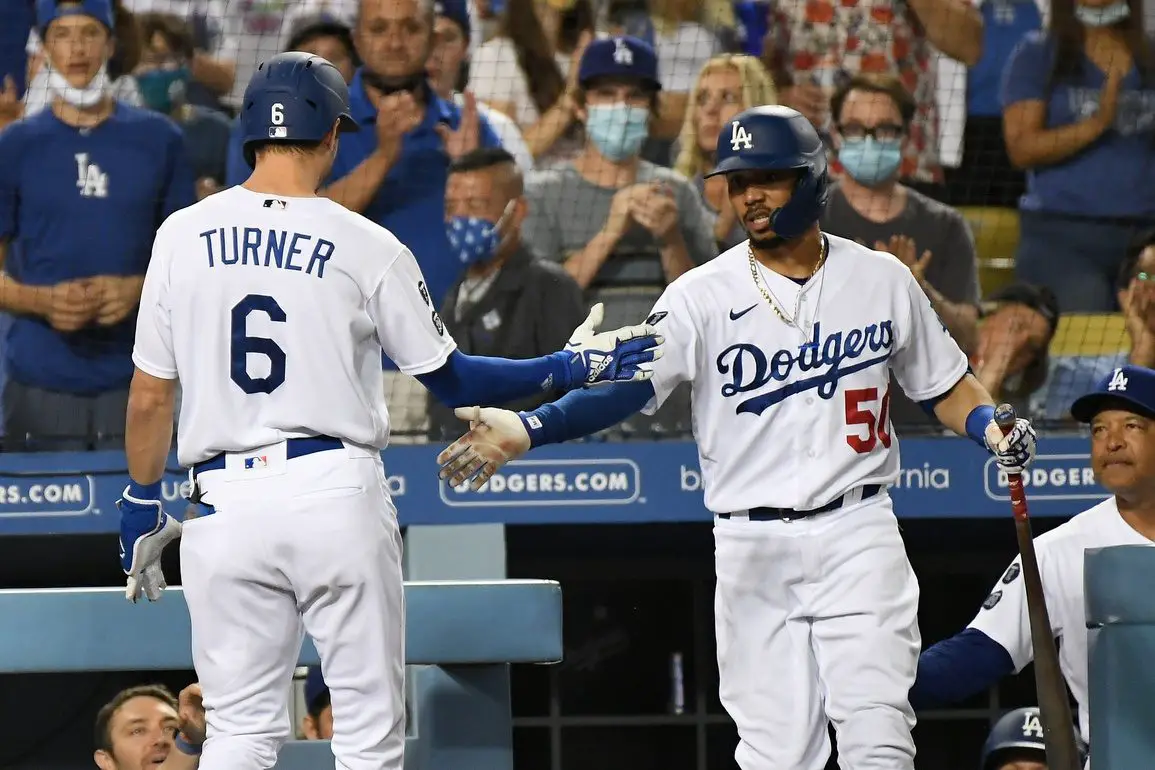 The Dodgers are absolutely loaded with talent this year. Following a 2021 season in which they were expected to lose out on some of their key free agents, Andrew Friedman somehow found a way to make this team even better. That included adding at least one top talent via free agency following the lockout. 
But when you look at the construction of this lineup, it's absurd what sort of potential the Dodgers have. MLB released their list of the Top 50 players in baseball right now. And as you might have guessed by now, a lot of them play out west in Los Angeles. 
The Dodgers had 6 players break the top 50 list and 11 players break the top 100. That's pretty impressive for an organization that was supposed to take a small step back with all of the names they missed out on this offseason. 
Mookie Betts – #6
With so many injuries during the 2021 season, Mookie dropped down a bit from his number 2 spot after 2020. But the Dodgers are hoping that he can stay healthy and return to his form, with Dave Roberts suggesting that he will be in the NL MVP conversation again.  
Freddie Freeman – #9
The big-ticket item this offseason, Freddie completely changes up the dynamic of this Dodgers lineup. He provides plenty of pop with the ability to hit for average and move runners over. He should thrive in this lineup while being surrounded by other big bats, meaning opposing pitchers are going to have to be aggressive with their approach to him. 
Trea Turner – #13
Trea will likely slide back to the third spot in the lineup with Freddie in there now. That's a comfortable spot for him, and one where he thrived with Washington. While we probably won't see him stealing bases as often as last year, Trea is lined up for a huge season in his final year before free agency.  
Walker Buehler – #17
Butane is lined up as the ace of the staff for the 2022 season. He has been that guy for a little bit now, but him getting the Opening ay nod is a bit of a passing of the torch in that sense. He jumped up all the way from the 40 spot the year prior and making a Cy Young push should not be out of the question for him. 
Max Muncy – #35
There were plenty of concerns about that injured elbow after a UCL tear for Muncy to end his 2021 campaign. Dave Roberts and the staff have insisted that he will be ready to go immediately, but his Spring Training numbers have to be a slight concern. But if he's healthy, Max is good for 35 homeruns and a lot of walks, which will be huge for this roster.
Julio Urias – #49
A 20-game winner in 2021, Urias reminded everyone just how much of a weapon he can be for the Dodgers. He's lined up to be their number 3 starter for the year behind Clayton Kershaw and Walker Buehler. 
Dodgers: Bay Area Radio Personalities Refuse to Attend LA-Giants Games This Year