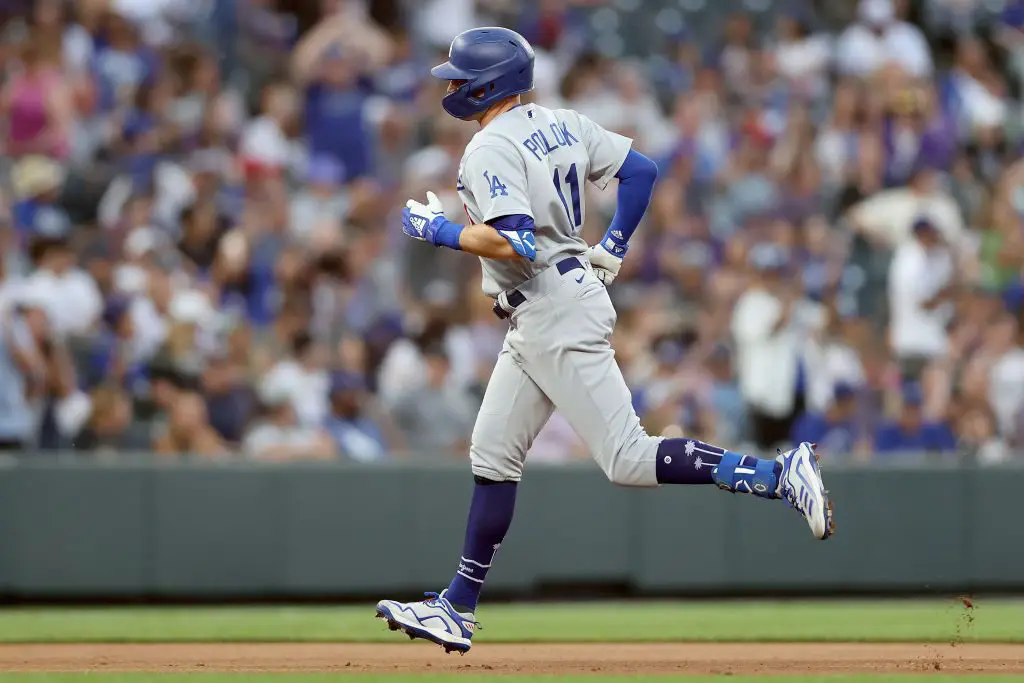 Dodgers Team News
Dodgers: AJ Pollock Ranked as a Top Tier Left Fielder by MLB Expert
Dodgers diehards have a lot of strong feelings about certain players. Outfielder AJ Pollock has been a decisive topic for some fans since signing with the Dodgers in 2019.
ESPN's Buster Olney ranks Pollock as a top ten left fielder entering the 2022 season.
"Even in a season in which he was sidelined by injury, Pollock had the highest OPS+ of his career, at 137, with a .297/.355/.536 slash line."
AJ's Last Two Years by the Numbers
Pollock's successful 2021 campaign came on the heels of a very productive 2020 season. Pollock tied superstar Mookie Betts for the most home runs on the team with 16 dingers during the 60-game season. He also had the second highest slugging percentage (.566) behind former Dodger Corey Seager (.585).
In 2021, Pollock was third in both wRC+ (137) and OPS (.892) for the Dodgers (min. 400 PAs). His absurd 1.121 OPS in July helped earn him NL Player of the Week honors (July 5th -July 11th). When he's available, he's one the best offensive left fielders in the game.
AJ spent time on the IL in May and September with hamstring injuries.
Olney thinks the departure of Seager to the Texas Rangers could open up more playing time for Pollock.
"With Corey Seager gone, Chris Taylor perhaps destined for more time in the infield and the Dodgers in need of more lineup firepower, it'll be interesting to see if Dave Roberts relies more on Pollock this year."
Pollock A Force Against LHP
Historically, Pollock's has been able to punish left-handed pitching. He owns a career OPS  of .859 against southpaws compared to .802 against righties. As a member of the Dodgers, AJ has a .945 OPS versus LHP and a .815 OPS against RHP.
When healthy, AJ has been a big boost to a batting order that has time times struggled against LHP.
The Dodgers roster is an unfinished product right now. Regardless, the veteran left fielder will be a factor no matter how what moves are made.
Dodgers Sign Samuel Muñoz and Accimia Morales, Two Top-50 International Prospects