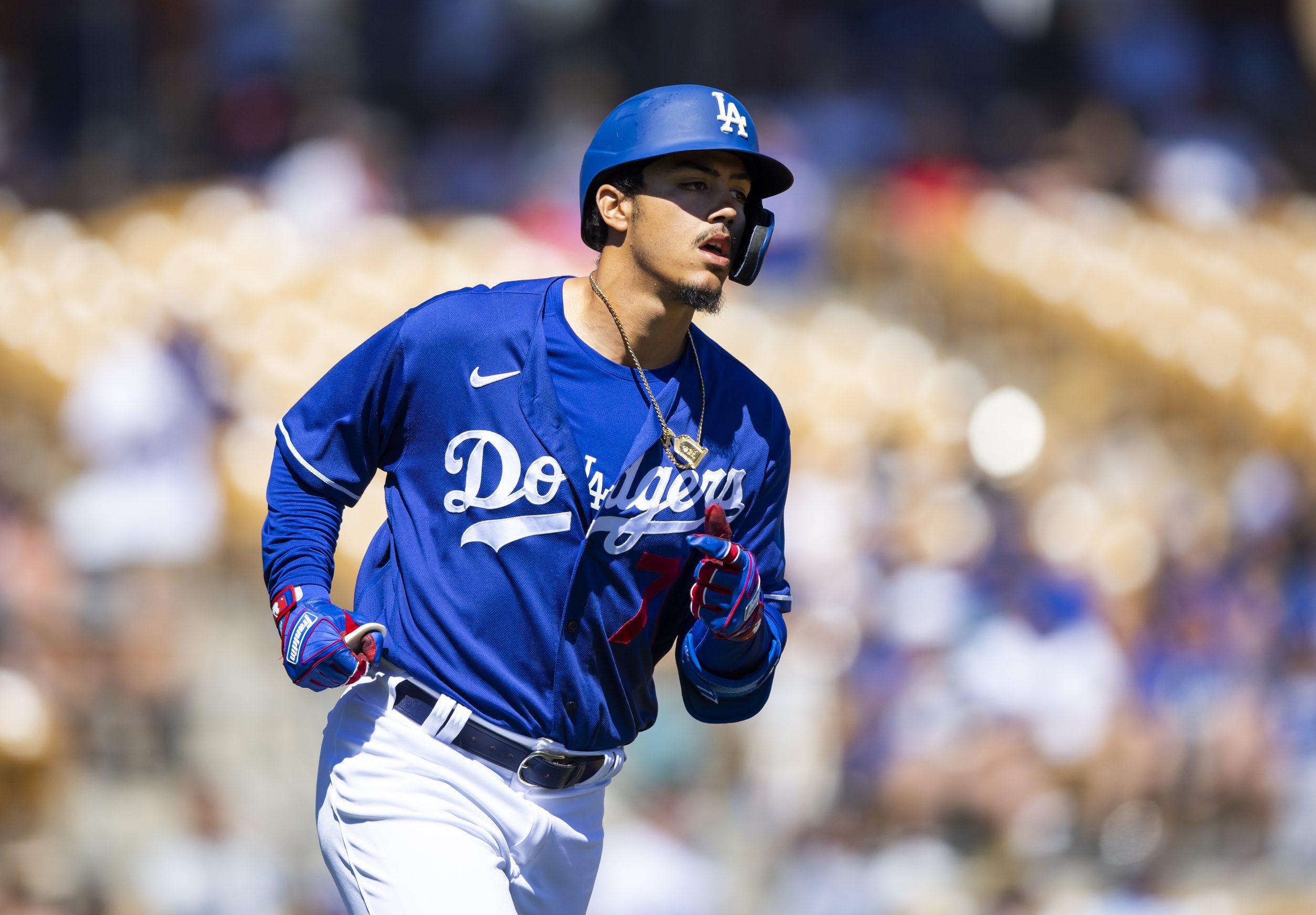 Dodgers Team News
Dodgers: Andrew Friedman Hints at Promoting Miguel Vargas This Year
The Dodgers lost a lineup linchpin on Tuesday. Prior to first pitch against the Colorado Rockies, the team announced that a CT scan revealed that Chris Taylor has a fracture in his left foot. To add insult to injury, it was also his bobblehead night at Dodger Stadium. Taylor's injury opens the door for more playing time for outfielders Jake Lamb and Trayce Thompson, but it could even lead to Miguel Vargas getting his first sniff in the bigs.
In a recent article by The Athletic's Fabian Ardaya, Andrew Friedman seemed to hint that Taylor's injury could provide Vargas with the opportunity to make his Dodgers debut this summer.
"We've gotten (Vargas) some reps in the outfield, started with a couple of weeks of working on it. We've gotten him into some games. All that does is increase the chances of something lining up based on an injury. It can expand the number of spots where something could happen, and have him be a candidate."
Vargas, a career infielder, and the Dodgers fifth overall prospect according to MLB Pipeline, has played just three games in the outfield for the OKC Dodgers through Tuesday.
His value clearly lies in his bat. Vargas owns a .868 OPS across four minor league seasons, and this year, boasts a .382 on-base percentage in 359 plate appearances in Triple-A.
In spring training this year, the 6'3″ Vargas launched a massive home run out of the stadium off of AL Cy Young winner Shane Bieber. 
Although general manager Brandon Gomes recently suggested in late June that Vargas needs more reps before his big league call up, the Taylor development apparently could result in him getting his first cup of coffee with the Dodgers. 
Have you subscribed to our YouTube Channel yet? Subscribe and hit that notification bell to stay up to date on all the latest Dodgers news, rumors, interviews, live streams, and more!
Dodgers News: Pedro Baez Returns to the Mound in AZ