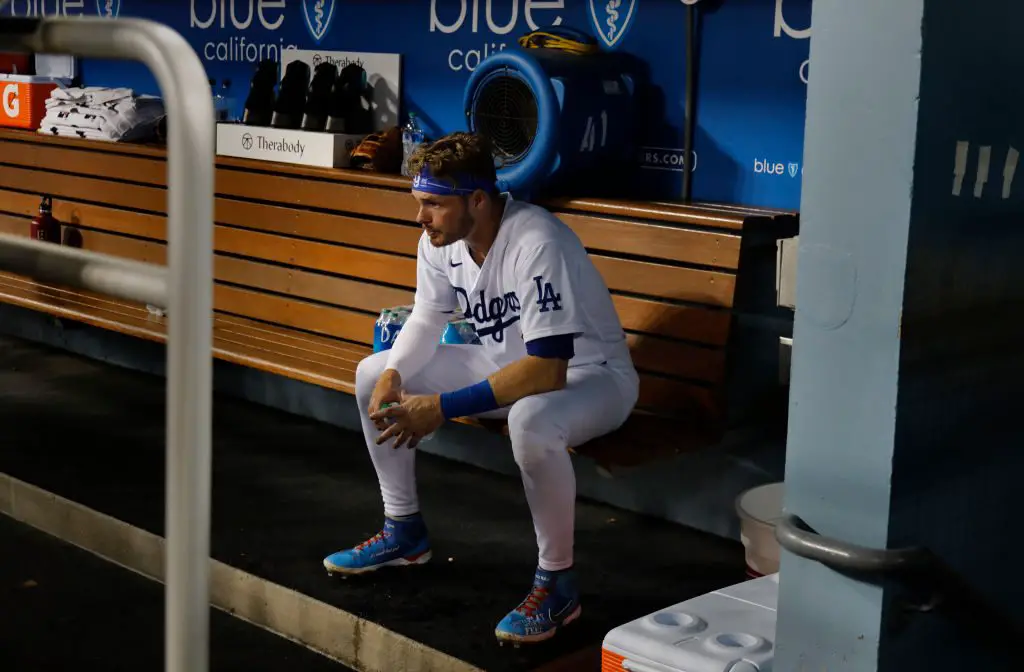 One of toughest parts of an offseason like the one the Dodgers have ahead of them this winter is not only seeing what could potentially be leaving but also figuring out what you've got for the next season. Along with several key contributors on the pitching staff now out on the market as free agents, so are a pair of lineup stalwarts in Corey Seager and Chris Taylor. Two players who, by all accounts, will secure the bag this offseason.
Where it gets tricky for the Dodgers is how much bag are you willing to spend when you could already have replacements in house? If Seager signs elsewhere — perhaps with the Yankees, as has been rumored — that allows Trea Turner to slide over from second base back to his natural position at shortstop. In turn, Gavin Lux could resume playing second base and the front office can hope that his late resurgence with the bat wasn't a fluke.
Of course, that would be essentially the worst case scenario in that you really don't just want to let a premier hitter like Corey Seager walk. But, ultimately, that's not completely up to the Dodgers. And even as a worst case scenario, it's really not that bad. Turner was an All-Star in 2021 as a shortstop after all. The concerning part is Lux full time without a safety net.
Over the last three years at the big league level, Gavin Lux has struggled to put his game together consistently. His career .682 OPS and 84 wRC+ are well below league average. However, a hot stretch where he hit .360 over the final month of the season showed the promise that came with the former consensus top-5 prospect in the game. Numbers he posted while increasing his positional versatility on defense.
Andrew Friedman, LA's president of baseball operations, spoke about Lux last week at the GM meetings. The exec pointed to that end of season resurgence from Lux as something to be excited about.
"The quality of his bat was exactly what we think of when we think of Gavin Lux, and he carried it into the playoffs. For him to kind of take that momentum into next year, we expect him to be a part of what we do and then figure out exactly where."
Of course, Friedman gets paid to be excited about his players. And, by all accounts, he left the second baseman's future as open as possible… whether that be in LA or not.
As has been discussed by industry insiders, Lux's late resurgence not only makes him a viable option for playing time in 2022 but also makes him a prime trade candidate in the right situation. The biggest need for the Dodgers this winter is starting pitching. And on that, Friedman has hinted more at potentially exploring the trade market over engaging in a bidding war for top arms on the free agent market.
WATCH Dodgers Rumors: Will LA Trade Gavin Lux? Insider Proposes Lux for Matt Olson, LA in on Gray/Castillo
In essence, LA could put together a trade package centered around someone like Gavin Lux and potentially swing a deal with the Reds for Sonny Gray and Luis Castillo, as one insider suggested. At least that's one example. In a situation like that, the team could then turn its attention to re-signing Corey Seager and still have the middle infield squared away with Trea Turner for at least one more season.
Despite not feeling like it, the Dodgers are in an enviable position this offseason. Fans will just once again have to allow Andrew Friedman time to work his magic.
NEXT: Mookie Betts Confirms He'll Rehab Hip Injury, No Surgery on the Table