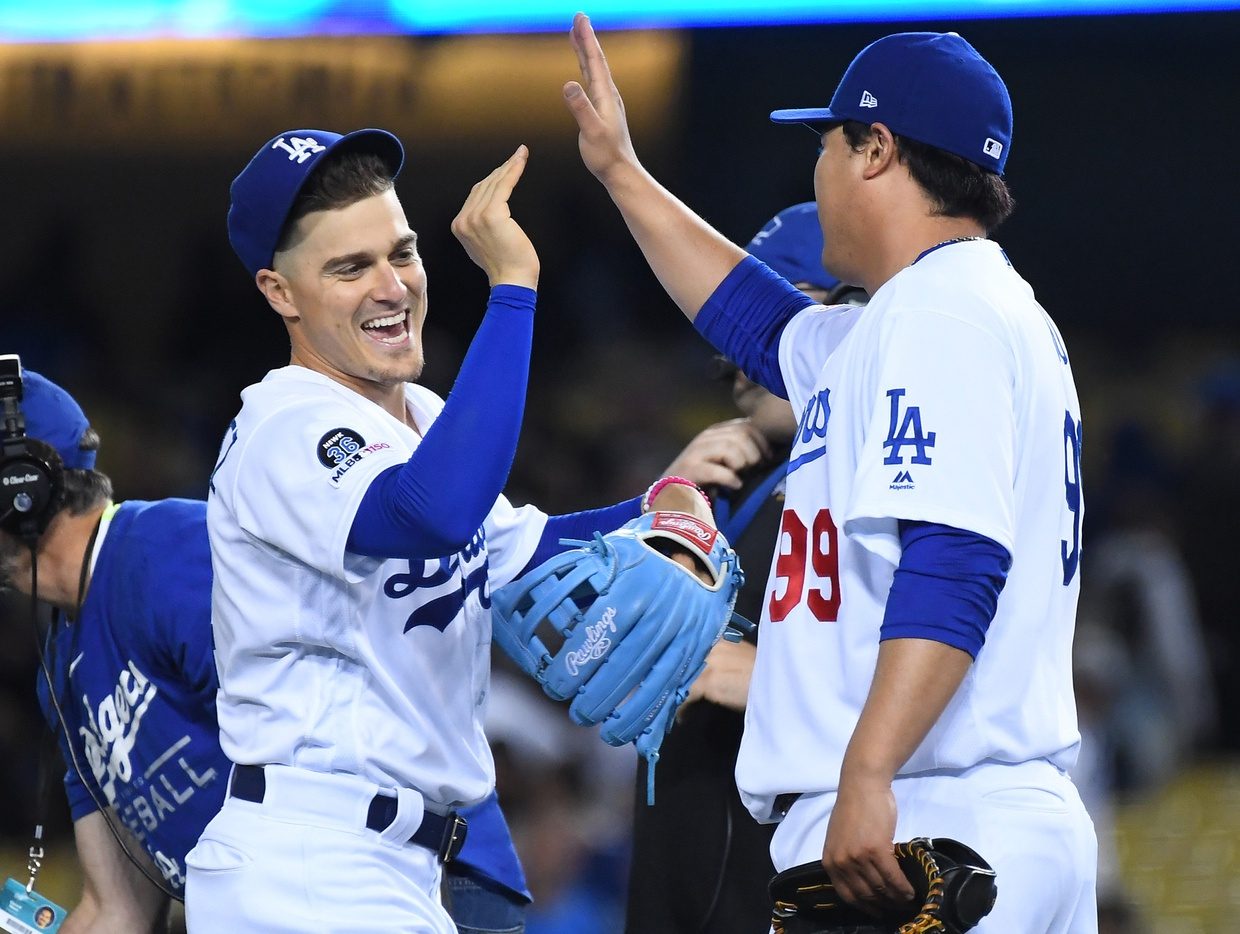 By our count, there are 71 former Dodgers (30 position players, 41 pitchers) playing either in the majors or the minors in another team's organization. Some of these guys are really obscure, like Zach Neal, who pitched one inning for the Dodgers in 2018 and hasn't pitched in the majors since, but after three years in Japan, he's back and pitching in Triple-A for the Rockies. We're not going to talk much about Zach Neal here.
But there are some pretty high-profile former Dodgers around the league, and we thought we'd check in and see how they're doing this year. (Players listed alphabetically by first name. All stats, including WAR, taken from Baseball-Reference on Saturday, August 20.)
AJ Pollock
Pollock was one of the Dodgers best hitters last year, but they traded him to the White Sox for Craig Kimbrel during spring training. In Chicago, Pollock is struggling at the plate, and his historical weakness against right-handed pitchers has returned (just a .585 OPS against righties).
Pollock's overall 2022 numbers:
99 G, 369 PA, .240 AVG, .290 OBP, .367 SLG, .657 OPS, 85 OPS+, 0.0 WAR
Albert Pujols
Pujols had a bounce-back season with the Dodgers last year, but he's taking that to new levels with his new (old) team, the St. Louis Cardinals. Pujols has announced that he's retiring after this season, and he's going out in style.
Pujols 2022 stats:
69 G, 222 PA, .254 AVG, .333 OBP, .472 SLG, .805 OPS, 130 OPS+, 0.7 WAR
Alex Verdugo
The key piece heading to the Red Sox in the Mookie Betts trade, Verdugo had an outstanding first season in Boston in 2020, posting a 123 OPS+ and playing excellent defense. Both the bat and the glove have declined each year since, though, and Verdugo is having a pretty lousy 2022 season.
Verdugo's 2022 numbers:
113 G, 471 PA, .283 AVG, .329 OBP, .400 SLG, .729 OPS, 103 OPS+, 0.5 WAR
Alex Wood
Wood had a solid first season in San Francisco, going 10-4 with a 3.83 ERA (107 ERA+). While his underlying numbers are just as good this year, he has been a victim of the Giants drastic regression on defense, so his raw numbers have taken a hit.
Wood's 2022 stats:
24 GS, 123 IP, 8-10 W-L, 4.54 ERA, 88 ERA+, 0.8 WAR
Corey Knebel
The Phillies signed Knebel to be their closer, but he lost that job in mid-June and has 12 saves in 16 opportunities. He has pitched more this year than he did with the Dodgers in 2021, but the quality has been much lower.
Knebel's 2022 numbers:
46 G, 44.2 IP, 12 SV, 3.43 ERA, 120 ERA+, 0.5 WAR
Corey Seager
Seager started really slowly in his first year with the Rangers after signing a huge free-agent contract, but he has turned things on lately. He has also continued the defensive resurgence we saw begin when he returned from his broken hand last year.
Seager's 2022 stats:
113 G, 497 PA, .250 AVG, .326 OBP, .466 SLG, .792 OPS, 126 OPS+, 3.7 WAR
Hyun Jin Ryu
Ryu's first season in Toronto was excellent, finishing third in the AL Cy Young voting in 2020. But his 2021 season was a major step back — 4.37 ERA — and then 2022 got even worse. He was bad for six starts, then he got hurt and needed Tommy John surgery. He hasn't pitched since June 1 and might not pitch again before his contract expires at the end of the 2023 season.
Ryu's 2022 numbers:
6 GS, 27 IP, 2-0 W-L, 5.67 ERA, 71 ERA+, -0.3 WAR
Jake Lamb
Lamb was solid for the Dodgers after being added to the roster mid-season, but there wasn't much of a spot for him on the roster so the Dodgers sent him to the Mariners at the trade deadline. He hasn't gotten much playing time in Seattle and hasn't done much in the time he's had.
Lamb's 2022 Mariners stats:
6 G, 15 PA, .231 AVG, .333 OBP, .308 SLG, .641 OPS, 91 OPS+, 0.0 WAR
Jake McGee
McGee had a very good first season in San Francisco after helping the Dodgers win the 2020 World Series, but 2022 was a different story. After two straight sub-3.00 ERA seasons, McGee's ERA ballooned to over 7.00 before he was dumped by the Giants. He has also pitched for the Brewers and Nationals this season.
McGee's 2022 overall numbers:
34 G, 30.1 IP, 3 SV, 6.53 ERA, 63 ERA+, -0.9 WAR
Joc Pederson
Joc is having his first good offensive season since 2019, but the Giants look likely to fail somewhat spectacularly in his attempt to win a third straight World Series with a third different team. Offensively, he is what he's always been: a guy with good power who hits righties pretty well and hits lefties not well. Defensively, his descent from passable big league center-fielder to "why does he even own a glove?" is essentially complete, with a -1.2 defensive WAR.
Pederson's 2022 stats:
99 G, 320 PA, .254 AVG, .328 OBP, .500 SLG, .828 OPS, 130 OPS+, 0.7 WAR
Joe Kelly
After a disastrous first month or so in Dodger Blue, Kelly was outstanding for the Dodgers when he was healthy. Thus far in his White Sox career, he has not been good.
Kelly's 2022 numbers:
29 G, 25.2 IP, 1 SV, 5.61 ERA, 72 ERA+, -0.3 WAR
Josiah Gray
One of the two key pieces in the trade that brought Max Scherzer and Trea Turner to the Dodgers, Gray has struggled so far in his time with the Nationals. After posting a 5.31 ERA in 12 starts with Washington last year, Gray has followed that up by allowing the most home runs of any pitcher in MLB this year (31).
Gray's 2022 stats:
22 GS, 118.1 IP, 7-8 W-L, 4.79 ERA, 81 ERA+, -0.3 WAR
Keibert Ruiz
Ruiz was the other piece in the Scherzer/Turner trade, and so far he has worked out a bit better for the Nationals. He hit pretty well after the trade last year, and while he hasn't hit as well this year, it's not bad for a good defensive catcher, which he is.
Ruiz's 2022 numbers:
97 G, 381 PA, .246 AVG, .311 OBP, .354 SLG, .664 OPS, 93 OPS+, 1.4 WAR
Kenley Jansen
Kenley has been, so far for Atlanta, about exactly what we've come to expect from post-2017 Kenley Jansen. He has converted most of his save opportunities (28 for 32), and he's given Braves fans a few heart palpitations along the way.
Jansen's 2022 stats:
46 G, 46.1 IP, 28 SV, 3.11 ERA, 135 ERA+, 0.9 WAR
Kenta Maeda
Maeda's story sounds a lot like Ryu's: left the Dodgers after 2019, finished top-three in the AL Cy Young voting in 2020 (Maeda finished second, one spot ahead of Ryu), is now recovering from Tommy John surgery. Maeda's surgery came last year, and the best case scenario for him is a possible reliever role with the Twins late this season.
Maeda's 2022 numbers:
HAS NOT PLAYED
Kiké Hernández
Kiké had a good first season in Boston, but this year has been marred by injury and ineffectiveness. He has played fewer than half his team's games, and while he continues to provide good defense, his offense has taken several steps back this year, the worst it has been since 2016.
Hernandez's 2022 stats:
54 G, 252 PA, .211 AVG, .270 OBP, .338 SLG, .608 OPS, 69 OPS+, 0.4 WAR
Manny Machado
Machado is having his best offensive season in years, and he's always been a good hitter. His defense, by some measures, might be down this year, and he has had to carry the team through a lot of trial and turmoil. As of right now, he has carried the Padres to playoff position, but time will tell if they can hold on to that last Wild Card spot.
Machado's 2022 numbers:
111 G, 478 PA, .304 AVG, .374 OBP, .536 SLG, .911 OPS, 161 OPS+, 5.2 WAR
Matt Beaty
Beaty played poorly with the Padres, then got hurt, and is now hitting well for the Triple-A El Paso Chihuahuas. Meanwhile, the minor leaguer the Dodgers received for him in trade, River Ryan, has a 2.36 ERA between Low-A and High-A in the Los Angeles farm system.
Beaty's 2022 big league stats:
17 G, 40 PA, .108 AVG, .175 OBP, .189 SLG, .364 OPS, 6 OPS+, -0.6 WAR
Max Scherzer
Scherzer is pitching well for the Mets this year after signing a huge three-year contract. He and Jacob deGrom look to form a formidable one-two punch in the postseason rotation, if they can both stay healthy. So the Dodgers might get a good look at Scherzer in October, which would be electric.
Scherzer's 2022 numbers:
17 GS, 109 IP, 9-2 W-L, 2.15 ERA, 183 ERA+, 4.2 WAR
Rich Hill
At 42 years old, it seems like age might be starting to catch up with Hill, but he is still plugging along. His third stint with the Red Sox hasn't gone as well as the first two, and his strikeout rate is the lowest it's been in over a decade. He's only signed through this year, so this could be the end for him.
Hill's 2022 stats:
18 GS, 82.2 IP, 5-5 W-L, 4.16 ERA, 90 ERA+, 0.0 WAR
Ross Stripling
Stripling is having possibly the best season of his career, dampened only slightly by a recent injury. He has pitched mostly as a starter but also out of the bullpen, and his ERA and FIP are both the best they've ever been.
Stripling's 2022 numbers:
24 G, 16 GS, 89 IP, 5-3 W-L, 1 SV, 2.93 ERA, 135 ERA+, 1.5 WAR
Yasmani Grandal
After being an excellent hitter for his entire career, Grandal has fallen off a cliff in the third year of his four-year contract with the White Sox. His career OPS+ coming into the season was 119, very good for anyone, outstanding for a catcher, and darn near miraculous for a great defensive catcher like Grandal. This year, though, both the offense and the defense have taken major hits, and at nearly 35, he might just be getting old (for a catcher).
Grandal's 2022 stats:
73 G, 287 PA, .202 AVG, .307 OBP, .258 SLG, .565 OPS, 63 OPS+, -1.3 WAR
Zack Greinke
Speaking of guys who are getting old, Zack Greinke exists. Back where it all began in Kansas City, the 38-year-old Greinke is approaching the point where his fastball and his changeup might end up with the same velocity if he pitches another year or two. He's only 129 strikeouts away from 3,000, which might be enough incentive for him to stick around, but he'd also need to give a team incentive to sign him, and there's not much about his mound performance that recommends him highly.
Greinke's 2022 numbers:
20 GS, 104.2 IP, 4-8 W-L, 4.13 ERA, 100 ERA+, 1.7 WAR
There's your update on 23 former Dodgers around the league. For the other 48, you're on your own.
Have you subscribed to our YouTube Channel yet? Subscribe and hit that notification bell to stay up to date on all the latest Dodgers news, rumors, interviews, live streams, and more!