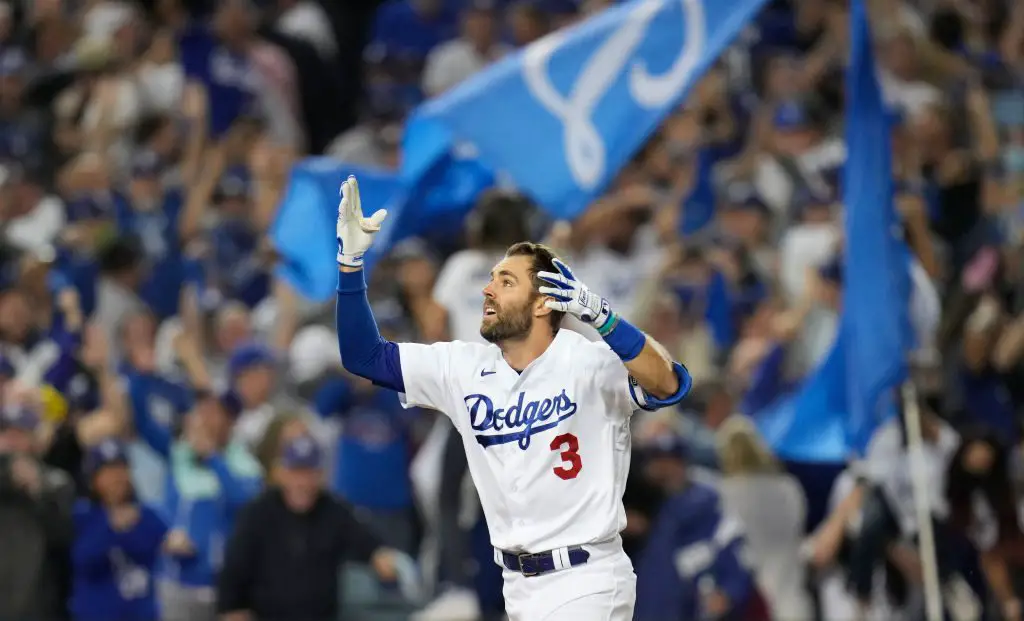 The Dodgers are going to have a lot of competition for their free agents. With so many names hitting the open market, Los Angeles is bound to have a few teams trying to outbid them for the services of a few guys. 
One name that might appeal to literally every team in baseball is Chris Taylor. CT came to the Dodgers a few years ago via trade and drastically overhauled his swing and changed the course of his big league career. 
Now officially a free agent after denying his qualifying offer from the Dodgers, Taylor is already drawing a lot of interest. And it sounds like the Red Sox are one team interested in possibly bringing him aboard for the 2022 run. 
Chris Taylor is an option for the Red Sox. They did extremely well signing another versatile ex-Dodger Kiké Hernandez last year to play 2B (he wound up in CF). Everyone loves versatility, and Boston does especially. @MLBNetwork

— Jon Heyman (@JonHeyman) November 19, 2021
The Red Sox signing him would be interesting for a few reasons. Taylor would team back up with former Dodgers teammate Enrique Hernandez, a guy that he often competed with for starts in a packed lineup with Los Angeles. It would also allow him the freedom to move around the diamond again, which he got used to out West. 
The question seems to be if Taylor actually wants to have that versatility or if he would prefer a consistent spot. If he ends up signing with the Dodgers, they could consider using him as their full-time second baseman with Corey Seager likely departing in free agency. That opens a spot for Trea Turner to go back to shortstop. 
But there will be a lot of teams in on CT, that's for sure. 
Dodgers: Andre Ethier Thinks Chris Taylor is 'One Piece You Don't Let Walk Away'