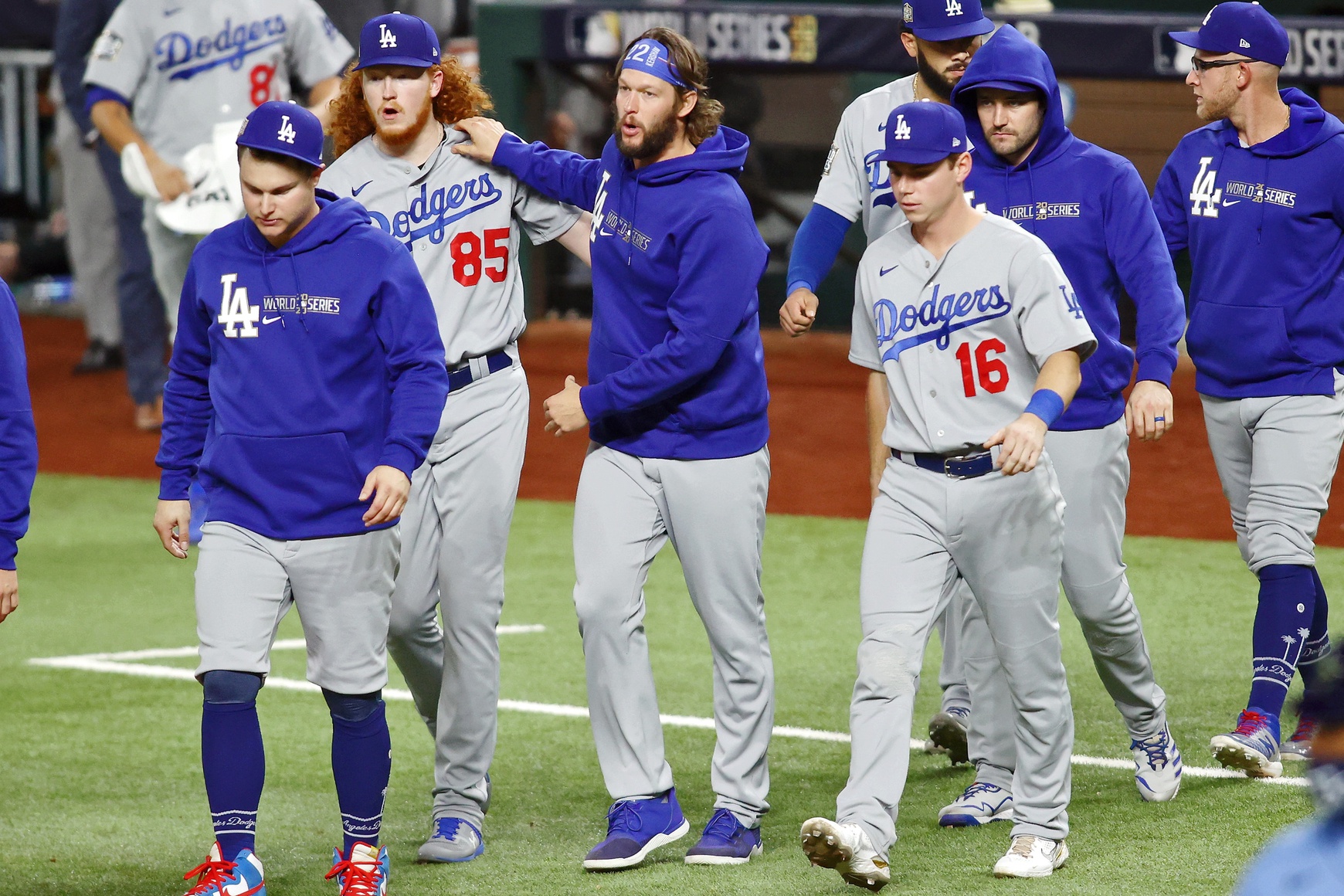 Dodgers Team News
Dodgers: Clayton Kershaw Gives a Peek into His Conversation with Dustin May
Dodgers pitcher Dustin May returned from Tommy John surgery in mid-August and has made four big-league starts since coming back. The results have been mixed, with two solid starts against the Marlins followed by a bad start and a mediocre start against the Padres.
After May's rough outing on Friday night in San Diego, the television cameras caught May getting a lesson in something from his teammate and future Hall of Famer Clayton Kershaw.
Imagine getting pitching advice from a future first ballot Hall of Famer? Having Kershaw coach up the young studs is invaluable. Love how May is hanging on every word too. #Dodgers

— Doug McKain (@DMAC_LA) September 10, 2022
Dodgers insider David Vassegh caught up with Kershaw before Sunday's series finale in San Diego, and he asked Kershaw about that conversation with May. Kershaw said he drew on his own experiences as a young pitcher in deciding how to talk to May.
"You know, I think as a young guy coming up, what helped me the most was kind of like a hands-off approach. I didn't necessarily get a lot of, like, 'Hey, here's what you need to do,' but I think that was a good thing. So that's what I try to do, like, I don't tell anybody what they should and shouldn't do, but here and there, there's a few things, whether it be pitch selection or reading different hitters' swings, different things like that that I try to give them if they— sometimes guys are like, 'Oh, that's great, thanks,' and other people blow it off, and, whatever, it's great. But there are certain things at time that I try to help with.

"The other night with D-May, there were just some things on the field that I was like, 'Hey, here's some things that I think might have helped in those situations.' He did a great job of getting out of a lot of jams, but he put himself in some jams, too, so there's some things that he could get better at. But overall, he got out of big situations, which is great."
Clayton Kershaw chats with @THEREAL_DV about his conversation with Dustin May, his thoughts on the new MLB rules, and more. #Dodgers pic.twitter.com/sE36PX5mYS

— SportsNet LA (@SportsNetLA) September 11, 2022
It's an interesting role Kershaw finds himself in. He's still well paid, and when he's healthy, he's still one of the best pitchers in baseball. But he's also a mentor, albeit a reluctant one, to a host of young pitchers coming up for the Dodgers.
The Dodgers are no strangers to on-roster mentors, from Chase Utley to David Freese to Russell Martin to Albert Pujols. But one difference with this year's team is having guys who are mentors in the dugout but can also go win you a game on a regular basis, like Kershaw and Freddie Freeman and others.
If Dustin May is going to come all the way back from injury, having a mentor like Kershaw certainly won't hurt.
Have you subscribed to our YouTube Channel yet? Subscribe and hit that notification bell to stay up to date on all the latest Dodgers news, rumors, interviews, live streams, and more!