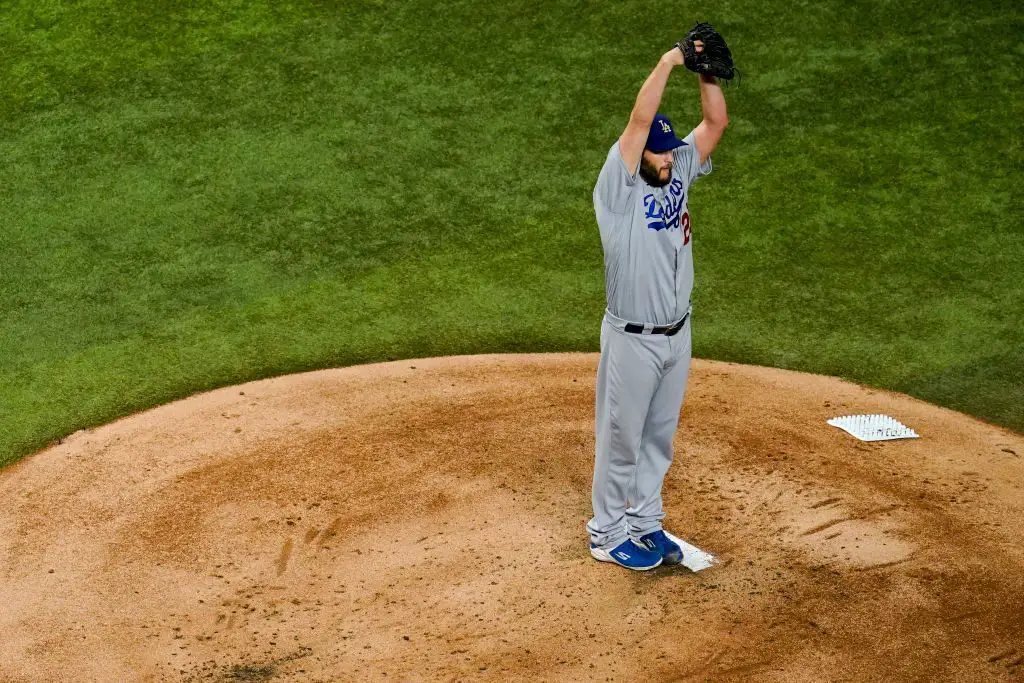 Dodgers Team News
Dodgers: Clayton Kershaw Ranked Among All-Time Greats in ESPN Rankings
A never-ending MLB lockout provides ample opportunity for legacy debates. ESPN released their "Top 100 MLB players of all time" list on Tuesday. The voters ranked Dodgers legend, and current free agent, Clayton Kershaw 52nd. Which was ahead of the likes of Max Scherzer, Bob Feller, and Steve Carlton, just to name a few.
ESPN's Dave Schoenfield provided the panel's reasoning for Kershaw's ranking.
"That herky-jerky windup, that fastball command, that wipeout slider, that big curveball, those heartbreaking defeats in the postseason — and one of the greatest peaks any pitcher has enjoyed. From 2011 to 2017, Kershaw went 118-41 with a 2.10 ERA, winning three Cy Young Awards and five ERA titles. He's the Dodgers' all-time leader in WAR (including Brooklyn) and his adjusted ERA+ of 155 is the best for any pitcher with 2,000 career innings. Let's hope his Dodgers timeline extends beyond 2021."
During Kershaw's prime (2010-2017), his impressive 52.4 WAR led all pitchers, by a wide margin. His former teammate, Max Scherzer sits in second at 40.9. Kershaw's dominance was more than just a stat, but it speaks to how much better he was than his peers.
Kershaw's 2.20 ERA also leads the pack. The late Jose Fernandez was next best with a 2.58 mark. He's also the only starter over that span to have a sub-1.00 WHIP (0.95).
What's even more impressive is Kershaw owns the second lowest ERA among pitchers since 1913 (2.49). Walter Johnson is the only pitcher ahead of him (2.36).
Many consider Kershaw's 2014 NL MVP season to be his finest work. It's hard to argue. He logged a 1.77 ERA, a 0.86 WHIP, and walked just 31 batters in 27 starts.
Winning the World Series title in 2020 that had eluded him for so long is the cherry on top of a surefire Hall-of-Fame career.
Final Thoughts
Kershaw's clearly historic past is juxtaposed by his murky future. The lefty was only able to make 22 starts in 2021 before an elbow injury effectively ended his season in mid-July.
But as Schoenfield mentions, if Kershaw decides to pitch in 2022, it should be with the team he's spent his entire 14-year MLB career with.
There's no debating it.
Have you subscribed to our YouTube Channel yet? Subscribe and hit that notification bell to stay up to date on all the latest Dodgers news, rumors, interviews, live streams, and more!
Dodgers: Yasiel Puig Arrives in Korea With Plenty of Fanfare