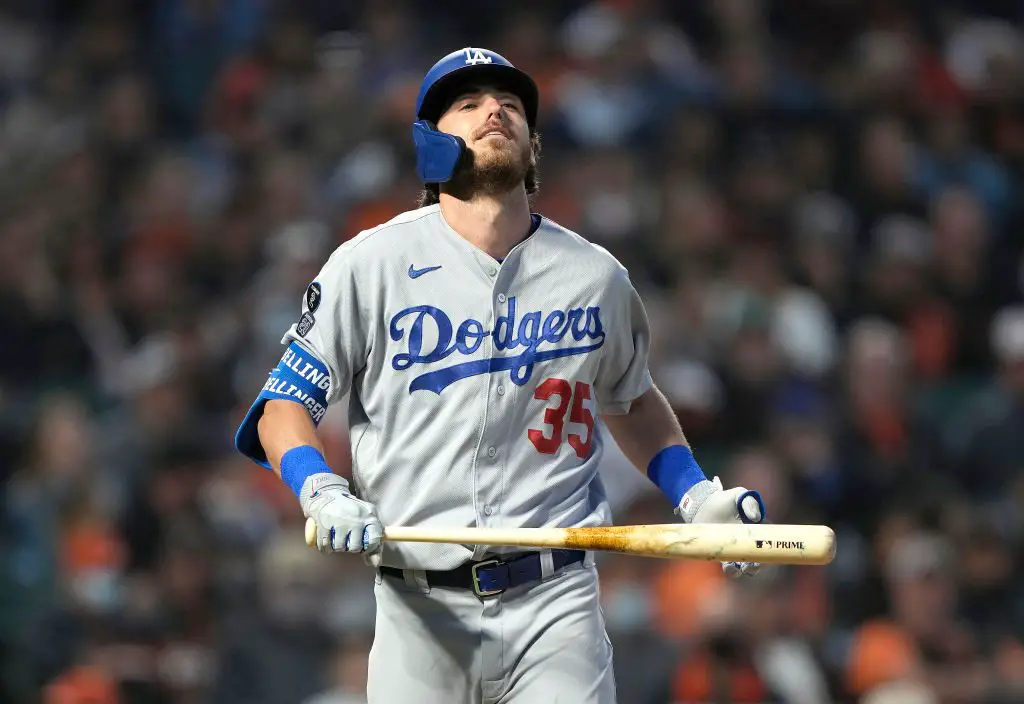 Dodgers Team News
Dodgers: Cody Bellinger Still Working on 'Mechanical Things' with Coaching Staff
To say this isn't the year we were expecting for Dodgers slugger Cody Bellinger would be a massive understatement. Or maybe I should say former slugger. The 2019 National League MVP has been a shell of himself while battling through swing issues and changes over the last two seasons.
Then the injuries struck.
Offseason shoulder surgery to repair a labrum damaged by a few too many subluxations suffered on diving plays on the infield and finally done under on a home run celebration last October. He started spring training this season late and got into only 10 games before opening the season as the starting centerfielder for the Dodgers.
Four games later he'd get stepped on and suffer a fracture in his lower left leg that took nearly two months to heal. But now he's back and, save for a hamstring strain in June, has been generally healthy for the last few months…
So where are the numbers?
How about .162/.237/.300? That's Cody's triple slash line as of Wednesday morning. If he had enough at-bats to qualify for a batting title, he'd be dead last in baseball in average, on-base percentage, and slugging. His 49 wRC+ and -1.6 bWAR are among the worst in baseball and by far the worst of his career.
But, despite what people in the comments section may say or think, Belli's trying. He's putting in the work daily.
On Tuesday, Dave Roberts said that Cody is out there grinding with the hitting coaches daily. Coated with a tinge of frustration, the Dodger manager noted that they're all really just trying to find something that will click and stick with the struggling outfielder.
There's just some mechanical things that they're trying to clean up… and obviously they've been doing that for quite some time and trying to find something that clicks and sticks. A lot of it is the mechanics and the approach and just getting on the field, just him working where it can be quiet and methodical I think sometimes that can be beneficial for the hitter.
Unfortunately, the early work didn't pay off for Belli after posting another 0-4 night. But, in positive news, he did drive in his first RBI in nearly two weeks.
From Statcast: Cody Bellinger is 4-for-45 (.089) w/ 0 HR, 24 SO, .133 SLG vs. 95+ mph pitches in 2021.
That's the second-lowest SLG in MLB (min. 40 PA vs. 95+)

— Buster Olney (@Buster_ESPN) September 4, 2021
The numbers show a player struggling with timing. The eye test shows a player with a very long and complicated swing. And the season is running out of games for him to prove he honestly deserves a spot on the postseason roster — Gold Glove defense or not.
The Dodgers are in a precarious spot with Cody Bellinger. You don't give up on a player that was the league MVP less than two seasons ago. But at the same time, you can't keep running a player out there that is costing your team more wins than a replacement level player.
Matt Beaty:
.284 avg as a starter
.333 with 2 outs & RISP
.302 average in high-leverage spots

Cody Bellinger:
.167 season avg,
.163 as a starter

Billy McKinney:
.154 avg in 34 games with LAD

The Dodgers have struggled scoring runs and Matt is at OKC. Hmm… pic.twitter.com/PluBXQn6hq

— Clint Pasillas (@realFRG) September 6, 2021
NEXT: Roberts Praises the Growth of Will Smith as a Big Leaguer