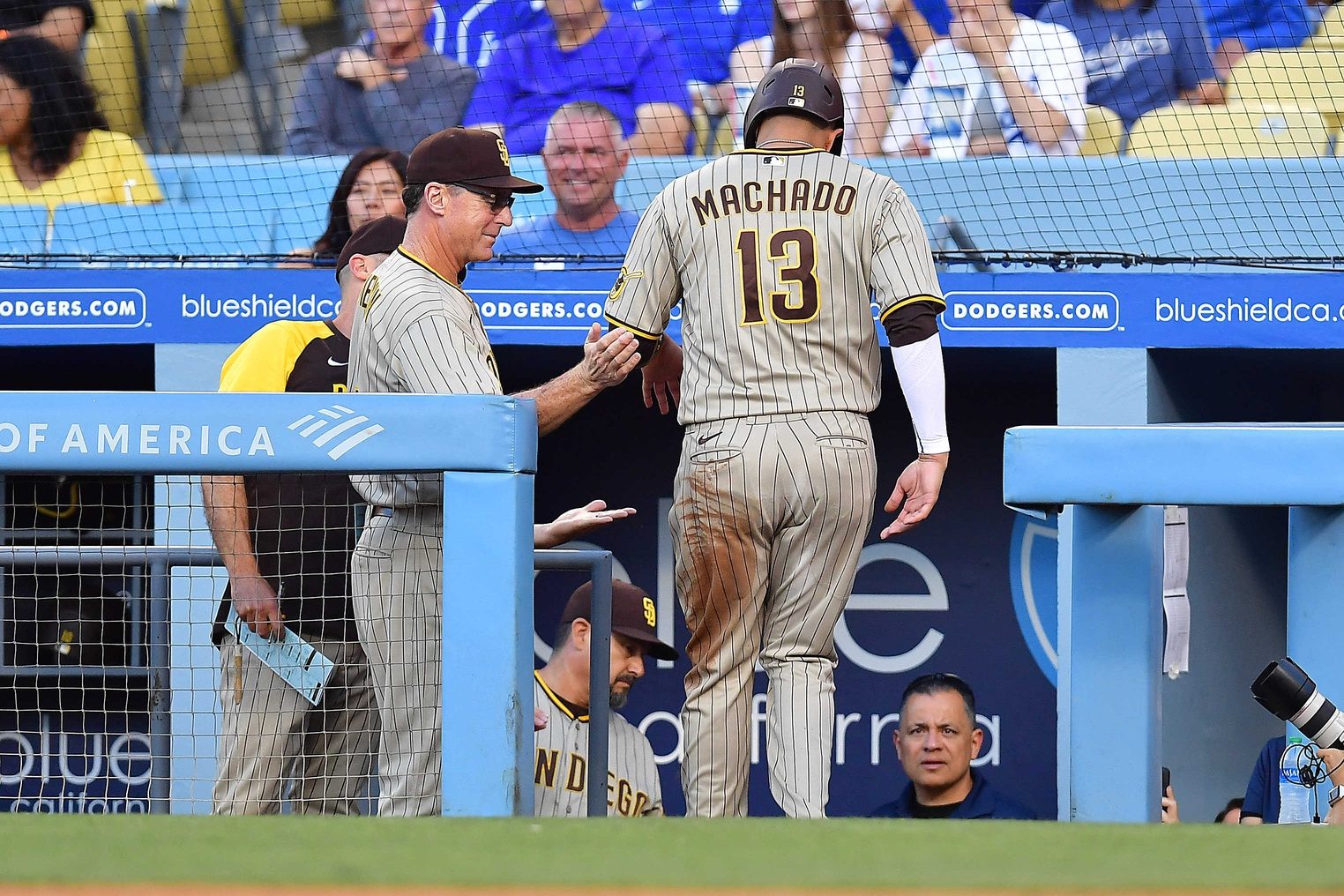 Editorials
Dodgers: Comparing LA's Lineup to the Padres Following Juan Soto Trade
The Padres went out and got much better over the trade deadline. The Dodgers traded away some depth pieces and added on a struggling bat in Joey Gallo. So that has led many to wonder just how big of a step San Diego had taken to get back near the top. 
So let's dive into a position-by-position breakdown of the 2 NL West teams. The situation in rightfield might surprise any baseball fan. 
Catcher
Will Smith has posted an .815 OPS and crushed 15 home runs so far this year. It's a slightly down year with the bat right now, but he still beats out Alfaro, who has put up a .732 OPS and 7 long balls. Advantage: Dodgers. 
First Base
The Dodgers have Freddie Freeman. That's all you really need to know about this conversation. But the Padres did trade away Eric Hosmer, which was addition by subtraction for their lineup. But Wil Myers is hardly an upgrade there. Advantage: Dodgers. 
Second Base
The Padres have Jake Cronenworth, who has been a crazy good surprise to the league. If they go with Brandon Drury there more often, the conversation shifts. Meanwhile, the Dodgers have Gavin Lux tearing it up for them in a revival season. The numbers are close, but we'll take Gavin and his .800 OPS any day of the week. Advantage: Padres (if they go with Drury). 
Third Base
It's incredibly hard to argue against Manny Machado right now, as he makes a case for MVP. Justin Turner has turned a corner, but he's on the IL at the moment, and having Max Muncy there certainly doesn't make a better case. Advantage: Padres.
Shortstop
When Fernando Tatis Jr is healthy, this conversation will be much closer. But Trea Turner is playing out of his mind in 2022, looking for that hefty contract when the season is done. No one is beating all-day Trea right now. Advantage: Dodgers. 
Leftfield
Jurickson Profar is a guy that the Padres really seem to like, and he's putting together one of the better seasons of his career. When Chris Taylor is healthy and hitting, he's definitely better. But he's not right now. Trayce Thompson has filled in phenomenally though, making this one too close to call right now. Advantage: neither team. 
Centerfield
Trent Grisham is bad. Like really bad. But Cody Bellinger hasn't been much better in his 2022 season. This is the competition of mediocrity in center, and the only reason we take Bellinger is because of his 3 defensive runs saved versus Grisham's -2. Advantage: Dodgers. 
Rightfield
The battle of superstars. One one hand, you have one of the purest hitters in baseball with Juan Soto. On the other, you have one of the most well-rounded players in all of baseball in Mookie Betts. Mookie blows Soto out of the water with his defense, and the bat isn't far off. Mookie has homered 4 more times than Soto this year and posted a batting average 17 points better. It might be controversial, but we're taking Mookie right now. Advantage: Dodgers. 
Designated Hitter
The Padres flat out win this one because they have Josh Bell in there now. The Dodgers will go with combinations of guys like Justin Turner, Max Muncy, Will Smith, and pretty much anyone else they can slot in. But they've been very inconsistent from that spot, though they seem to be hoping that Joey Gallo can help better fill the role. Advantage: Padres. 
Pitching Staff
The Padres improved by adding Josh Hader and signing Joe Musgrove to a big extension. The Dodgers just lost Clayton Kershaw to another back injury over the weekend. But they are getting healthier and should be getting a long list of guys back before the season is over. Their staff has the best fWAR in the National League this year, and it should be getting better. Advantage: Dodgers. 
The Dodgers and Padres kick off a weekend series tonight in LA. 
Have you subscribed to our YouTube Channel yet? Subscribe and hit that notification bell to stay up to date on all the latest Dodgers news, rumors, interviews, live streams, and more!
Dodgers News: Dave Roberts All But Guarantees IL Stint for Clayton Kershaw