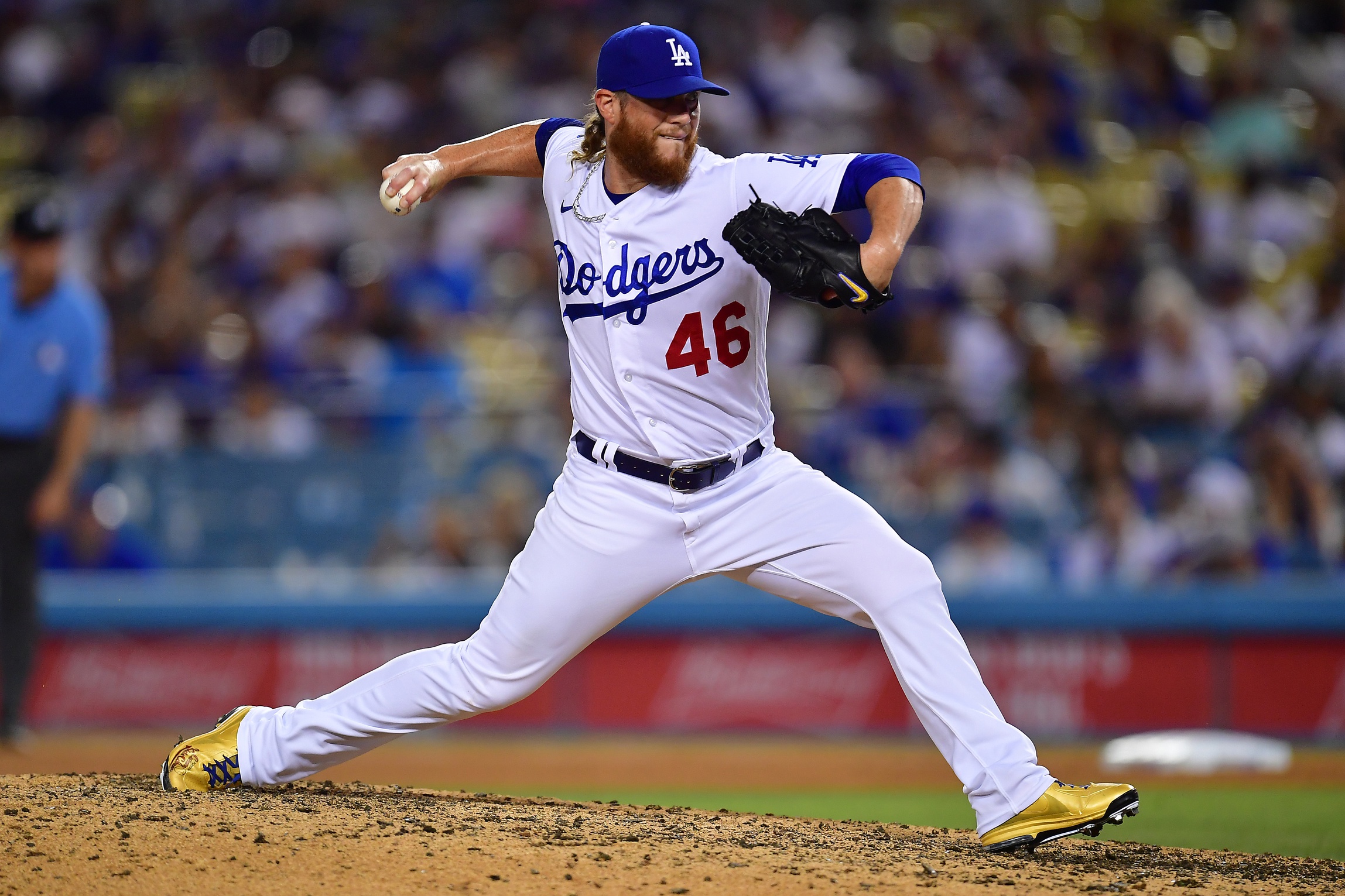 Dodgers Team News
Dodgers: Craig Kimbrel Ends Season Strong Following Demotion from Closer's Role
Dodgers reliever, Craig Kimbrel, came to the team in March to fill the hole at closer left by Kenley Jansen's departure to Atlanta in the offseason.
Dodger fans would have preferred that Kimbrel not fill Kenley's shoes in quite such an on-the-nose fashion. Kimbrel finished the season with a 3.75 ERA, five blown saves, and an unsure status heading into the postseason. His grip on the closer role was tenuous, and after he walked three batters to lose an extra-inning game in San Diego on September 27, he didn't pitch in the ninth inning again.
Kimbrel pitched in four games after being officially demoted, and they went pretty well. He allowed one hit, two walks, and no runs in four innings pitched, striking out six. His final appearance came on Wednesday, when he pitched a scoreless eighth inning and posted his first 1-2-3, three-strikeout inning of the season.
#Dodgers Craig Kimbrel strikes out the side in the 8th. The plot thickens.

— Juan Toribio (@juanctoribio) October 5, 2022
Interestingly, the plot that is thickening has nothing to do with the closer role — it's all about whether Kimbrel will even make the postseason roster. There are 13 available slots for pitchers on the NLDS roster, and 11 of them seem set in stone: starters Julio Urias, Clayton Kershaw, Tyler Anderson, Tony Gonsolin, and Andrew Heaney, along with relievers Evan Phillips, Alex Vesia, Brusdar Graterol, Yency Almonte, Chris Martin, and Tommy Kahnle. That leaves just two spots for Blake Treinen, Dustin May, Caleb Ferguson, David Price, and Kimbrel to fight over. Dodgers manager Dave Roberts has said Treinen will be on the roster if he's healthy and ready, so it could be down to four pitchers fighting over one spot.
If we're being honest, though, Kimbrel might have the edge over the other three. May has more talent and potential than almost anyone in baseball, but he didn't show it consistently in his six starts after Tommy John surgery and is now recovering from a back issue. Ferguson and Price both throw with their left hands, which would play in their favor if Roberts and Co. decide they need another lefty in the bullpen, but neither fills anyone with a ton of excitement right now.
Based on performance, Kimbrel is probably the least deserving of the four. But past performance is not a guarantee of future results, and that goes both ways. Kimbrel's stuff is still pretty good, and when he attacks the strike zone, he still has potential to be an effective reliever. With a lower-leverage spot available on the roster, he could fill that role as part of a continuing effort to help him get all the way right.
It will be fascinating, but what we saw on Wednesday was an example of the value Kimbrel can bring to a team. The question is, will Roberts and the front office believe Craig can do that consistently enough to help the team win now that the games matter again?
Have you subscribed to our YouTube Channel yet? Subscribe and hit that notification bell to stay up to date on all the latest Dodgers news, rumors, interviews, live streams, and more!