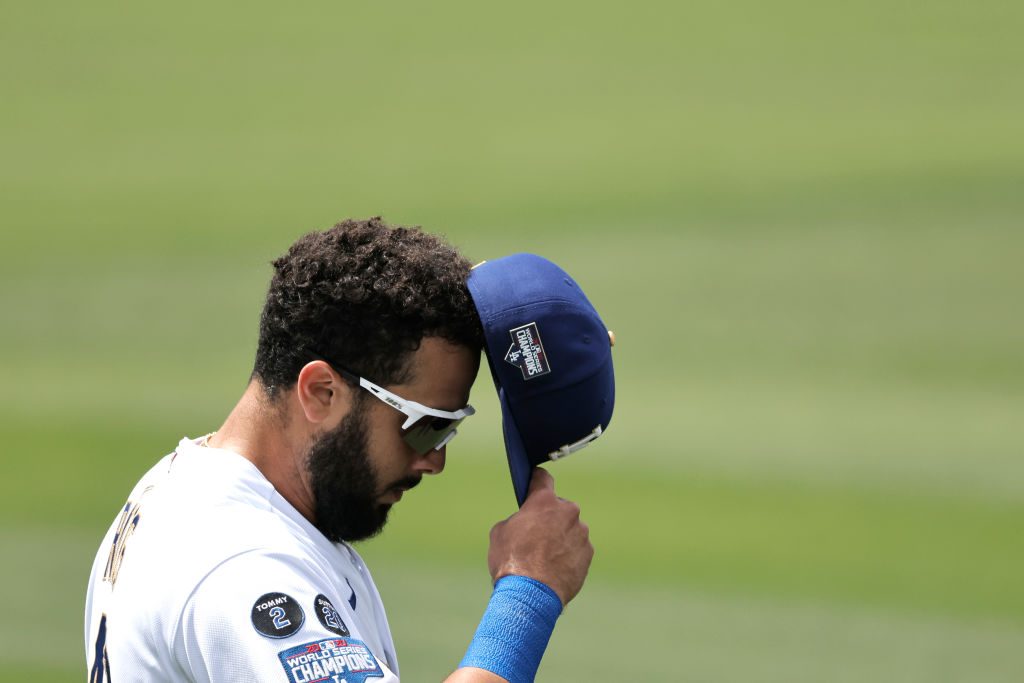 In a stretch of struggles for the Dodgers, one player seemingly has caught the most of the struggle bug. On the season, slugger Edwin Rios is batting .093 in 20 games this year. Even worse, he's riding a 0-for-24 hitless streak with 9 strikeouts.
It's safe to say that this is not the start of the 2021 season Eddie envisioned. 
The narrative has been growing for the infielder — he needs to build some confidence and see some pitches. And that's something that would be best done away from the big leagues, much like teammate Matt Beaty did last week.
Still, when asked whether Rios would benefit from some time in Arizona, Dave Roberts says he's not there yet.
I'm not thinking about any type of moving Eddie. He's working really hard with the hitting guys, in the weight room, making sure his body's right, putting him in the right positions. … He's hit major-league pitching so our expectation is that it's going to turn.
Doc later added.
He's scuffling. We'll continue to monitor all of these guys. I think the goal is to give these guys the best chance to have success, and if a player is not having success and needs to find their way, we can have those discussions.
After his stint at the club's alternate site in Arizona, Beaty has come back and made solid contact with the ball. Moreover, after collecting a big 2-run hit on Tuesday night, Matt spoke highly of his time away from the bigs.
Going down to the alt site was good for me to get some at-bats, get some confidence, put some balls in play hard and get back to what I do as a baseball player.
Dave Roberts has earned the trust of fans over his tenure as manager. Doc continues to praise Rios, offering that he is "more of the mind to continue to instill confidence" over demoting him to Camelback Ranch.
Notably, the minor league season still hasn't started. The team is still playing scrimmage matches against some outside teams at the alternate site as opposed to the intrasquad work we saw in 2020. While it's imperfect to send someone down to play scrimmage matches, it might still be better than to watch Eddie continue to flail and get further away from the success he experiences last year.
NEXT: Joe Kelly & Cody Bellinger, & what's LA's Bigger Concern, Offense or Bullpen?