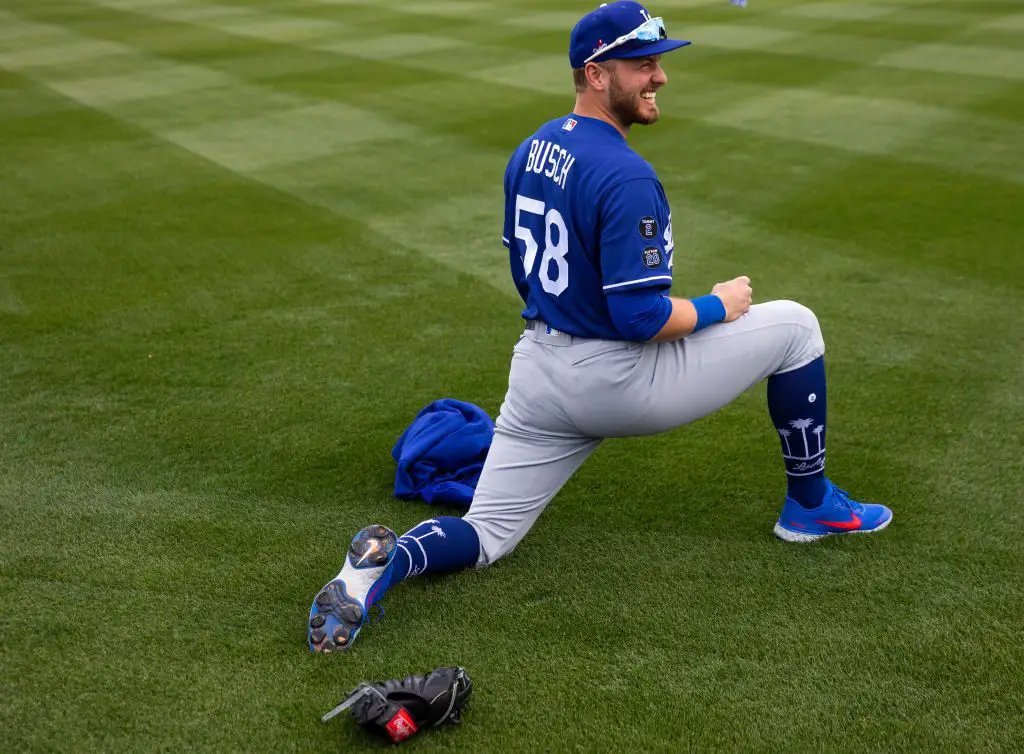 Don't let the fact that he was among the Dodgers' first round of spring training reassignments fool you. Infield prospect Michael Busch is the real deal. The 23-year-old was drafted by LA in the 1st round of the 2019 draft. While his first pro season didn't go all that well (.125 batting average over 10 games), the club invited him to its alternate site last year after the minor league season was shut down due to the pandemic.
From there, he started making some noise on the prospect scene.
Teammates at the alternate site raved about his abilities at the plate. Last October, Busch played in the Arizona Instructional League and was seen as the "top hitter" there.
Michael Busch leadoff ?! #DodgersST pic.twitter.com/Ef2hDQv3pt

— SportsNet LA (@SportsNetLA) March 10, 2021
This spring, fans have been able to see his sweet, left-handed swing for themselves for the first time. Moreover, Dodger manager Dave Roberts has been able to get his first extended look at Busch too. And last week, Doc raved about what he saw.
I like him — I like the baseball player. I think that people talk about the bat but I like the overall baseball player. He's got a good head, good makeup, comes from a great program [University of North Carolina], plays the game the right way, very high baseball acumen. So he checks every box.
In limited time this March, Busch has shown some pop at the plate, recording a double and a home run in 10 at-bats. This is his first time on the big league side at spring training and so far, he's making the right impression.
Dodgers Nation's resident prospects expert Tim Rogers talked about Busch earlier this spring on our sister site Dodgers2080.com and shared his excitement for the swing.
That is a beautiful swing and I want to see more of him. 
So what comes next for the Dodgers' number three prospect? Dave Roberts continued.
Now it's just going out there and continuing to take professional at-bats, play second base and continue to get comfortable over there. But he's coming.
We may see him one or two more times before the season starts in earnest next Thursday. Often times the Dodgers like to bring their highly touted prospects with them from Arizona back to LA for the annual freeway series against the Anaheim Angels. But it's safe to assume that won't be the last time fans see Michael Busch.
Have you subscribed to our YouTube Channel yet? Subscribe and hit that notification bell to stay up to date on all the latest Dodgers news, rumors, interviews, live streams, and more!
Dodgers Breakout Prospects 2021! Josiah Gray, Zach McKinstry, DJ Peters, Pepiot, Busch, & More!