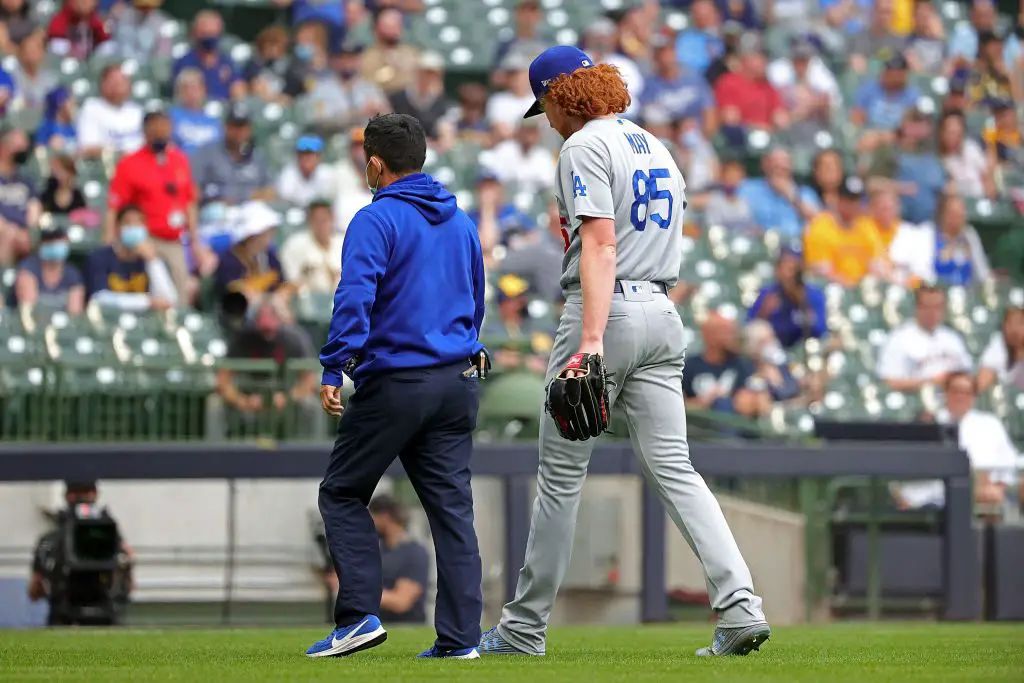 Dodgers Team News
Dodgers: Dustin May's Rehab from Elbow Surgery Affected by MLB Lockout
While the league and players union fight over money during this lockout, there's more than meets the eye in terms of what is, and who are affected by the squabbling. Players on MLB 40-man rosters lost access to privileges that come with being employed by a big league team. For the Dodgers and right-handed pitcher Dustin May, it means that he has to continue his rehabilitation from Tommy John surgery on his own.
Dustin May now has to continue to rehab from Tommy John surgery away from Camelback Ranch and #Dodgers trainers during lockout.

— David Vassegh (@THEREAL_DV) December 2, 2021
The 24-year-old, who underwent the operation back in May of this year, had just recently progressed to throwing a baseball again after a long six month shutdown. He had been working out at the Dodgers' spring training facilities in Arizona, but now the doors are locked.
At least until a new collective bargaining agreement can be worked out.
Notably, Dustin is among the many locked out big leaguers that have changed their social media avatar to a generic image.
May made just 5 starts in 2021 before blowing out his elbow in a start in Milwaukee. Over those 5 starts, he had allowed just 7 earned runs over 23 innings pitched (2.74 ERA). The 6'6″ hurler played a key role for the Dodgers in 2020, helping secure LA's first world championship since 1988.
The team felt his loss in a big way last season, relying on dozens of bullpen games after a rash of injuries. While he still wasn't expected back until after the All-Star break next season, his stunted rehab could push his return back even further.
Looking for more Dodgers News? Subscribe to our YouTube Channel! Subscribe and hit that notification bell to stay up to date on all the latest news, updates, rumors, interviews, live streams, and more!
NEXT: Former LA Outfielder Reportedly Nearing Deal with Korean Baseball League