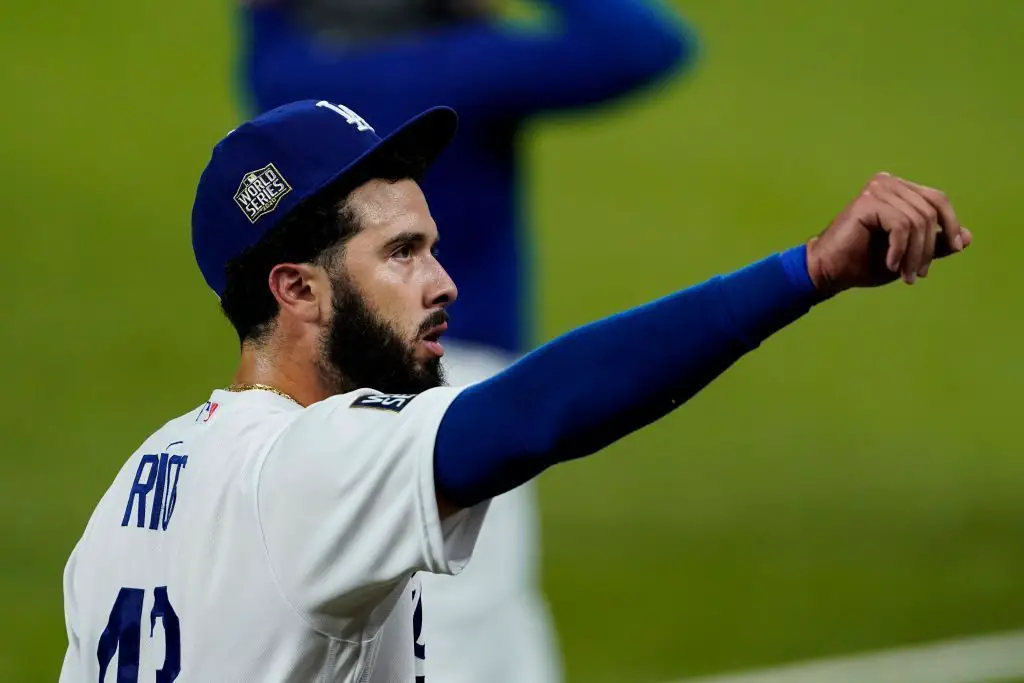 Dodgers Team News
Dodgers: Edwin Rios Talks About the Surprising Moment He Had to Replace Justin Turner
The Dodgers were forced into a very odd situation in the late innings of Game 6 during their World Series win. Justin Turner was forced out of the game when the league informed him that he had tested positive for COVID-19, making for an interesting couple of hours. 
As a result of that, Edwin Rios was suddenly forced into action with his team up by just 2 runs. The Dodgers third baseman talked with am570 about the moment that he was called into the game and the confusion that came along with it. 
Some of the guys are yelling at me. Hey, you're going to third and I'm just looking around. I'm like, alright, you guys playing a prank on me like come on it's only 2 to 1. It's not like we're you know, we're blowing them out like and you know, I'm looking around I'm like this. I mean no, I mean it's two to one. There's no way they're joking and just like that. It was like Docs like 'Hey you're going to third' and I was like, oh crap. This is happening.
Given that he had just entered the game for the Dodgers, it was only fitting that Edwin got a ground ball hit to him almost right away. But even though he wasn't loose or ready to go, Eddie fired one over to first base at Max Muncy for the easy out. 
And you know, I when I go out there, you know you kind of have to expect it because it happens every time you kind of get put into a predicament like that, you got to expect the ball because it's coming and you know, just to be able to get that ground ball and you know get that first one out of the way it was it was a lot of fun man. Just to be out there and you know celebrate what the guys…It was just everything just happened so fast.
Fortunately, the situation wasn't too big for Eddie and he stepped in just fine. The Dodgers would go on to take down the Rays and win their first World Series since 1988.
Dodgers: Cody Bellinger Challenges Rams QB to Bring Home another for LA