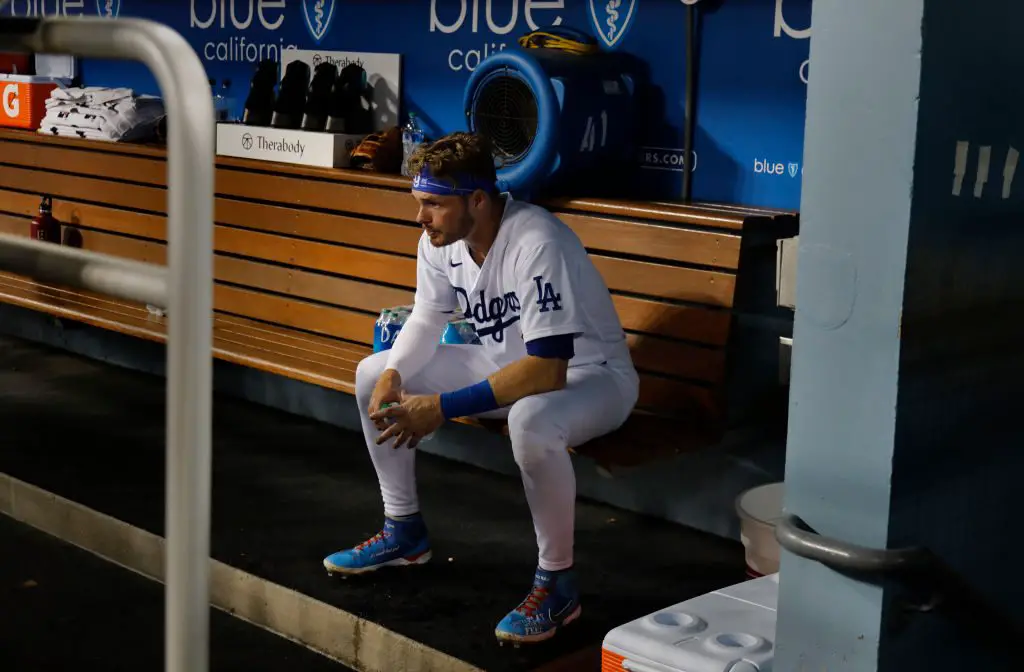 Dodgers Team News
Dodgers: Gavin Lux Feeling Good, Calls Outfield Incident a 'Scary' Lesson
Dodgers infielder-turned-outfielder Gavin Lux admits he's now learned a valuable lesson about his new position on the diamond. Unfortunately, that came at the expense of his health after crashing into the outfield wall in left center field on Wednesday night.
Thankfully, it looked much worse than the results turned out to be.
My neck is a little stiff but overall better than I thought. It was scary.
Lux caught up with reporters at Dodger Stadium before LA wrapped up a sweep of the San Diego Padres on Thursday. There he talked about the differences from the outfield at Chase Field in Arizona, where he made a phenomenal catch in the outfield last weekend, to Dodger Stadium where the wall came up on him much quicker than he realized.
That's the first one where I really had to run in the gap like that, close to the wall. The gap (in Arizona) is a little deeper. Here it cuts off 15, 20 feet shorter. I honestly didn't feel the (warning) track at all. I was just running full speed, trying to make the play. Now I know to kind of peek over my shoulder, see spatially where I'm at. It's a learning lesson. A tough learning lesson.
Importantly for Gavin and the Dodgers, the results of the crash only came with that stiff neck but no other lingering issues. At least so far. Before Thursday night's game, Lux said he went through his full pregame routine, taking swings in the cage and shagging fly balls and throwing in the outfield. Still, he'll remain on the bench on Friday night, according to Dave Roberts. Although that appears to be based more on the pitcher LA is facing — Milwaukee left-hander Eric Lauer — than any injury concerns.
NEXT: Teammates Prank Gavin Lux a Day After Run in with Outfield Wall