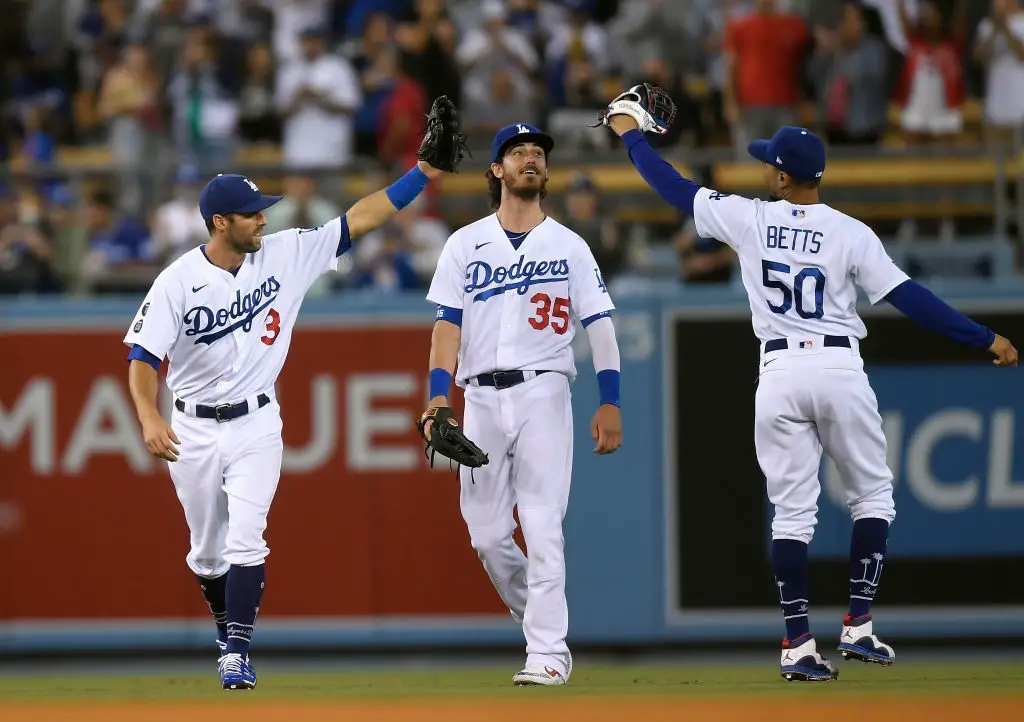 Editorials
Dodgers Grades: Mookie's Injury Concerns, How Bad Was Bellinger, Pollock's Breakout & More Outfield
Welcome to part six of our annual Dodgers season grades series. Yes, these are coming out late into January, but here we are. Over the past month or so, we've looked back, recapped, and graded our boys in blue position by position while identifying areas they can continue to work on next season.
Catchers Grades can be found here
First Base Grades can be found here
Second Base Grades can be found here
Shortstop Grades can be found here
Third Base Grades can be found here
Next position up: the outfield.
Mookie Betts Injury Concerns, How Bad Was Bellinger, Pollock's Breakout & More! Dodgers OF Grades
AJ Pollock
2021 Grade: B+
2020 Grade: B-
2021 continued Pollock's consistent but underrated improvement in Dodger blue. He posted his best season yet on offense, hitting .297 with 21 home runs and 69 runs batted in over 117 games. The big area of focus for Pollo is his OPS (on-base plus slugging) which was a career-high .892, good for sixth best amongst National League outfielders.
The big drawback is that he once again missed time with injury, this time dealing with two separate hamstring strains. Still, the 33-year-old carried the Dodgers at times, particularly in the second half of the season where he triple slashed .324/.381/.557 from mid-July onward. Moreover, he also again struggled for most of the postseason, hitting just .182 over the first 7 games before a hot streak where he had 7 hits in 13 at-bats.
Where can Pollock improve?
Allen Lorenz will play the 2022 season as a 34-year-old. Age certainly will not be a friend to the oft-injured outfielder. When healthy, he's proven he can be among the league's top sluggers. However, he's also proven that he's good to miss at least a month's worth of games of any regular season.
Where Pollock can get a big boost with the expected re-introduction of the universal designated hitter. Between himself and players like Justin Turner and Max Muncy, Dave Roberts should be able to get veterans more days off their feet while still keeping their bats in the lineup. So, in essence, the left fielder can improve by taking advantage of his DH days and keeping his legs healthy for 162.
Cody Bellinger
2021 Grade: D
2020 Grade: B
Oh, Cody. The 2019 NL MVP continued his rapid fall from grace with an abysmal 2021 season. However, he certainly had an excuse.
You know the story, en route to a world championship in 2020, Bellinger cranked a massive go-ahead homer that proved to be the game winner and series clincher against the Atlanta Braves in the NLCS. In celebrating the monster dong, a Kiké Hernandez elbow bash popped Cody's shoulder out of place and ultimately led to offseason shoulder surgery. The Gold Glover was unable to swing until mid-spring training and, already behind pace, suffered a leg injury five games into the season that cost him nearly two months of action.
As the 2021 season progressed, Bellinger had short hot streaks and long cold streaks that he rode to a career-worst .165 average. He began tinkering with his stance and swing late in the season and saw it pay dividends in the postseason, where he was pretty much the only Dodger hitter that deserved to be in the lineup.
Where can Cody improve?
Take full advantage of this healthy offseason and come into spring training determined to put his name back among the elite in the game. He turns only 27 in July and has plenty of career ahead of him to prove that 2021 was a fluke. …and 2020 (.239/.333/.455). If baseball is 90% mental, Cody should be feeling great coming off his resurgent postseason showing.
Mookie Betts
2021 Grade: B
2020 Grade: A
Pro bowling star Mookie Betts battled through injuries and mechanical issues to post his worst season since 2017. Of course, being that it's Mookie, his worst is still pretty damn good. The 2018 AL MVP played in just 122 games while dealing with a hip issue that was bad enough to the point where surgery was on the table. But his .854 OPS was sixth-best amongst qualified NL outfielders and his 23 home runs were fourth-most on the Dodgers.
When healthy enough to, he also still played an above-average defense in the outfield where he saw more time in centerfield than in recent years past. His 2021 postseason looks better on paper than it felt at the time. Altogether, Mookie hit .319 this past October. However, four key 0-4 games may have been the biggest undoing for the Dodgers last postseason that wasn't related to starting pitching.
Where can Mookie improve?
Get back to being the Markus Lynn Betts we all know and love. With his busy offseason, he's signaling that he should be fully healthy and back to normal in 2022. A healthy Mookie at the top of the Dodger lineup is arguably the best catalyst in baseball.
Best of the Rest
Billy McKinney, Luke Raley, DJ Peters, Steven Souza and Yoshi Tsutsugo were all among those to suit up in the outfield for LA last season. The end.
NEXT: MLB Insider Says What We All Know About MLB Super Agent Scott Boras