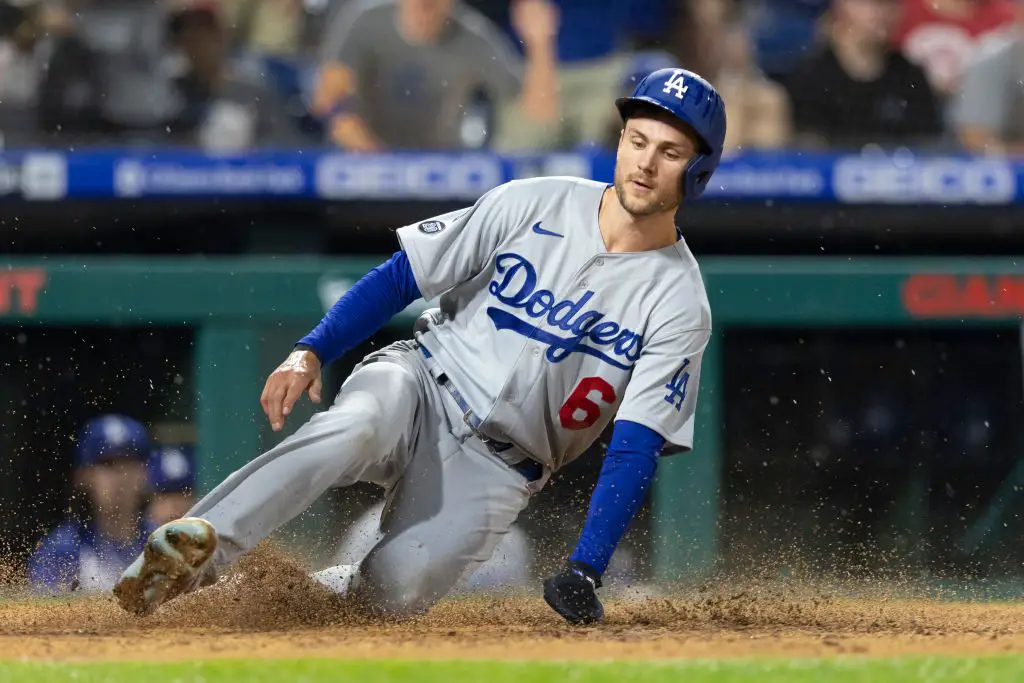 Editorials
Dodgers Grades: Trea Turner, Chris Taylor, McKinstry and LA's Second Basemen for 2021
Welcome to part three of our annual Dodgers season grades series. Over the past few weeks, we've looked back, recapped, and graded our boys in blue position by position while identifying areas they can continue to work on next season.
Part one can be found here: 2021 Catchers Grades
Part two can be found here: 2021 First Base Grades
Next position up: second base.
Was Trea Turner Trade Worth it? Zach McKinstry a Bust? Chris Taylor Carried LA! Dodgers Grades 2021!
Trea Turner
2021 Grade: B
2020 Grade: N/A (Washington)
After being picked up at the trade deadline in an absolute blockbuster of a move, Trea Turner sat on the covid injured list for about a week before making his Dodgers debut. He got off to a somewhat slow start with LA, hitting just .200 over his first 8 games before turning it on down the stretch. From August 15 forward, Turner posted a .362/.409/.616 triple slash line with 10 home runs and 26 runs batted in, securing LA's first batting title since Tommy Davis in 1963.
Meanwhile, he did all that while adapting to a new position at second base.
Altogether, you couldn't have asked for much more from the 28-year-old after being traded to the Dodgers. That is, of course, in the regular season. In the postseason, Turner struggled mightily, collecting just 11 hits in 51 at-bats (.216 avg).
Where can Turner improve?
He'll move over to shortstop and bat somewhere in the top three spots in the order for Dave Roberts. Production wise, there's not much more you can ask out of Trea Turner. He'll be entering the final year under team control and undoubtedly be set on putting together an elite platform season. The best way for him to improve is to try and buy into the Dodger ideology of "try not to do too much." We saw him press in October and it wasn't pretty.
The numbers will be there and with it, the money will be there in the offseason.
Chris Taylor
2021 Grade: A-
2020 Grade: C+
The recently re-signed super utility man spent most of his time in the outfield last season, but for the sake of these grades, we're listing him at second base in 2021. Why? He started the second-most games at the keystone last year (yes, even more than Gavin Lux, who we'll see in the upcoming shortstop grades). Chris Taylor was arguably the MVP for the Dodgers in 2021. Following the loss of Kiké Hernandez over the previous winter, CT3 was asked to do a whole lot more of everything this past season.
And everything he did.
CT3 By Position
Centerfield: 48 starts
Second base: 33 starts
Shortstop: 19 starts
Left field: 16 starts
Third base: 9 starts
Right field: 7 starts
With significant injures to Cody Bellinger, Mookie Betts, and Corey Seager last year, Taylor stepped in, playing wherever he was needed and not really missing a beat on offense. He was en route to a career year, posting an .858 OPS into mid-August. However, over his final 37 games of the season, he struggled to a .148 average, leading some to question whether he should get any playing time in the postseason.
As it turned out, he was the lone bright spot on offense for the Dodgers in October. Taylor hit .351/.419/.784 over 11 games. He also provided some of the best moments of this past postseason with a walk-off home run in the Wild Card game to send LA to face the Giants in the NLDS. CT3 also posted his first-ever three home run game in game 5 of the NLCS to keep the Dodgers alive against the eventual world champion Braves.
Where can Taylor improve?
Simply put, CT needs to keep it more consistent across a full season. Every player goes through slumps, but Taylor's slumps can, at times, linger. Moreover, he strikes out a ton (27.5% SO% over his career) but that's just part of his game. As parts of this LA roster continue to age, the Dodgers will continue to lean on CT3 all around the field. He really just needs to be himself and he'll more than earn that $60 million deal he just signed.
Zach McKinstry
2021 Grade: D
2020 Grade: inc.
For Zach McKinstry in 2021, it was sort of a tale of three seasons. He opened the year going 16-54 (.296) with 3 homers, 14 runs batted in, and some style points for the mullet. Then he pulled his oblique in batting practice and missed 33 games. After his return, he hit just .175 and looked absolutely lost at the plate at times. Later, we learned that he was actually closing his eyes while swinging the bat and it, like, took him and the coaches a while to figure that out for some reason.
McKinstry was optioned to triple-A Oklahoma City at the start of August and, from that point on, it was essentially the end of the 2021 MLB season for Zach attack. He appeared in just two more games with LA. For what it's worth, he hit well at AAA, showing some promise for the 2022 season.
Where can McKinstry improve?
Focus on the first full month as a big leaguer and forget literally everything else. Oh, and open your eyes…
McKinstry turns 27 in late April, so there's still plenty of baseball life left for the utility man. He'll be fighting for a roster spot alongside guys like Matt Beaty and Edwin Rios next season. 
Sheldon Neuse
2021 grade: D
Just watch the video above and Doug McKain's take on Sheldon. Not wasting time on this one. Notably, he was DFA'd when the Dodgers needed a roster spot for Chris Taylor.
Where can Neuse improve?
Do Better. Neuse hit .169/.182/.323 after coming over to the Dodgers in an offseason trade. But, he crushed 27 home runs at AAA in 2019 and hit 13 with an .830 OPS in 78 games with the OKC Dodgers in 2021. Do more of that.
Have you subscribed to our YouTube Channel yet? Subscribe and hit that notification bell to stay up to date on all the latest Dodgers news, rumors, interviews, live streams, and more!
NEXT: Making a Trade for Reds' Sonny Gray Work