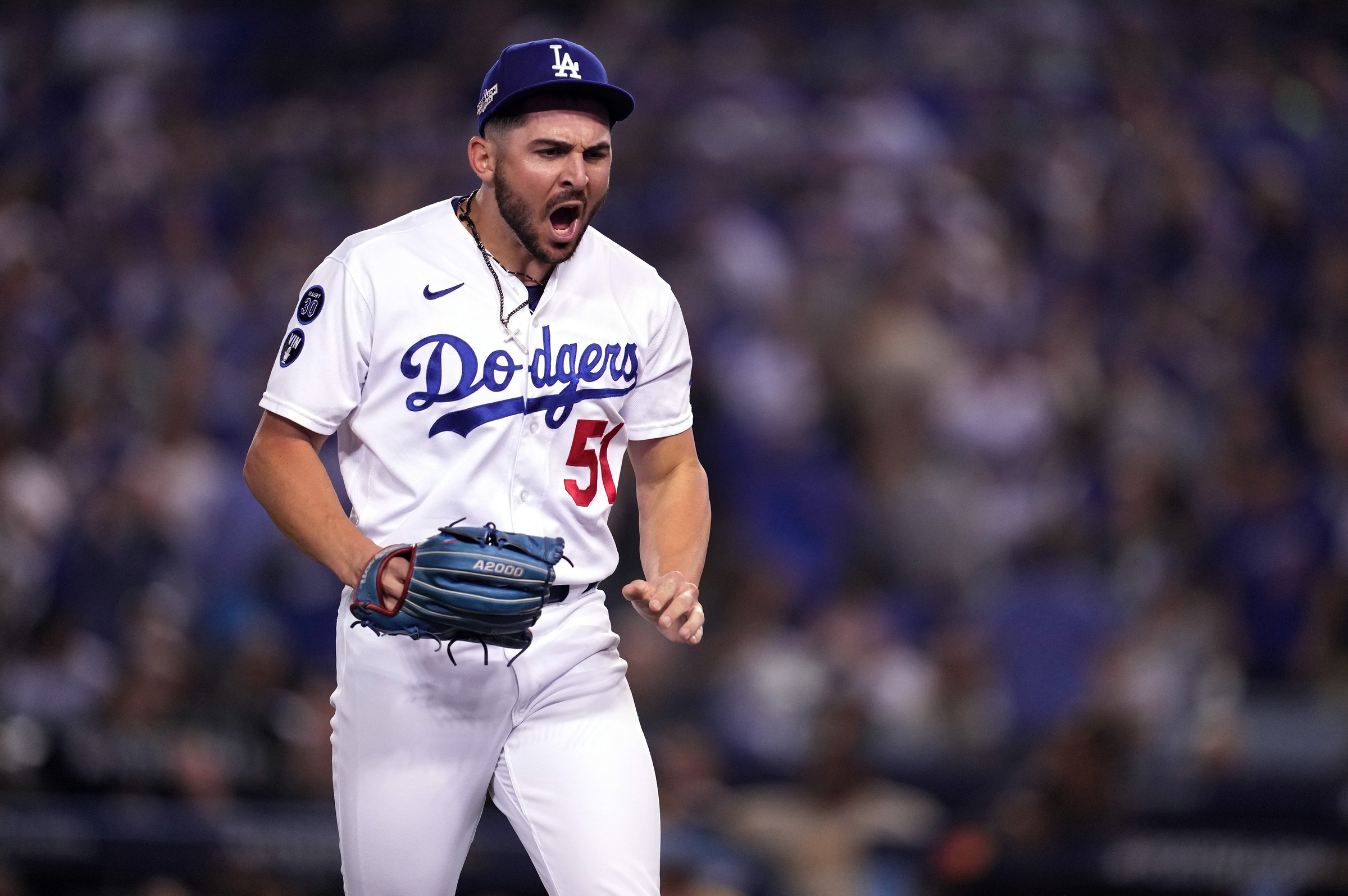 Dodgers Scores
Dodgers Highlights: L.A. Bullpen Locks Down NLDS Game 1 Over Padres
The Dodgers beat the Padres, 5-3, in Game 1 of the National League Division Series behind just enough early offense and some outstanding relief pitching.
Julio Urias pitched five innings for the victory, allowing four hits and three runs. Four relievers combined for four shutout innings, with Chris Martin locking things down in the ninth for the save.
The Los Angeles bats went cold after the third inning, but they had done plenty of damage before that to get the job done. L.A. didn't have a baserunner after the fourth.
The Dodgers lead the best-of-five series, 1-0.
Fire us up. pic.twitter.com/CYNKYPN6YX

— Los Angeles Dodgers (@Dodgers) October 12, 2022
Offense Jumps on Clevinger
The Dodgers offense jumped on Mike Clevinger, as everyone hoped they would. Trea Turner hit a one-out homer in the first inning, and a Will Smith double and Max Muncy single with two outs tacked on another run.
TREA! pic.twitter.com/HdJDELGdNc

— Los Angeles Dodgers (@Dodgers) October 12, 2022
The Dodgers added three more runs in the third inning on doubles by Trea Turner, Smith, and Gavin Lux and a key error by Wil Myers at first base. The third run of that inning chased Clevinger from the game and getting into San Diego's bullpen early.
Puttin' up a three-spot. pic.twitter.com/7L9I5UI9Be

— Los Angeles Dodgers (@Dodgers) October 12, 2022
Urias Pitches Great Before Hitting a Wall
Julio Urias allowed just one hit in his first four shutout innings, but things got dicey in the top of the fifth. Wil Myers led off with a homer, followed by a Jake Cronenworth single and a Ha-Seong Kim double to put runners on second and third with no outs.
All things considered, the rest of the inning went as well as they could have reasonably hoped. A groundout to first and a sacrifice fly scored both runners but emptied the bases, and Julio got another fly out to end the inning and his night.
Overall, Urias pitched five innings and allowed three runs on four hits, departing with a 5-3 lead.
Phillips Has to Work For It
Evan Phillips came on to pitch the sixth inning, and Juan Soto greeted him by working a seven-pitch walk. Manny Machado followed with a tapper down the third base line that turned into an infield single.
Josh Bell came on to pinch-hit and worked a tough at-bat, but Phillips ultimately struck him out on the eighth pitch of the at-bat. Myers also worked a long at-bat before hitting the sixth pitch sharply to Gavin Lux's left. Lux fielded it and turned it into a sparkling 4-6-3 double play to end the inning.
Turn it! pic.twitter.com/nzuCPqiWmV

— Los Angeles Dodgers (@Dodgers) October 12, 2022
The inning was scoreless, but it took Phillips 26 pitches, which means he's surely unavailable for Wednesday's Game 2.
Vesia, Graterol, and Martin are Nails
Alex Vesia came on for the seventh inning, striking out three with a two-out single sandwiched in.
With the top of the San Diego order coming up, Vesia came back out for the eighth inning. He got Jurickson Profar to ground out on the first pitch, then induced a lazy fly out from Juan Soto.
Dave Roberts went out and got Brusdar Graterol to face Machado with two outs, and Machado flied out to left on the first pitch he saw. Machado hit the ball hard — 102.5 MPH off the bat — but the launch angle of 48 degrees let it fall harmlessly into Trayce Thompson's glove 317 feet from home plate.
There may have been some wind involved.
One pitch, one out. That fly ball started foul and wound up fair by a good 30 feet.

— J.P. Hoornstra (@jphoornstra) October 12, 2022
Chris Martin came on for the ninth inning, allowing a two-out single but nothing else.
Up Next
The NLDS continues on Wednesday evening at Dodger Stadium. The Dodgers will look to take a 2-0 lead in the series before heading to San Diego.