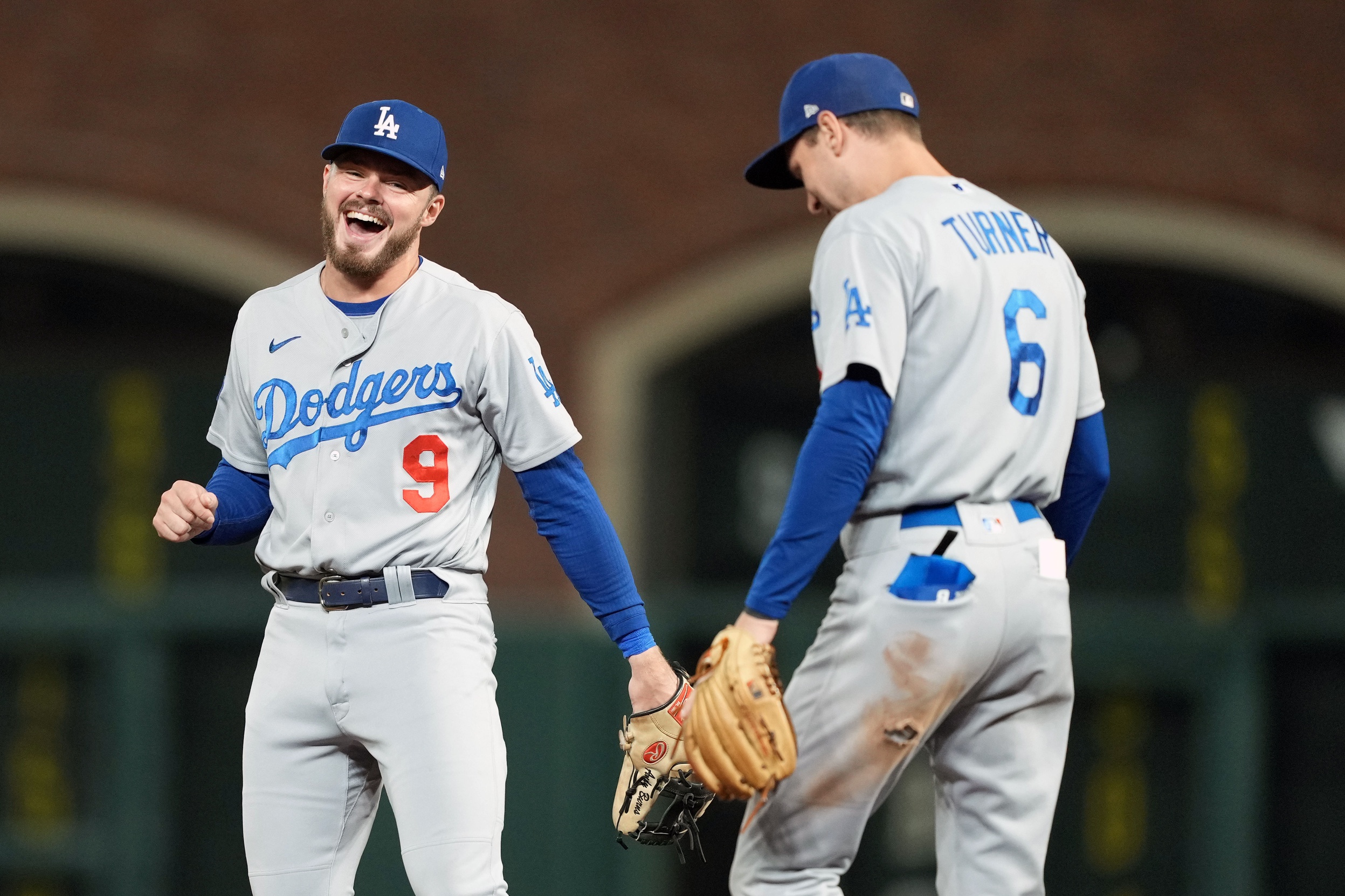 For a team that just won 111 games, the Dodgers head into the offseason with more question marks than you might expect, and very few (if any) of those questions were raised by the stunning collapse in the NLDS. Even if L.A. had steamrolled to the World Series title like we expected, most of these questions still would have existed.
In the end, the 2023 roster might end up looking quite a bit different than the 2022 version. Here are five moves the Dodgers need to make this offseason to set up 2023 to be even better than 2022:
1) Find a Shortstop
Trea Turner is hitting free agency, and a few factors might be working against him coming back to Los Angeles. He might want to play closer to home on the east coast. Other teams might outbid the Dodgers. And, for that matter, L.A. might have soured a bit on him after his struggles over the final month or so of the season.
Trea could be back as L.A.'s shortstop, but if he's not, they need a replacement. They could stay internal, either shifting Gavin Lux back to his natural position or giving 24-year-old prospect Jacob Amaya a shot at the job.
Or they could go external, with Dansby Swanson, Xander Bogaerts, and Carlos Correa among the options in free agency. Swanson, like Turner, had a good season overall but struggled late, posting just a .693 OPS after early July, but he's a solid hitter and an outstanding defender. Bogaerts has been a consistently excellent hitter the last five years, and he had his best defensive season in 2022, but he's also the oldest of the bunch. And then there's Correa, who might be the best player of the bunch, but he's also the most hated man in Los Angeles due to his unrepentant cheating and whatnot.
2) Add an Ace Starting Pitcher
The Dodgers have a solid starting rotation even if Clayton Kershaw doesn't come back, with Julio Urias, Tony Gonsolin, and Dustin May sure things in the rotation. If Kershaw comes back, that's four good starters, and Tyler Anderson could return to make it five, although he's likely to draw a lot of interest on the open market.
Los Angeles also has a few prospects who might be ready for the big leagues at some point in 2023, if not at the beginning of the season. Ryan Pepiot spent some time in the rotation in 2022 with mixed results. Bobby Miller is their top pitching prospect and finished the season in Triple-A. And Gavin Stone rose through the minors like a rocket and looks like he might be the real deal.
But L.A. might want to add an ace, and there are some options on the free-agent market. Carlos Rodon can opt out of his contract with the Giants, as can Jacob deGrom with the Mets and Justin Verlander with the Astros. If we're talking aces, those are the three real options in free agency.
Starting pitching wasn't L.A.'s problem in the NLDS, but adding an ace to be 1a and 1b with Urias would make the team that much more formidable.
3) Figure Out the Outfield
We know Mookie Betts is going to start, probably in right field. Beyond that, who knows? Will Cody Bellinger even be on the team? Will Chris Taylor ever remember how to hit? Did Trayce Thompson do enough for them to bring him back?
Aaron Judge, of course, is the big-name outfielder on the free-agent market. Judge, like Betts, is a right-fielder, but Mookie has the athleticism to move over the center if the Dodgers want Judge in right. Or Judge could play left field.
Brandon Nimmo will also be a free agent and could be a center-field replacement for Bellinger. An outfield of Judge, Nimmo, and Betts would be pretty nice.
4) Make a Third Base Plan
Justin Turner and Max Muncy split time at third base this year, and they could do that again next year, with Muncy getting more and more time and JT spending more time at DH or on the bench. JT bounced back to have a solid offensive season, but it was still the worst season he's had since he came to L.A., and a shin injury late in the year limited his playing time and his effectiveness. The Dodgers need to decide if they're exercising JT's $16 million team option.
Intriguingly, Nolan Arenado could opt out of his contract with the Cardinals, and the Lake Forest native might want to follow Freddie Freeman's lead and come home to the Dodgers. Arenado would be opting out of $144 million in future earnings, so the Dodgers would have to make it worth it for him, but he remains an elite third baseman at age 31 and is coming off his best season.
5) Do the Little Things
Every good team needs a good bench. Hanser Alberto was a fun player for a year, but he's probably not any sort of answer in 2023. Friedman & Co. will undoubtedly identify a bench player or two who make us think, "Wait, who?" and then perform well for the team. Joc Pederson will be a free agent and could be a decent option now that he's accepted his role as a platoon player.
On the bullpen side of things, Craig Kimbrel will be gone. Chris Martin and Tommy Kahnle will also be free agents, but the Dodgers might want to bring them back. Friedman will likely try to identify one or two relievers they think they can work their magic on.
Have you subscribed to our YouTube Channel yet? Subscribe and hit that notification bell to stay up to date on all the latest Dodgers news, rumors, interviews, live streams, and more!