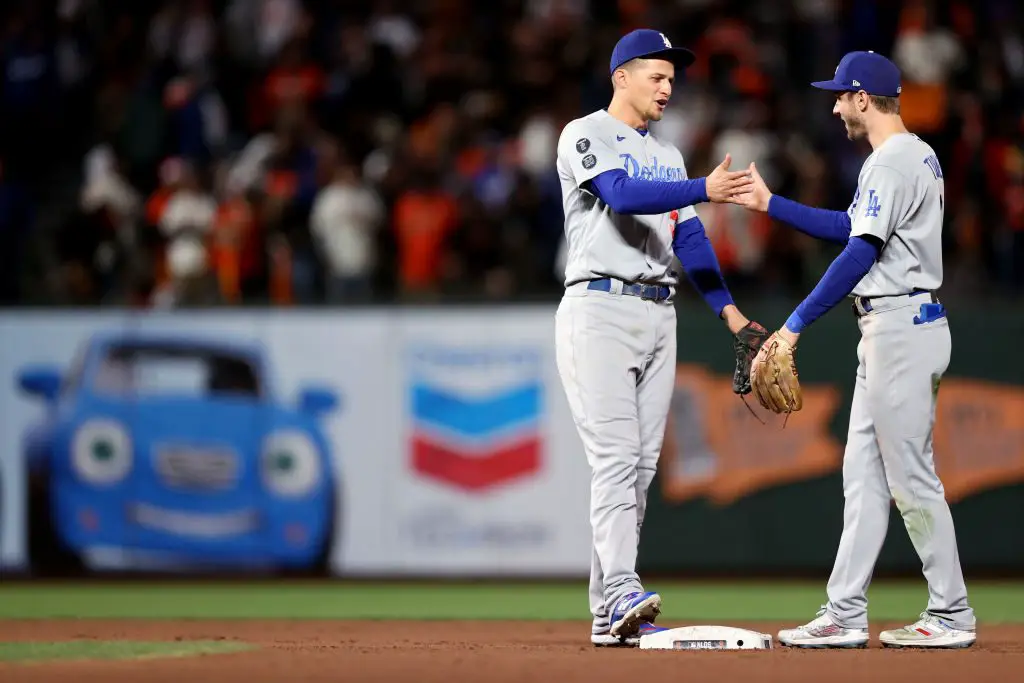 Dodgers Team News
Dodgers Insider Doesn't See Corey Seager and Trea Turner in LA Together Long-Term
The Dodgers have some decisions to make in free agency this year. Perhaps now more than ever before, we could be seeing a drastic roster change from 2021 into the 2022 season. And fans aren't quite ready for that. 
One area of concern is at shortstop. The Dodgers have Corey Seager hitting the market and Trea Turner with another year of control. But with Seager seeking a big contract, what are the odds they would try to sign him to a multi-year deal, and how does that play into Turner's future?
Well, MLB's Juan Toribio doesn't see both guys ending up in Los Angeles long-term. If the Dodgers allow Seager to walk, Turner would go back to a normal position and the team would likely look to extend him instead.
If Seager walks, the Dodgers will then go to Plan B. And it's not a bad one. Trea Turner, who was acquired from the Nationals on July 30, would slide from second base to shortstop, the position he has played most of his career. …In a perfect world, the Dodgers keep both Seager and Turner for the next decade. But that appears to be unlikely.
It's easy to dream of a middle infield of Turner and Seager for many years in Los Angeles. But the reality is that the Dodgers will ultimately need to choose which guy sticks around for the long haul. Both shortstops are going to command massive contracts in free agency, putting at least one of them out of reach.
And that money will also need to go a couple of different places down the line, so they have to be thinking past 2022. The Dodgers will need to pay guys like Walker Buehler and Julio Urias within the next few years, and the situation with Seager and Turner will play into that. 
Some big decisions are on the horizon for Andrew Friedman and his team. 
Dodgers Rumors: Corey Seager Rejected Contract, Insider Says LA 'unlikely' to Sign Trea & Seager
Dodgers Free Agent Hot Stove Primer, Talking Clayton Kershaw, Max Scherzer, Corey Seager, and More