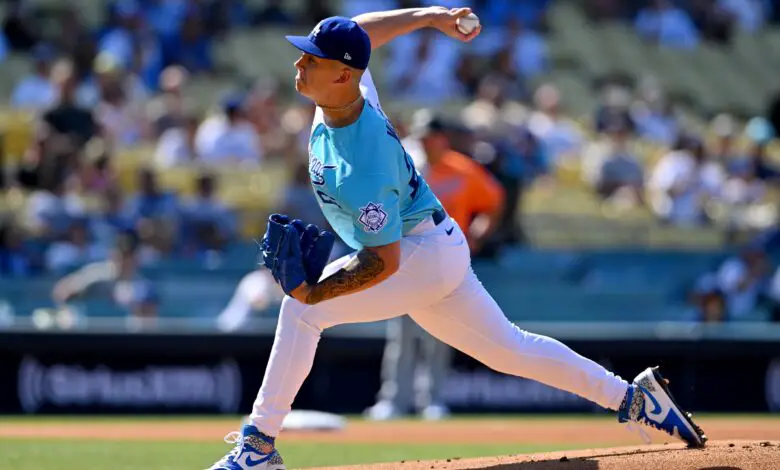 Dodgers Team News
Dodgers Insider Reviews the Top LA Pitching Prospects to Watch This Season
As the Dodgers prepare for the upcoming season, one area of focus will be on the development of their top pitching prospects. With a talented roster and a deep farm system, the Dodgers have several young arms that are expected to make an impact in the near future. 
Fabian Ardaya of The Athletic recently wrote an article that ranked LA as the top farm system for the second consecutive spring. The Athletic spoke to Dodgers director of player development Will Rhymes about four particular prospects.
Ryan Pepiot
In his first professional season, Pepiot posted a 3.47 in 36 1/3 innings. His fastball sits in the mid-90s and has a sharp slider that generates plenty of swing and misses. Rhymes also addressed Pepiot's changeup.
"It's his bread and butter," Rhymes said of the changeup. "(Sometimes) it was good, but I think there were times he was searching for it. I do think the mechanics and just learning himself, just learning the tempo and the rhythm, how to control himself in those big moments — look, it's hard.

"Trying to really dominate when he goes up (to the big leagues) and putting pressure on himself, it's all natural things that a pitcher has to go through."
Pepiot has the potential to be a high-leverage reliever or a mid-rotation starter, and his performance this season will play a big role in determining his future role with the Dodgers. As Rhymes mentioned, this will be the pitcher's "learning year" to refine and grow. 
Gavin Stone
Stone has a solid three-pitch mix that includes a mid-90s fastball, a slider, and a changeup. The 24-year-old has excellent control and generates a lot of ground balls. Rhymes touched upon the prospect's trajectory thus far.
"Stone has been as quick a riser as anyone in the Dodgers' system, emerging from being a fifth-rounder from Central Arkansas to become one of the top pitching prospects in the sport, one who Law said isn't far behind Miller in terms of upside.

Despite Stone's small frame for a pitcher (he's listed at 6-foot-1, 175 pounds), Rhymes described his delivery as "electric," generating mid-90s velocity, deception and arm speed that sells the new changeup that Law said is already a "plus-plus" pitch.
Last year, Stone posted a 1.48 ERA in 121.2 innings between High-A, Double-A, and Triple-A. 
Stone's skills and control can make him a valuable asset for the Dodgers in the near future. He is expected to reach the majors by next October. 
Bobby Miller
Miller has generated a mid-90s fastball, and his changeup has improved since his college days. It is cleat that the young pitcher has already tweaked his game in significant ways for the big leagues.
"The reason Law's No. 28 prospect in baseball took a leap last year once he arrived in Triple A came down to the finer things, such as sequencing and game-planning.

"It's kind of shocking, the big adjustments he was able to make, which just speaks to the athleticism, the coordination," Rhymes said of Miller.
Dodgers personnel have been getting the 23-year-old to focus on locations instead of simply just firing off his four-pitch mix past hitters. 
Michael Grove
Michael Grove pitched in 19 games in the minors between Tulsa and the Triple-A Oklahoma City Dodgers, with a 1–5 record and 3.79 ERA.
He was added to the Dodgers' 40-man roster in November 2021 and pitched 3 2?3 innings in his debut, allowing four hits while walking three and striking out three. He's the only player Friedman has ever called up directly from Double-A, which speaks a lot about his talent.
"He's so resilient and so tough," Rhymes said. "He's completely fearless."

Grove came up and down repeatedly last season, spot-starting games, pitching in relief and doing a bit of just about everything — even making a start while sick after the Dodgers put Tony Gonsolin on the injured list in late August.

"He won a lot of credibility with the guys for his willingness to take the ball and make no excuses and just come after guys," Rhymes said.
The 6'3″ right-hander has the confidence already and will continue to develop to become a versatile pitcher. 
With these four young pitchers in the mix, the Dodgers have a talented group of guys that are expected to make an impact in the coming seasons.
Have you signed up for the Dodgers Nation newsletter yet? Get the latest news, rumors, highlights and more right in your inbox every day! Keep up to date on every single thing involving your boys in blue!