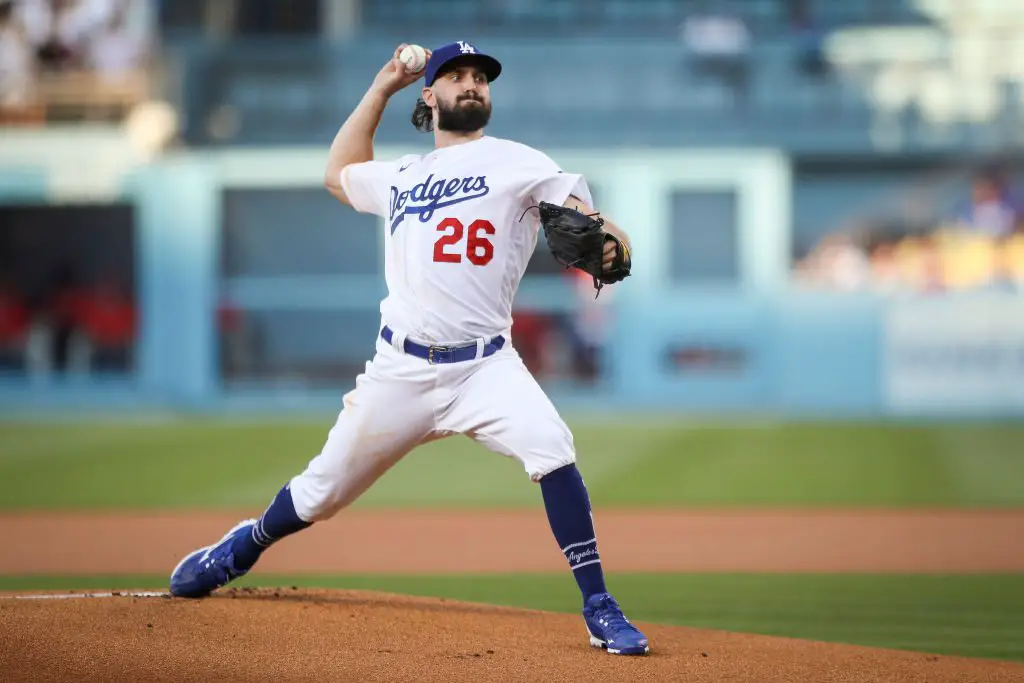 Editorials
Dodgers: Is the Starting Rotation Actually Good Enough as is?
The Dodgers entered the 2021 season with seven major league starters. By October, they had two.
Now, Clayton Kershaw is a free agent stuck in MLB-lockout-limbo. Trevor Bauer is still embroiled in sexual assault allegations. Max Scherzer is a Met. Dustin May is recovering from Tommy John surgery. There's no indication whether or not veteran David Price will be a regular starter.
LA's current 2022 rotation features two Cy Young caliber starters, Walker Buehler and Julio Úrias, and a bunch of question marks.
Could Tony Gonsolin, Andre Jackson, and Andrew Heaney be the answer?
Tony Gonsolin
Gonsolin owns a career 2.55 ERA and a 1.06 WHIP as a starter. The eye test, and the stats, suggest that Gonsolin could be a rotation mainstay. Tony Smokes started just 13 games in 2021 as he battled injuries. If he can stay healthy, he is definitely a starter the Dodgers staff can count on.
Aside from injury, the biggest problem isn't Gonsolin's ability, it's how the Dodgers have used him. LA has brought him out of the pen in late-innings and used him as a bulk innings reliever. When he starts, the Dodgers seemingly leave the governor on. Gonsolin threw more than 80 pitches in just four of his 13 starts in 2021.
If Gonsolin stays healthy and is given the proper runway, he could be a great number three starters for the Dodgers.
Andre Jackson
Compared to Gonsolin, the book on Jackson is considerably thinner. Jackson pitched in three games for the Dodgers in 2021 (2.31 ERA in 11.2 IP). None of them were starts, but he threw at least 51 pitches in all three appearances.
Jackson's ability to utilize his plus changeup will make or break his prospect of becoming a MLB starter. Control is also a concern: Jackson has posted a 4.3 BB/9 over his last three minor league seasons.
The 25-year-old has a ton of upside and he could be part of the glue that holds the Dodgers 2021 rotation together.
Andrew Heaney
Heaney is an absolutely classic Andrew Friedman buy-low signing. Heaney logged a 5.83 ERA last year between his time with the Angels and the Yankees. He had the third worst ERA among starters with at least 120 IP. The lefty also compiled the fifth worst HR/9 (2.01).
The Dodgers have successfully managed reclamation projects. Turning Heaney into a serviceable number five starter would be Freidman's magnum opus.
Final Thoughts
Re-signing Kershaw changes the rotation calculus. It's also not out of the question that the Dodgers could sign another veteran starter (Zack Greinke?).
David Price is another wild card. The 36-year-old starting 11 games in 2021, but pitched only 73.2 
What do you think Dodgers fans? Does LA need some starting pitching upgrades?
Looking for more Dodgers News? Subscribe to our YouTube Channel! Subscribe and hit that notification bell to stay up to date on all the latest news, updates, rumors, interviews, live streams, and more!
NEXT: Thoughts on Puig, A Quiet Coaching Change, LA Pitcher Takes Down Astros and More