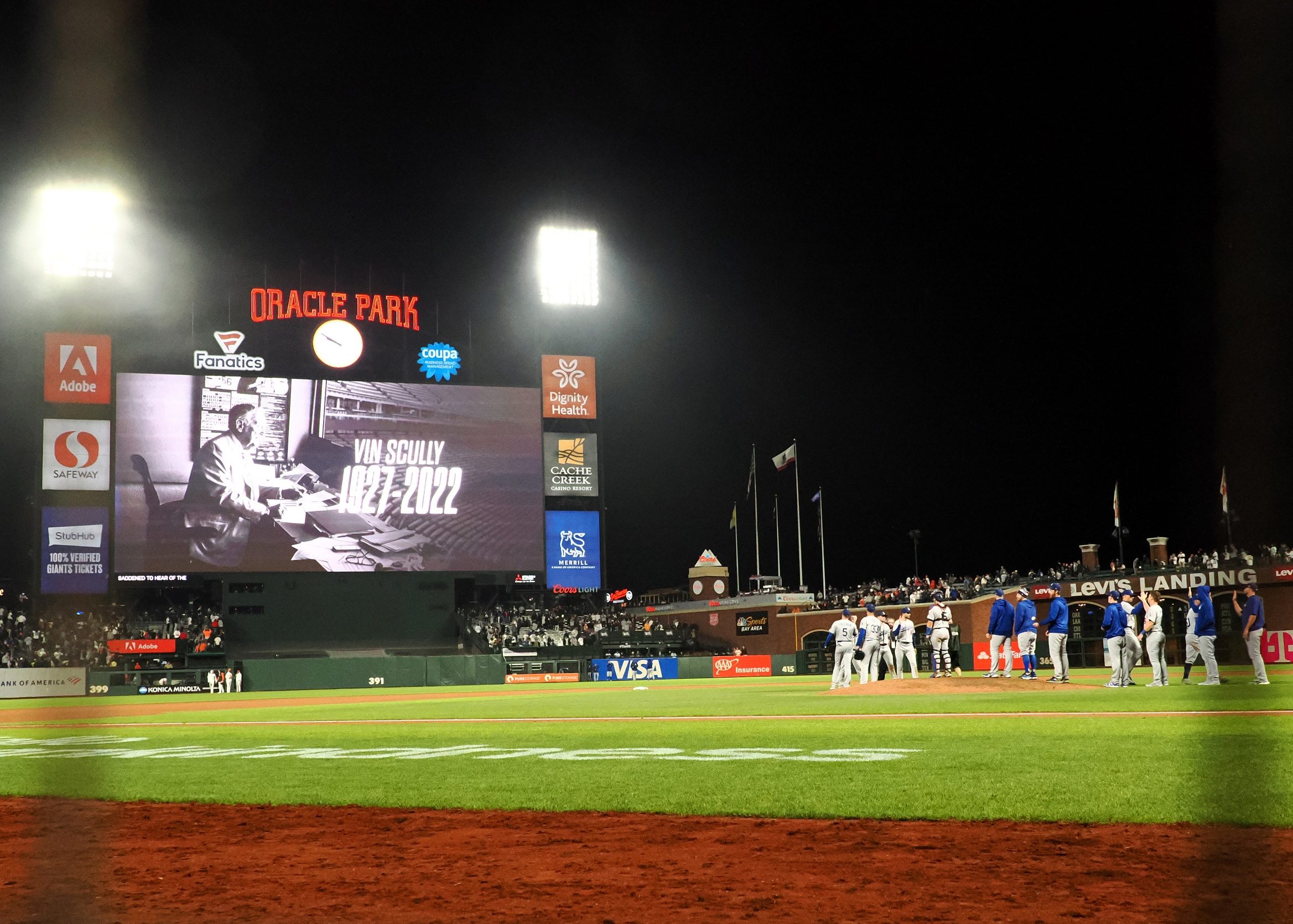 What Joe Davis was able to do on Tuesday night was pretty incredible, all things considered. With such a sad and sudden announcement of the passing of Vin Scully, the Dodgers play-by-play man handled it with perfect tact and emotions. He allowed fans to feel the moment while also offering anecdotes to remind us all how lucky we were to know Vin. 
It definitely wasn't an easy thing to do, especially with Joe also feeling the emotions of the moment. So many Dodgers fans have come to know Vin almost as a family member, and losing him is a devastating blow to the community. 
After the game, Joe spoke with The LA Times' Jorge Castillo about the broadcast and what went into it. And although we already think the world of Joe, Dodgers fans certainly have to appreciate him a whole lot more after going through that.
"You can kind of prepare mentally for it I guess, but anything like this, until it actually happens, you don't really know what you're going to say or how you're going to say it. I just tried to do my best to pay tribute to the guy that I consider the greatest to ever do it. I said it on the air tonight, and will say forever that there never will be another one like him. Greatest there ever has been, and greatest there ever will be."
Joe even spoke on the broadcast about the first time that he spoke with the Dodgers legend. As it turns out, he got a phone call from Vin and let it go to voicemail, not recognizing the number calling him. But when he listened to the voicemail, he had a phenomenal story that he will carry with him for life. 
.@Joe_Davis shares the story of his first interaction with the legendary Vin Scully. pic.twitter.com/Mih4u47yq1

— SportsNet LA (@SportsNetLA) August 3, 2022
There never will be another like Vin Scully, that much is certain. But Dodgers fans have to feel extra thankful to have Joe Davis to help us navigate tough times like these. Thank you Joe, and thank you Vin. 
Have you subscribed to our YouTube Channel yet? Subscribe and hit that notification bell to stay up to date on all the latest Dodgers news, rumors, interviews, live streams, and more!
Dodgers Postgame: LA Wins Again in San Francisco as Team Remembers the Great Vin Scully