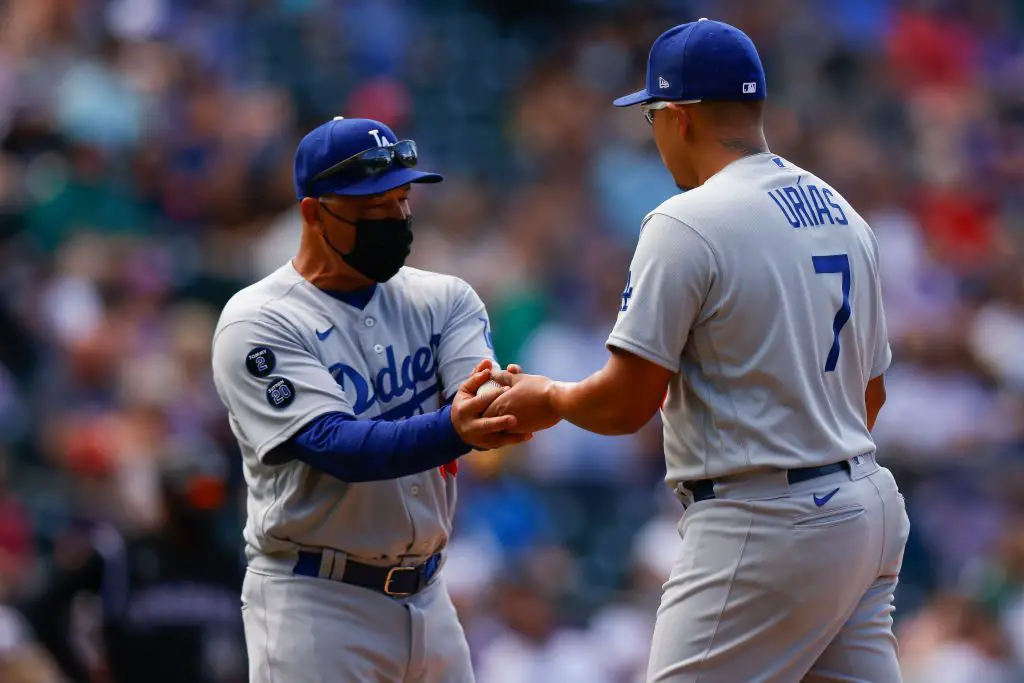 The Dodgers might have another ace in their starting rotation. On Sunday afternoon in Colorado, Julio Urías showed why the organization has been so high on the southpaw for so long. And at just 24-years-old, the sky is the limit for what he can do. 
Urías came out and shut down the Rockies for 7 solid innings on Sunday. It was a blunder on the part of Jimmy Nelson in the 8th that allowed a run to be charged to Julio on what should have been a scoreless outing. 
But in that outing, Julio showed off his incredible pitch mix that appears to feature a much better slider. Dodgers manager Dave Roberts thinks that pitch paired with his slurve and fastball make his potential limitless. 
I think it could be as high as any top-end starter. I think a guy that can miss bats with a few different pitches. Can command the fastball. Gets left and right out, can navigate a lineup three times through which he has shown he can do that. Pitch in leverage and pitch out of leverage. So there's no ceiling for him.
Striking out 6 and issuing 1 walk is a really good sign for Julio, especially at Coors Field. The southpaw also allowed just 3 total hits in the outing as the Dodgers went on to win 4-2. It was the furthest he has ever gone into a game in his entire career and only took him 79 pitches. 
The Dodgers are finally giving Julio the chance to have a consistent role. After bouncing between the starting rotation and bullpen since 2016, it looks like they're ready to take the training wheels off. 
It's a long season and a lot can happen in 162 games. But it's really difficult to not be excited about Julio after his outing on Sunday. 
Dodgers: Analyst Predicts Down Year for Trevor Bauer! Why He Won't, Plus Roster Updates