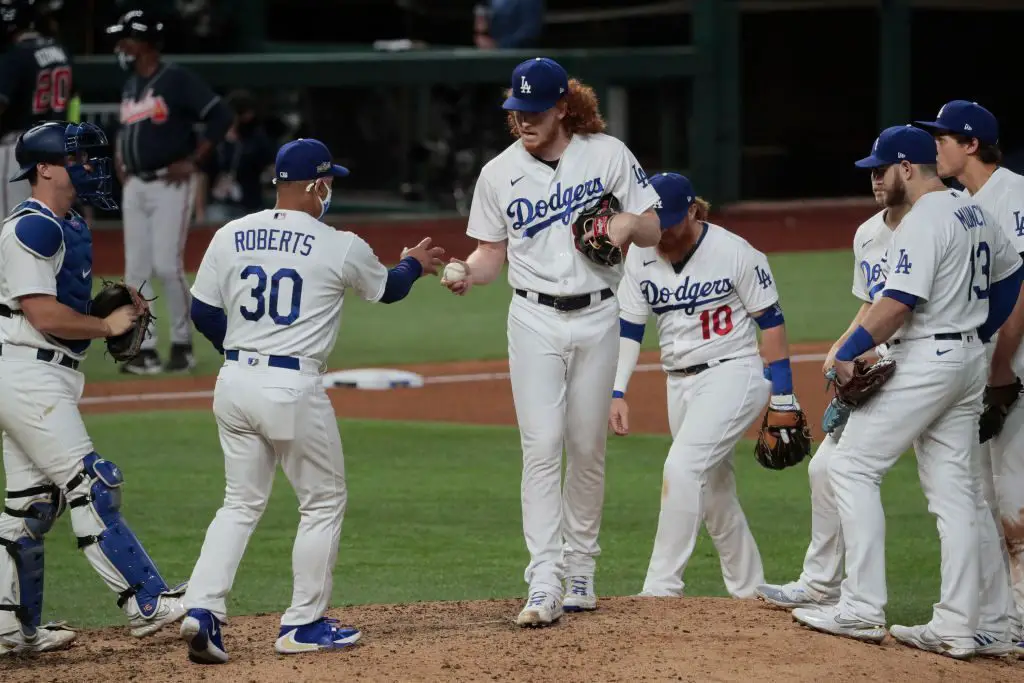 Dodgers Team News
Dodgers: Justin Turner and Dave Roberts React to Losing Dustin May for the Year
The Dodgers are going to have to adjust to life without Dustin May. The fifth starter in the rotation was pitching like an ace, and it felt like he was getting better with his appearance. Understandably, news of his loss for the season hit the clubhouse hard. 
Dodgers manager Dave Roberts talked about the loss before the rain postponement on Monday. For Doc, the team has to find a way to move forward in his absence. May will be back next year, but the focus right now is on getting him healthy and winning ballgames. 
You never want to lose anyone for the season. Certainly a player like Dustin who was taking the ball every fifth day and logging valuable innings. And so, I feel for him most importantly. But for our ball club, it's a big blow.
Justin Turner has been around long enough to know what losing a guy like May can do to a clubhouse. The Dodgers veteran talked about how important D-May was for the present but also for the future success of the team in 2021.
Obviously, he was a big part of our rotation and he was getting better every time he took the mound. That's a significant loss. That's a significant arm that we relied on and were planning on relying on. I just feel terrible for Dustin. 
It's going to be tough for the Dodgers to just move on after losing a guy like Dustin. He's still obviously part of the team, but losing someone with his talent isn't something any team is equipped for. If they can get some of their guys back healthy, they should be able to survive this. 
Dodgers vs Cubs: Revisiting a Brief History of Two Iconic MLB Franchises