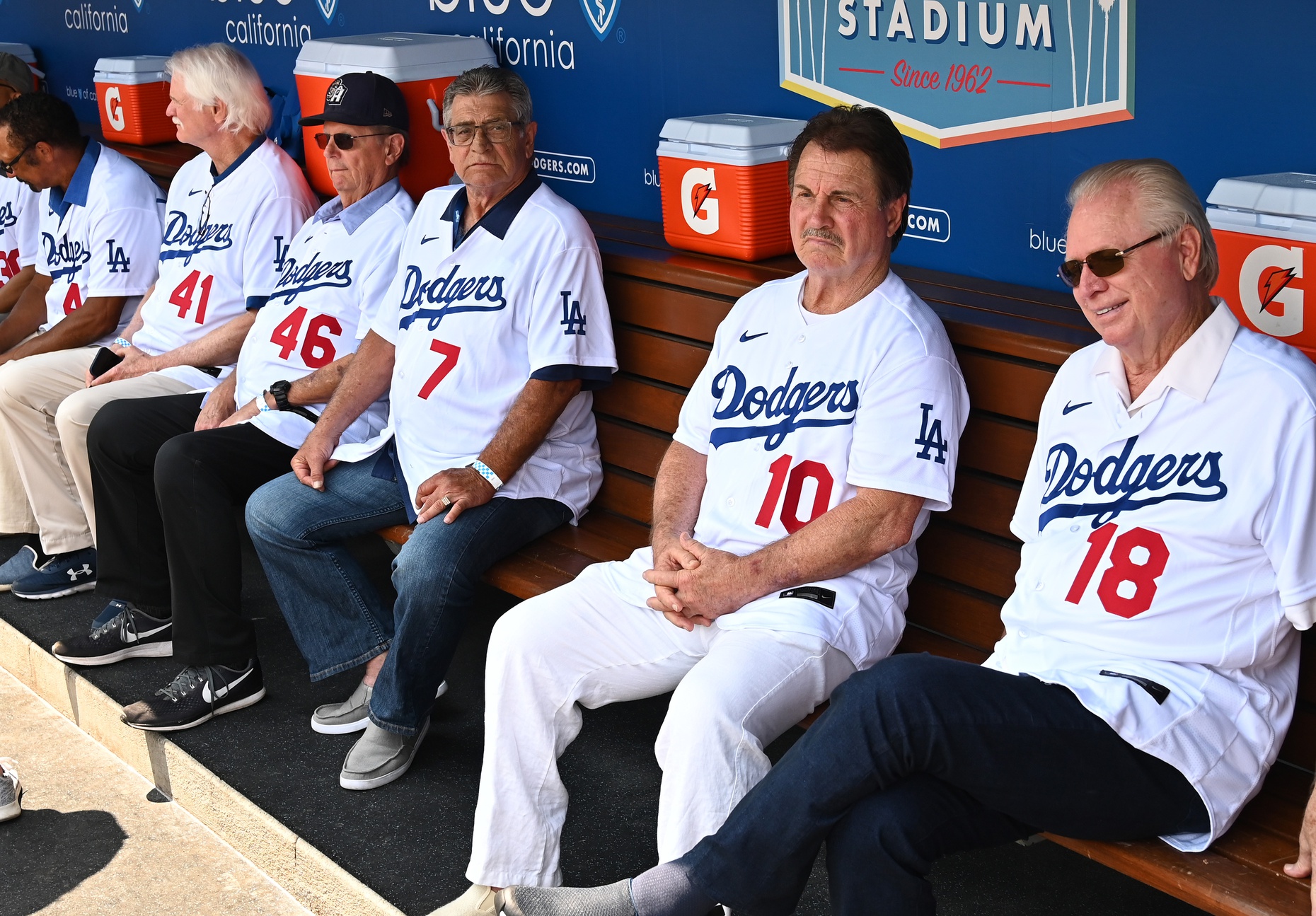 Here at Dodgers Nation, we're very lucky to be joined by some pretty prominent guests. Our most recent was one of the biggest legends in Dodger history, six-time All-Star and 1981 World Series Champion and MVP, the Penguin, Mr. Ron Cey.
Cey dropped by the studio to talk all things Dodgers. Among the topics was, of course, the Dodgers' collapse in the 2022 NLDS. Cey shared his thoughts on what went wrong in that series, and what this team needs to do to get over the hump in the future.
It was such an honor to listen to a legend like Cey. More importantly, it's great to draw on the knowledge of a player that was considered a top playoff performer in his day. Over 40 postseason games with the Dodgers, the third baseman hit .275 with an .824 on-base-plus-slugging percentage. He connected on 7 doubles, 6 homers, and drove in 24 runs over eight playoff series (notably, there was no division series in October back then).
At any rate, here's what he had to say about that shocking series loss to the Padres.
"[The Dodgers] didn't have any difficult games. There were no high risk games going down the stretch," Cey said. "The Padres and the Phillies had to battle down to the wire and they got hot and that's why they made it in."
"It could've just been a lack of confidence. There's no guarantee that after you play 162 games and you go into the playoffs that you're on a high note," Cey said. "They didn't play a significant game for months. And after a while, I'm not saying that you weren't trying, because they were still winning a lot of games, but the intensity level [wasn't there]. And when you increase the intensity level when you have been kind of walking through this, then it affects people different ways. They start grinding it. And I thought they really got into a position where they were really grinding. They were trying to find it and they couldn't find it."
This is definitely something we've heard a lot. The Dodgers didn't really play an important game for the last two months of the season, while the Padres and Phillies were playing just to get into the postseason. They had all the momentum going into the playoffs, while the Dodgers were cruising in. But Cey had a lot more to say on the Dodgers' struggles.
"The Dodgers did not execute," Cey said, "And you can say that they went in kind of ho-hum and they had some, they had more time off than they probably needed. They needed to be sharp. They caught them on a low. But if you remember, the Dodgers came out of the shoot — they won the first game rather handily — and then from that point on, they couldn't hit with runners in scoring position and they got outplayed, simple as that."
With all that being said, however, Cey even had his doubts entering the postseason. The Dodgers' lineup, while statistically was the best in baseball, was by no means perfect — and those deficiencies showed up in the postseason.
"I think they started to feel the pressure. And when you do, all this can happen," Cey said. "But I was kind of really surprised, too, that … the Dodgers had so many players in the lineup that were hovering around .200. You're basically relying on three people, maybe four, and they've got to carry the weight. So if the three top guys in the top of the lineup and then you add Will Smith in the fourth spot, if they're not getting it done, the bottom half of the lineup, you're looking at three .200 hitters. And how do you expect to be able to do that?"
While it is important to move on from the disappointing NLDS loss, it's always nice to hear the perspective from someone who's been there before. Cey has won a World Series with the Dodgers, but he's also lost a few. He knows what it takes to get there, and he knows what it feels like to lose. He was able to share that incredible perspective here at Dodgers Nation, so all Dodger fans who are wondering how the team lost after winning 111 games in last year's regular season could get a little more clarity.
Have you subscribed to our YouTube Channel yet? Subscribe and hit that notification bell to stay up to date on all the latest Dodgers news, rumors, interviews, live streams, and more!