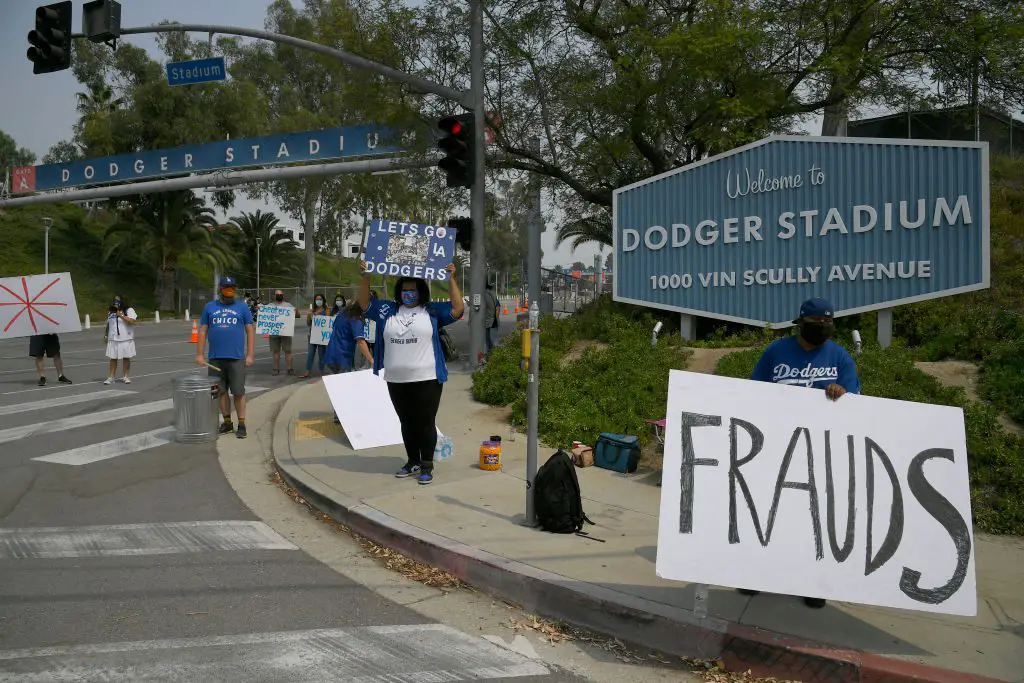 The Houston Astros are in town this week as they are set to face the Boys in Blue in a short two-game series. The last time they visited Dodger Stadium, the whole venue was empty and silent without the presence of fans. Unfortunately for them, that didn't mean they were off of the hook from disgruntled LA fans. 
As the team rolled into the stadium last year, Dodger fans welcomed the Astros in droves with signs, yelling, and even a custom banner made just for them. The ability to have no fans in the stadium didn't stop them from the shame of their 2017 Sign-Stealing Scandal.
This time around their welcome turned out a little different than last year's. Fans are now allowed back into the stadium this year which may have lead to the decrease of fans who showed up to great arguably the most despised team in baseball. With that being said, one would think that a handful of Dodger fans would be there to taunt the Astros as they arrived. Well, that wasn't the case as a lone fan showed up with a sign to welcome Houston to Dodger Stadium.
A Dodger fan waited outside Dodger Stadium to greet the Astros with his asterisk sign. pic.twitter.com/LmvdJghkAJ

— Steve Saldivar (@stevesaldivar) August 3, 2021
It appears the Astros get a police escort to Dodger Stadium. pic.twitter.com/xvyqtEu76A

— Steve Saldivar (@stevesaldivar) August 3, 2021
The passionate fan's name is David Yontz who flew in from Georgia just to vent his frustration and unwillingness to forgive the Astros for what they did.
"I was inspired to come out here because last year when the Astros came the stadium was empty. Now it's going to be full and I just really want to show the Astros how much we disapprove of the cheating scandal of 2017. That whole scandal rubbed me the wrong way  and it really was a stain baseball. I think the most frustrating part, well obviously the world serious, but also the punishment handed down by the league in my opinion was just not enough."
Many around baseball were frustrated with the unfolding of the whole event and fans from many other fanbases have made it known. The Astros have tried to stray away from the scandal, with little to no luck.  The two teams faced off earlier this year with them splitting the series 1-1. Of course, fans headed to Houston to take it straight to the Astros on their home turf, but Minute Maid Park's security wasn't having it.
Now with the series back in Los Angeles, and fans able to attend the games, the Astros are in for it big time. There ought to be a whole lot of booing and taunting going on as this will be the first time since the 2017 World Series that fans will get to witness the Dodgers vs. Astros at Dodger Stadium.
NEXT: Big Trades Land Them Back at the Top of the MLB Power Rankings