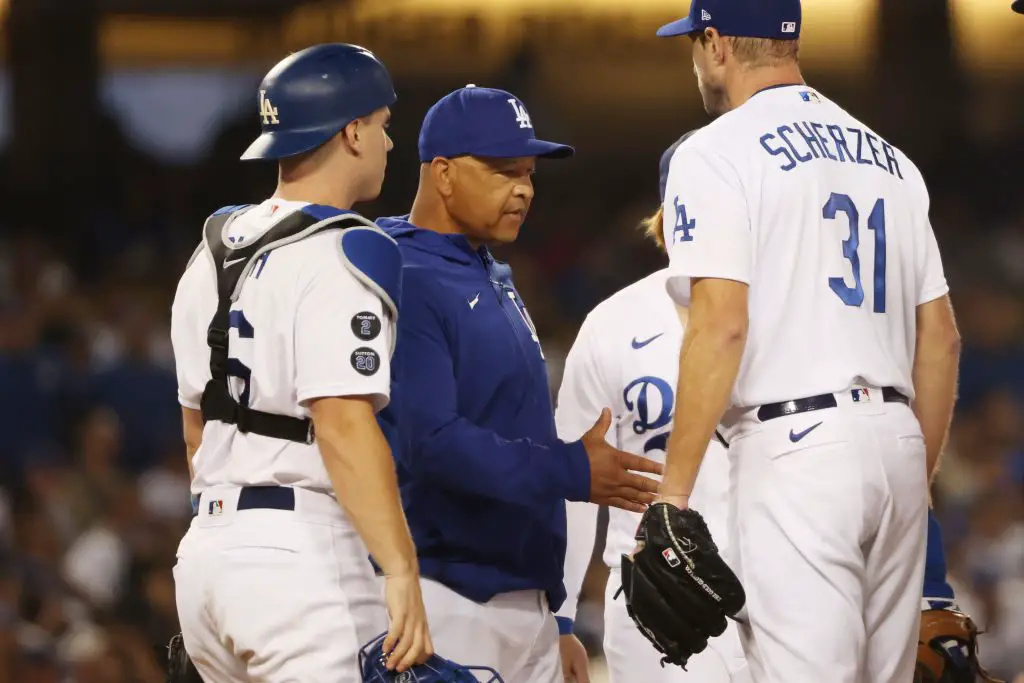 Dodgers Team News
Dodgers: Mad Max Scherzer Reveals His Thoughts On Being Pulled Early
Max Scherzer has been a difference maker this season for the Dodgers. In fact, the trade from Washington to Los Angeles kicked him into a new gear the rest of the way as he positioned himself quite nicely for a chance at his 4th Cy Young Award. Even though he struggled in his last two starts of the season, coughing up 12 runs (11 earned) in 10 1/3 innings, Dave Roberts decided to give him the nod for the NL Wild Card Game. After all, the postseason is a chance for players to redeem themselves.
However, Max did not have his best stuff on Wednesday night as he labored through 4 1/3 innings of 1-run ball before Roberts came walking out of the dugout. Scherzer was clearly not happy with the decision during the time, especially since he had already gotten Nolan Arenado and Dylan Carlson to ground out before. Despite the obvious disagreement with the decision at the time, Max revealed that he trusts his manager.
"Doc does extensive preparation of where he wants his guys in different situations. Even though I was good in that situation, he felt that Joe was the right matchup for that specific time. I'm here to win. So is he. I have to trust in my manager that he's making the right call for the ball club. Regardless of how I felt, he's got to make the right call."
Normally pulling Max Scherzer in a game would be absolutely mad, and many still believed so, yet the postseason brings different rules to the table. In a do-or-die situation, you can't leave anything to chance. Max also stated that all that should matter was that the team won the game and lived to play another day.
Roberts also stuck by his decision to take Scherzer out of the game.
"We're going to lean on Max the rest of the postseason. I just felt in that moment in the (fifth inning) it was the right decision. I never expect him to be happy, but that was my call."
Doc has made some questionable decisions in the past, especially the postseason, but he made every right call furring that game. Joe Kelly, Brusdar Graterol, Blake Treinen, Corey Knebel, and Kenley Jansen were all called upon and didn't disappoint as they all threw up zeros. 
Chris Taylor Walk-Off Dodgers Celebration Breakdown, Drunk Max Scherzer, Buehler Opens Beer w/ Teeth
NEXT: Juan Soto Spotted at Wild Card Game Supporting His Former Teammates