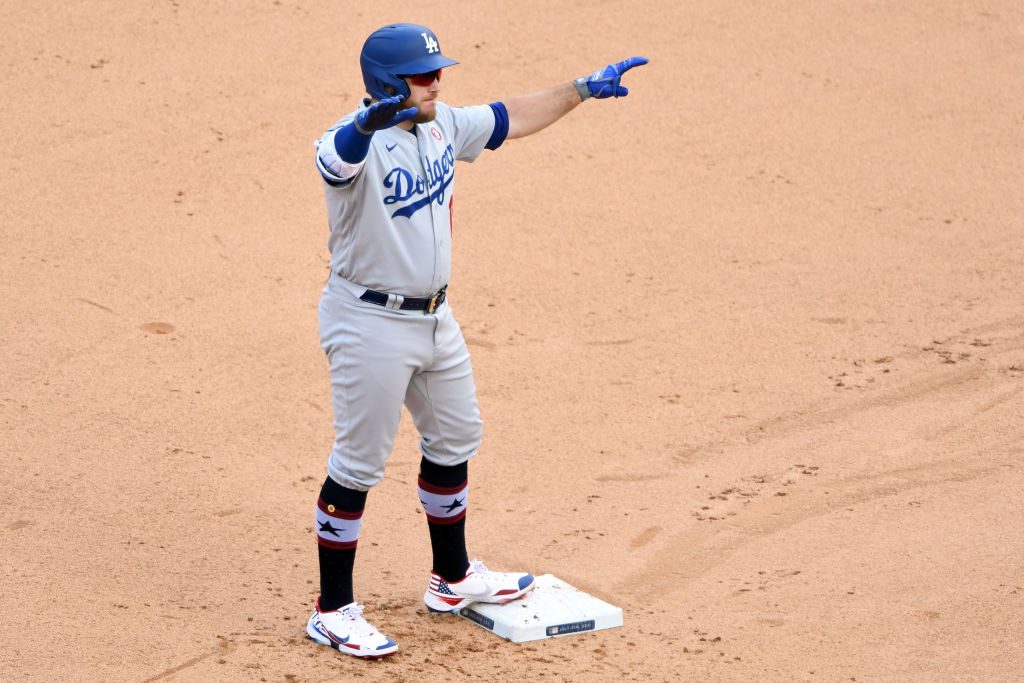 Dodgers first baseman Max Muncy had a roller coaster of a season in 2021. The lefty slugger's bat carried the Dodgers for much of the first half (.972 OPS). So much so that Muncy's name was a big part of the MVP conversation. Max cooled off in the second half (.809 OPS) and then, disaster struck in the final game of the season. The Dodgers first baseman suffered a serious elbow injury that sidelined him for the entire post season.
ESPN's Buster Olney ranked Muncy as the seventh best first baseman in his pre-season positional rankings. However, Olney noted that the injury was the only factor in Max's lower ranking after a great 2021 campaign.
"There will be a lot of lingering injury questions whenever MLB restarts, and the condition of Muncy's elbow will loom large for the Dodgers. If not for that uncertainty, he might be higher on this list."
Earlier this winter, Muncy revealed that his collision with the Brewers Jace Peterson tore his UCL. He also mentioned that the his elbow is "not recovering as quick as I would like."
At this time, Muncy's status for Opening Day, whenever it happens, is very much up-in-the-air. The availability of the Dodgers first baseman has only heightened the rumors surrounding LA's interest in free agent first baseman Freddie Freeman.
Signing Freeman might be a long shot, but it would provide an incredibly level of insurance for the Dodgers. It would also give Muncy all the time he needs to get his elbow back to 100%.
When healthy, there's no doubt that Muncy is one of the best first baseman in baseball. Muncy trails only the aforementioned Freddie Freeman in WAR (15.2), wRC+ (138), and OPS (.890) over the last four seasons.
Regardless of where Freeman signs, the Dodgers will need Muncy back in the lineup to make another deep October run.
Looking for more Dodgers News? Subscribe to our YouTube Channel! Subscribe and hit that notification bell to stay up to date on all the latest news, updates, rumors, interviews, live streams, and more!
Dodgers: Andre Ethier Takes Fans Through a Day in His Life