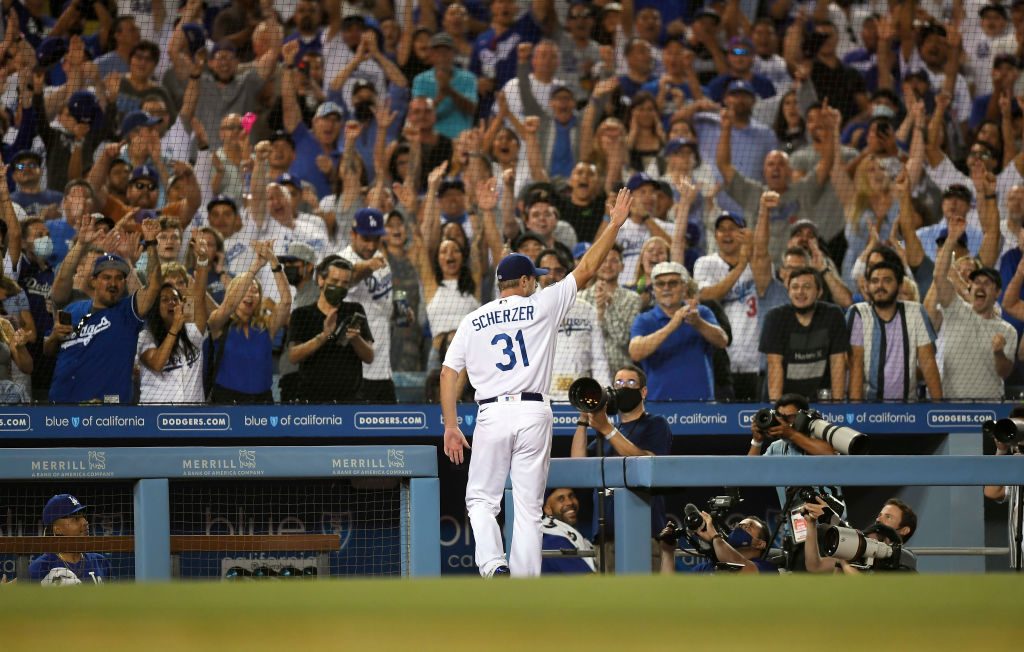 Dodgers Team News
Dodgers: Max Scherzer Records 3,000th Career Strikeout of Hall of Fame Career
Ace right-hander of the Dodgers and future Hall of Famer Max Scherzer hit a career milestone with some conviction on Sunday in Los Angeles. Scherzer entered his start against the Padres chasing history by 6 strikeouts. With those 6 Ks, he would join the 3,000 strikeout club, joining only 18 other big leaguers in the history of the game.
Scherzer recorded K number 3,000 in the fifth inning against San Diego with a strikeout of Padre first baseman Eric Hosmer. With that K, Scherzer also became the second-fastest hurler to hit 3,000, chasing only Hall of Fame left-hander Randy Johnson.
Perhaps just as impressive, Max recorded his third career immaculate inning in the second inning, striking out the side on just 9 pitches — or, you know… what an immaculate inning is.
Max Scherzer is immaculate. pic.twitter.com/3631ior7cI

— Los Angeles Dodgers (@Dodgers) September 12, 2021
Max Scherzer has been better than advertised since joining the Dodgers at the trade deadline. And the fact that he recorded an immaculate inning and strikeout number 3,000 against the Padres, a team he had reportedly been traded to (incorrectly) just adds a little salt to the wound for San Diego and poetry for Dodger fans.
Congratulations to Max Scherzer on number 3,000 and another milestone in a future first-ballot Hall of Fame career.
Nolan Ryan (5,714)
Randy Johnson (4,875)
Roger Clemens (4,672)
Steve Carlton (4,136)
Bert Blyleven  (3,701)
Tom Seaver (3,640)
Don Sutton (3,574)
Gaylord Perry (3,534)
Walker Johnson (3,508)
Greg Maddux (3,371)
Phil Niekro (3,342)
Fergie Jenkins (3,192)
Pedro Martinez (3,154)
Bob Gibson (3,117)
Curt Schilling (3,116)
CC Sabathia (3,093)
John Smoltz (3,084)
Justin Verlander (3,013)
Max Scherzer (3,000)
Have you subscribed to our YouTube Channel yet? Subscribe and hit that notification bell to stay up to date on all the latest Dodgers news, rumors, interviews, live streams, and more!
NEXT: Clayton Kershaw's Last Year with LA? 'No Idea' about Future, Will LA Sign Scherzer & More