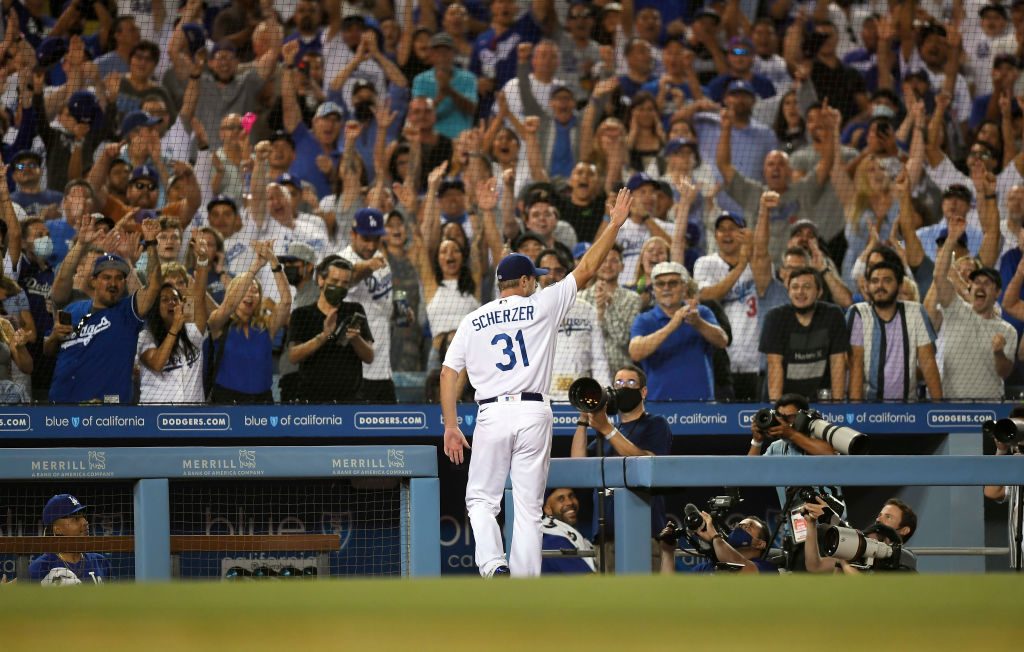 Dodgers Team News
Dodgers: Max Scherzer Talks Fan Criticism in the Wake of Past Dead Arm Comments
When the Dodgers swung a deal to trade for Max Scherzer and Trea Turner, they were supposed to be the saviors to Los Angeles' season. While the team did fall short in the divisional race, both Scherzer and Turner were key contributors. Turner helped spark an otherwise inconsistent offense while the team won all 11 of Mad Max's starts.
However, both players weren't able to fully replicate their regular-season success in the playoffs. Turner was unlike himself and couldn't get on base often. Scherzer on the other hand seemingly ran out of gas in the NLCS. He only lasted 4 1/3 innings before Dave Roberts decided to pull him and when it came time for him to start in game 6 of the series, he was unable to go as he was experiencing a dead arm.
The Dodgers, of course, had to push Walker Buehler on short rest and were knocked out of the playoffs.
Scherzer later came out and pointed out a lower workload with LA was an issue, saying it didn't prepare him much for what was needed in the postseason. Of course, that didn't go well with Dodgers fans who had mixed feelings about that comment, especially since Max departed via free agency and signed with the New York Mets. 
AM570LASports reporter David Vassegh reminded fans of some information on why the Dodgers did limit Scherzer down the stretch. 
It's interesting how #MaxScherzer won't acknowledge his tender right hamstring being a substantial reason why #Dodgers were so cautious with him down the stretch of the regular season.

— David Vassegh (@THEREAL_DV) December 31, 2021
While Scherzer has never mentioned such an injury since it initially happened, he did recently speak about the situation with Jorge Castillo of the LA Times and how he doesn't blame the sentiment towards him. 
"For Dodger fans to be upset with me, for me to get dead arm like that, hey, that's fair game. Look, you play with L.A., you're here to win the World Series. I got that. I was OK with that and for fans to be upset for my dead arm, that's fair. I can live with that."
The once-needed savior couldn't help deliver another World Series title. His inability to pitch in game 6 wasn't the team's only reason for falling to the eventual World Series Champions, the Atlanta Braves, as the offense couldn't produce consistently. However, after being given high standards by fans for what he was able to do during the end of the season, they expected more out of one of the best in the game.
Max Scherzer Blames Dodgers for Dead Arm, Did LA Mishandle Max? Truth About Max's Dead Arm in LA
Looking for more Dodgers News? Subscribe to our YouTube Channel! Subscribe and hit that notification bell to stay up to date on all the latest news, updates, rumors, interviews, live streams, and more!
NEXT: Should Brusdar Graterol Step in as LA's Closer Next Season?