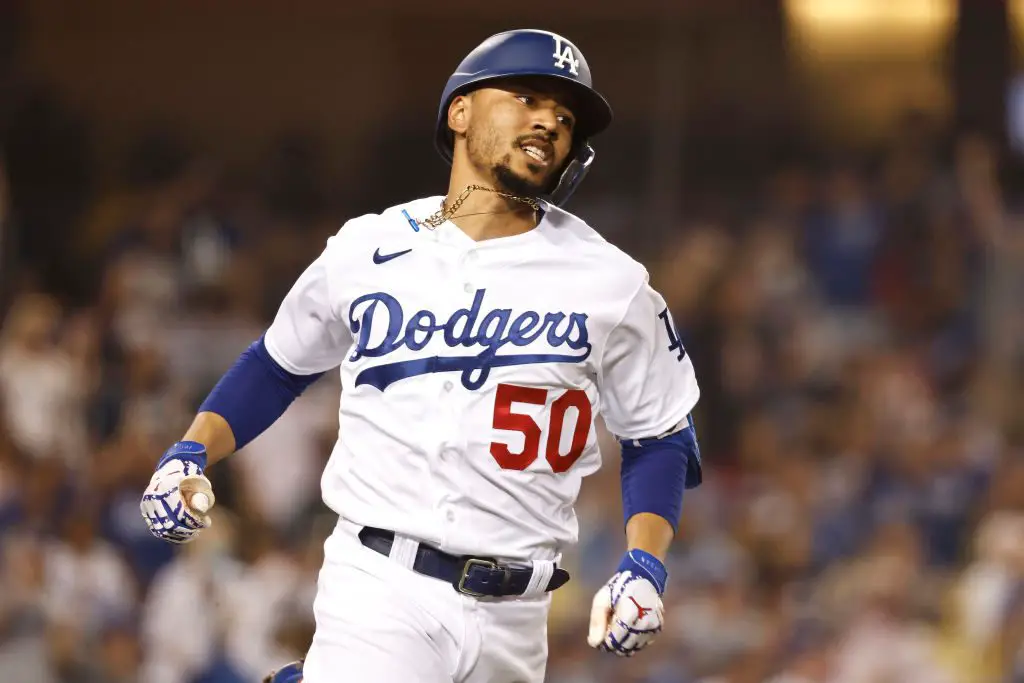 Mookie Betts is an MLB icon and a Dodgers icon. His contract makes certain he will be a Dodger for his entire career. Fresh off an MLB World Series win in 2020 and just before the 2021 season started, GQ had Betts do a video as part of their series on "10 Things I Can't Live Without."
With 2022 only a couple weeks away, it feels like a good time to look back at Mookie's list.
Bowling Ball
Anybody who has been a fan of Betts knows he's an avid bowler. He bowled a perfect game in the World Series of Bowling and is a member of the PBA (Professional Bowlers Association) even now. Betts has been bowling since his youth and it's a family game for him.
Xbox
Betts is certainly a child of this generation. We love to game. Cody Bellinger's love of gaming is well documented among Dodger fans (even bringing his monitor on team traveling trips) and Betts is as well. He enjoys Madden and Call of Duty. When asked who the best Call of Duty player on the Dodgers is, Betts joked that "it's not me."
Deodorant
Any man who travels a lot or is on the go should keep some with him. Betts anti-perspirant of choice is Old Spice: Wolfthorn. Ever the cool guy, Betts said, "it gets a little heated out there stealing bases and robbing homers so to make sure I keep myself cool and smelling good, I put on some old spice."
Cologne
Cologne can be a divisive thing among people. Right off the bat, (sorry) Betts says that he doesn't wear it all the time. This is probably best practice. Bett's choice is Jimmy Choo Man Blue. This is an affordable cologne for the majority of people, so Betts choice is based on preference which is always the best kind of choice. "Not too strong, not too soft. I think it's just the right blend for me."
Face Mask
"Times have changed" says Betts. Indeed they have. COVID-19 numbers are on the rise in many parts of the country (and this video was filmed around March of 2021) so Betts chooses to keep a Henry Mask with him at all times to keep the people around him safe. After all, wearing a mask is to keep the people safe around you.
American Express Credit Card
I so badly wanted Betts to quote Willie Mays Hayes from "Major League" and show off his American Express by saying, "don't steal home without it." Betts is cooler than that, and simply shows his sleek American Express by saying "we all know you can't make it in the world without a couple of coins."
Necklaces
Betts shows off a few necklaces. The main one is one he said his father bought for him back in high school. He says he never takes it off and that it is always on him. This is absolutely true. You can see him wearing it in this video where he robbed Freddie Freeman in during the 2020 NLCS. The other necklace is a baseball bat necklace he said he got during spring training a few seasons ago. "It's been with me for two World Series," says Betts.
Jordan Brand
Betts is a Jordan Brand ambassador. He is wearing a Jordan hoodie in the video. "It's been special being a part of it. Such a select group — elite group. I'm super comfortable in everything I wear with Jordan."
Golf Clubs
Many professional athletes golf in their spare time. "It's essential because I can go out and be frustrated at something else instead of my actual job. It's a tough game to play and baseball is a tough game to play. So it seems that I just enjoy being stressed out," says Betts.
iPhone
"Since I'm a millennial, you can't go anywhere without your phone." I think this is true across a few generations, but millennials were certainly the first to fit this description. "How do I know what you ate for dinner last night if I don't see it on Instagram?" Betts was being cheeky with this remark, but it's certainly true of many.
Family
Dom Toretto isn't the only person who can find family important. Betts says it's last but not least, and most people can identify with that. His background photo of his phone is of his mom and dad, and wife and daughter's photo is also shown. Betts is a family man.
Fun
These videos are meant to humanize the people we enjoy watching, actors or athletes. Betts is a Dodger for life, and that is something worth repeating as many times as possible.
NEXT: Justin Turner Reveals How Zack Greinke Helped Turn Him into the Hitter He is Now