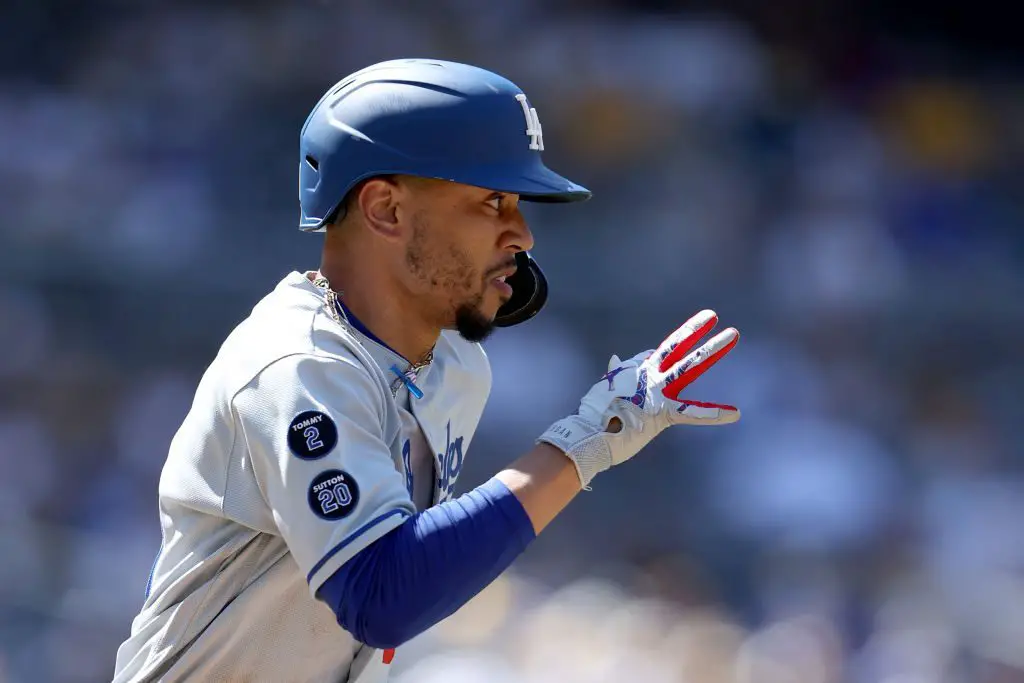 Dodgers outfielder Mookie Betts endured the worst April of his career this year. Betts posted his lowest batting average (.250) and OPS (.768) of any April. He's missed time with a stiff lower back and after he got drilled in the wrist against the Seattle Mariners.
A tireless worker, Mookie is bound to bounce back.
According to manager Dave Roberts, Betts is taking extra time in the cage and refining his hitting mechanics. He's also working with fellow slugger Justin Turner to tune up his swing. Stars helping stars, you love to see it.
Betts slashed .292/.366/.562 last season and is a league MVP. His April is simply one rough month in a long season.
Elite Dodgers Starting Pitching, It's Time for a Mookie Betts Breakout, & More
Betts Missing Strikes
Roberts mentioned that Betts's pitch selection of late has been a concern.
"Swinging out of the zone, pretty uncharacteristic [for him]."
Betts posted a 17.2% K-rate for the month of April. If the season ended today, it would be the highest strikeout rate of Mookie's career. Mookie also currently owns the highest swinging strike percentage of his pro career (7.1%).
Betts has too good of a batter's eye to continue punching out and missing hittable pitches. He's built an illustrious career on punishing opposing pitcher mistakes in the zone.
Mookie's struggles are all part of the anemic Dodger offense that hasn't been able to provide run support for the starters. Due to the lack of pop, the Dodgers have lost nine of their last twelve through this Friday. 
Generating offense when your leadoff man isn't getting on base is a challenge.
Final Thoughts
Betts and the Dodgers will continue to grind, refine, and improve at the plate. This is a veteran team that knows the results will come if the process is sound. The offense can't stay dormant forever.
Betts should rebound in May because he puts the work in each and every day.
Dodgers News: Dustin May Exits His Start With An Injury