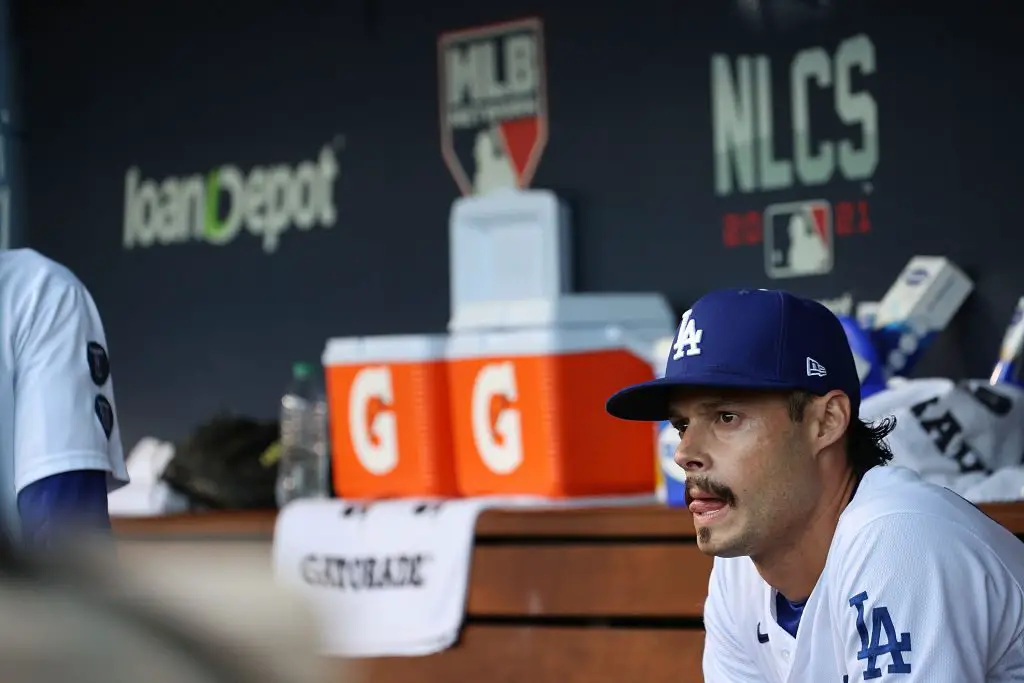 Dodgers Team News
Dodgers: More Details Emerge on Joe Kelly's Injury and Initial Diagnosis
After some back and forth and a good bit of confusion over the last few weeks, details involving Joe Kelly's injured right arm came into focus. First, going back a bit, the Dodgers' reliever (now former Dodger) left game 5 of the NLCS after recording just two outs to start the game. He walked off the field alongside a member of the training staff. Soon after, we learned that he had suffered a right biceps injury and would be shut down for the rest of the postseason.
A little over a week later, the LA Times reported that the injury could keep him out for an extended period of time, putting his status for opening day 2022 in doubt. However, an update from Kelly's wife questioned that report in an Instagram post last week perhaps prompting the latest news.
Over the weekend, the Times published more details on the minutes and days following Kelly's NLCS game 5 exit. For clarity, some parts have been rearranged.
[Dr. Neal] ElAttrache quickly determined that the pain stemmed from the musculocutaneous nerve in Kelly's arm. … The worst cases include atrophy in the upper arm within 7 to 10 days, according to ElAttrache. If atrophy surfaced, Kelly probably would've been shut down for six months. But atrophy didn't materialize.
The Times further reported that ElAttrache's fear was based on previously encountered cases. In Kelly's case, since he didn't continue pitching through the injury, he appears to have avoided the worst case scenario.
Next up for Kelly is another turn through free agency. Over the weekend, the Dodgers declined a $12 million team option for the 2022 season, making him a free agent. He joins 11 other former Dodgers on the open market this winter.
When healthy, Kelly has been one of the better relievers in baseball over the last two seasons posting a 2.67 ERA over 60 games between 2020 and 2021. He came to LA as a free agent ahead of the 2019 season, inking a 3-year, $25 million deal with the Dodgers. The now 33-year-old likely won't fetch that kind of money this offseason, but it's not out of the realm of possibility. 
NEXT: Should LA Explore Signing Carlos Correa As A Free Agent?