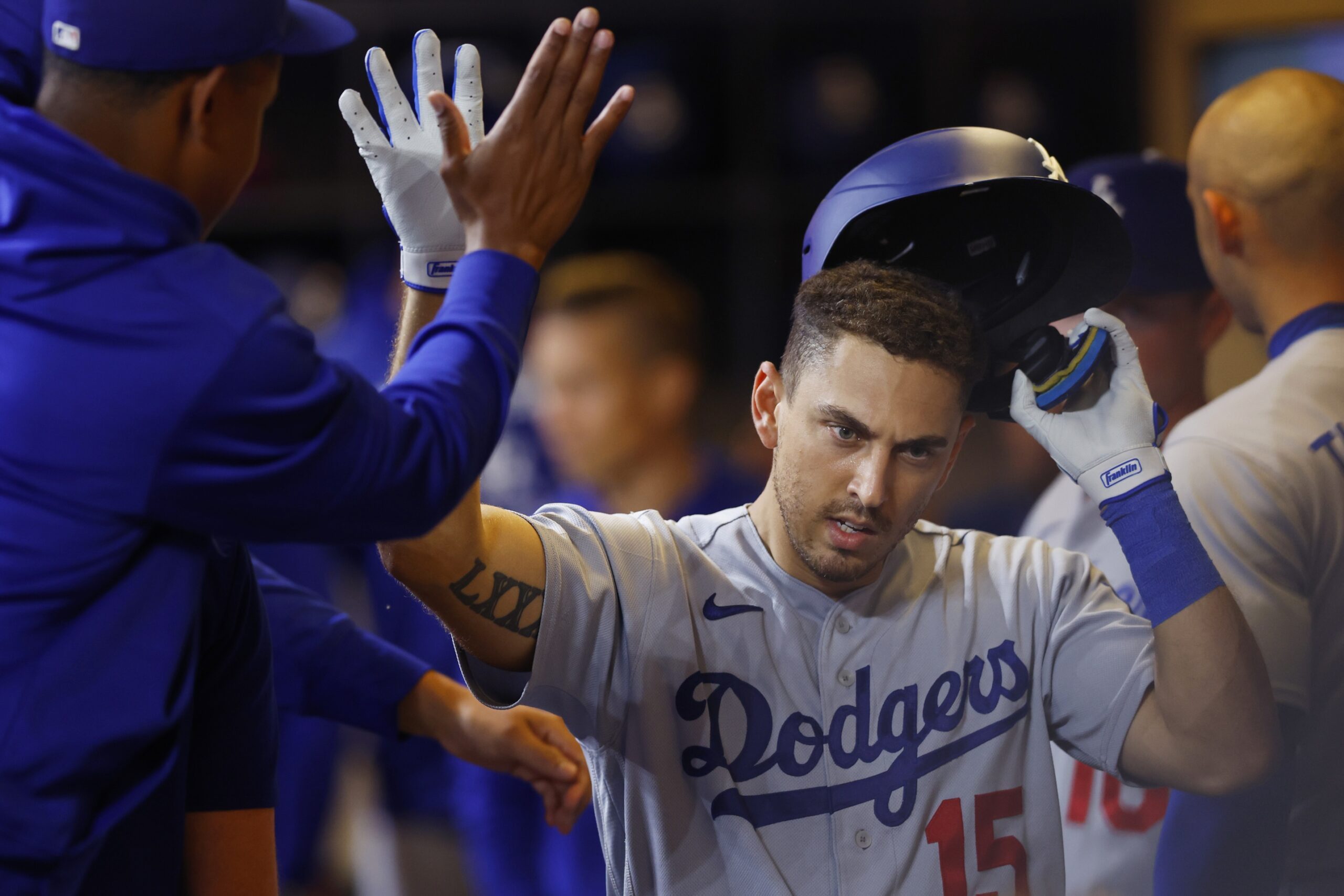 Dodgers Team News
Dodgers News: Austin Barnes Ribs David Vassegh After Viral Slide Fiasco
For the first time in 12 games, Dodgers back-up catcher Austin Barnes was in the lineup. Barnes had to leave the team this past weekend to attend to a family matter and was temporarily replaced by Tony Wolters – who's since been DFA'd. Barnes called a great game behind the dish on Wednesday night, helping guide starter Tony Gonsolin to seven shutout innings.
Barnes chipped in in front of the dish as well. The Dodgers veteran clubbed a solo shot in the top of the sixth inning to give LA a 1-0 lead. LA would go on to win a nail bitter with Craig Kimbrel, yes, that Craig Kimbrel, closing things out in the ninth. 
After the game, Barnes was interviewed by AM570's David Vassegh on the field after the Dodgers win. The Dodgers backstop used the opportunity to poke some fun at Vassegh for his now internet-famous trip down the Milwaukee Brewers slide that resulted in the LA insider reportedly breaking his wrist and fracturing several ribs after crashing into the pads at the bottom of the slide.
"Ya that home run was for you. I know you had a little accident today on the slide so we all rallied today for you."
To his credit, Vassegh still covered the game, despite having to use his non-dominant hand to hold his microphone throughout his media duties.
Barnes wasn't the only Dodger who poked some fun at DV. This morning, Justin Turner posted a hilarious photo of the scene of the crime, including the words that Vassegh continually uttered as he was flying down the slide – "Holy crap!".
#HolyCrap #VasseghsChalet @THEREAL_DV ? pic.twitter.com/hKrwrAvYQV

— Justin Turner (@redturn2) August 18, 2022
Luckily, Vassegh avoided any serious injuries and is now forever immortalized on baseball Twitter.
Have you subscribed to our YouTube Channel yet? Subscribe and hit that notification bell to stay up to date on all the latest Dodgers news, rumors, interviews, live streams, and more!
Dodgers: Action Hero David Vassegh Inspires Dodger Victory, and Some Laughter)