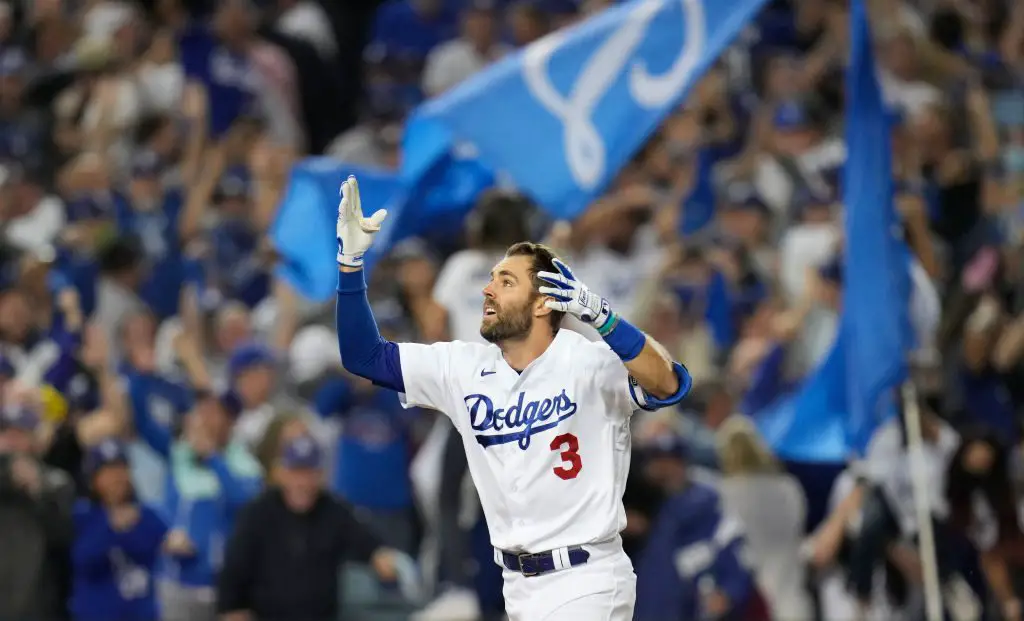 Dodgers Team News
Dodgers News: Chris Taylor Makes History in Game 5 Against The Braves
The Dodgers had a chance to prove that they are still here to fight and they definitely did. Chris Taylor was seeing the ball better than ever and decided to make history by hitting 3 home runs on Thursday night. First, a two-run home run in the bottom of the 2nd to give the Dodgers the lead, and fans were losing it.
CHRIS TAYLOR BRINGS HOME ALBERT PUJOLS WITH A 2-RUN SHOT ?

Dodgers take a 3-2 lead in the 2nd inning!

(via @Dodgers) pic.twitter.com/Je62jppZIU

— SportsCenter (@SportsCenter) October 22, 2021
After that, Taylor singled in the bottom of the 3rd and went on to hit two more home runs. He was absolutely unstoppable in game 5. He talked a little bit about how this year has allowed him to have an incredible night like this.
"Luckily, I feel pretty good right now, so I am not thinking too much. I think mechanically I am in a better place," said Taylor. "I was kind of grinding there for the last couple of months of the regular season and I finally worked through some things and once you get a couple of hits, the confidence goes."
Taylor also said that LA needed to make a statement and they did exactly that. Later on, Taylor spoke with ESPN after the game and was asked about his performance during what could have been the Dodgers final game.
"I don't know, just one at-bat at a time. Not trying to do too much honestly, and things worked out. I can't think hit homers, you know for me it's always, I'm trying to hit line drives and the homers just happen by accident."
Although Chris Taylor has not let it all sink it yet, it definitely has for fans. Many took to Twitter to let everyone know how they feel about CT3.
CHRISTOPHER ARMAND TAYLOR JR. IS A MAN POSSESSED TONIGHT!!!

? 4-for-4 with 3 HR & 6 RBI
? ELIMINATION GAME CT3 IS A THING!! #Dodgers

— Doug McKain (@DMAC_LA) October 22, 2021
Chris Taylor is now the first player to hit 3 home runs in a single game with their team facing elimination. Not only that, but he is also now one out of only five players who have been able to hit 3 home runs in a postseason game, alongside his now teammate, Albert Pujols.
Players with 3 HR and 4 H in a #postseason game:

Chris Taylor, tonight
Pablo Sandoval 2012, World Series Game 1
Albert Pujols 2011, World Series Game 3
Adam Kennedy 2002, ALCS Game 5
Bob Robertson 1971, NLCS Game 2 pic.twitter.com/TbKsAcG4Jk

— MLB Stats (@MLBStats) October 22, 2021
Overall, Chris Taylor brought all the momentum back to LA so they can try to repeat their accomplishments from last year. The Dodgers still have a ways to go if they want to make it to the World Series and their next game will be in Atlanta on Saturday, October 23rd.
NEXT: Dave Roberts Says Joe Kelly is Out for Postseason, Price Roster Option