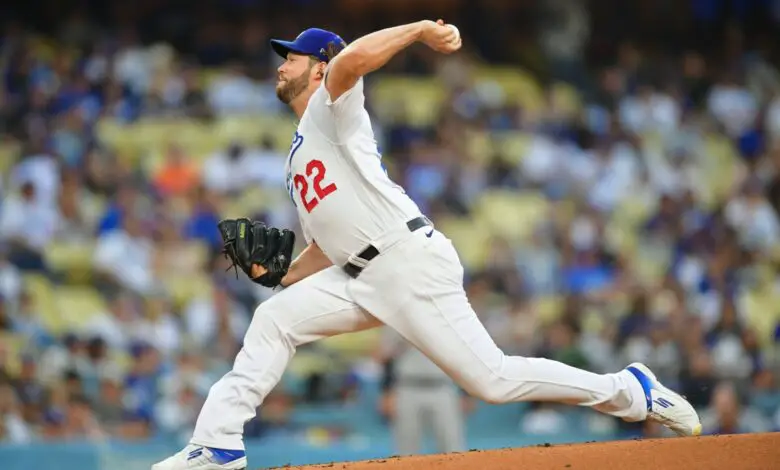 Dodgers Team News
Dodgers News: Dave Roberts Doesn't Know if Clayton Kershaw is Coming Back Next Season
One of the underlining storylines from the 2023 Dodgers season is what veteran pitcher Clayton Kershaw will do once the year ends. He has talked about retirement briefly and has continued to sign one-year contracts with LA to maintain flexibility for himself.
Kershaw has said that he doesn't know what he will do for 2024 just yet and that he is focused on winning this year first. But this is something that will be hanging over the organization until he finally hangs it up.
Manager Dave Roberts spoke with MLB insiders Jon Heyman and Joel Sherman and gave his opinion about what he thinks Kershaw will do for next season.
"I don't know if he's coming back," Roberts said. "I don't know. I know he loves being a Dodger, so if he does come back to pitch I would assume it would be with the Dodgers. That's my honest answer."

Via New York Post Baseball Podcast
There has been talk about Kershaw leaving the Dodgers to play for his hometown Texas Rangers in the past, and while that could still happen, finishing his career in LA means something to Kershaw. Kershaw has always been a historian of the game, so if he can end his legendary career playing for one franchise only, that would mean a lot to him.
If this was the final season for Kershaw, he ended things on a good note. He finished the 2023 campaign with an ERA of 2.46 and a 1.06 WHIP. It was his 13th season in the last 15 where he ended the year with an ERA under 3.00.
Kershaw has been the face of the Dodgers organization since he was called up to the big leagues, so it would be a sad day overall when he does hang things up. He has meant everything to this organization, and whatever he decides after the season, the team and fans will support him.
The hope is that he comes back for another year because quite frankly nobody wants to see him go. But if anything, the hope is that the team can win another World Series with him this year, and possibly send him out with a bang.
Photo Credit: Gary A. Vasquez-USA TODAY Sports
Have you subscribed to our YouTube Channel yet? Subscribe and hit that notification bell to stay up to date on all the latest Dodgers news, rumors, interviews, live streams, and more!