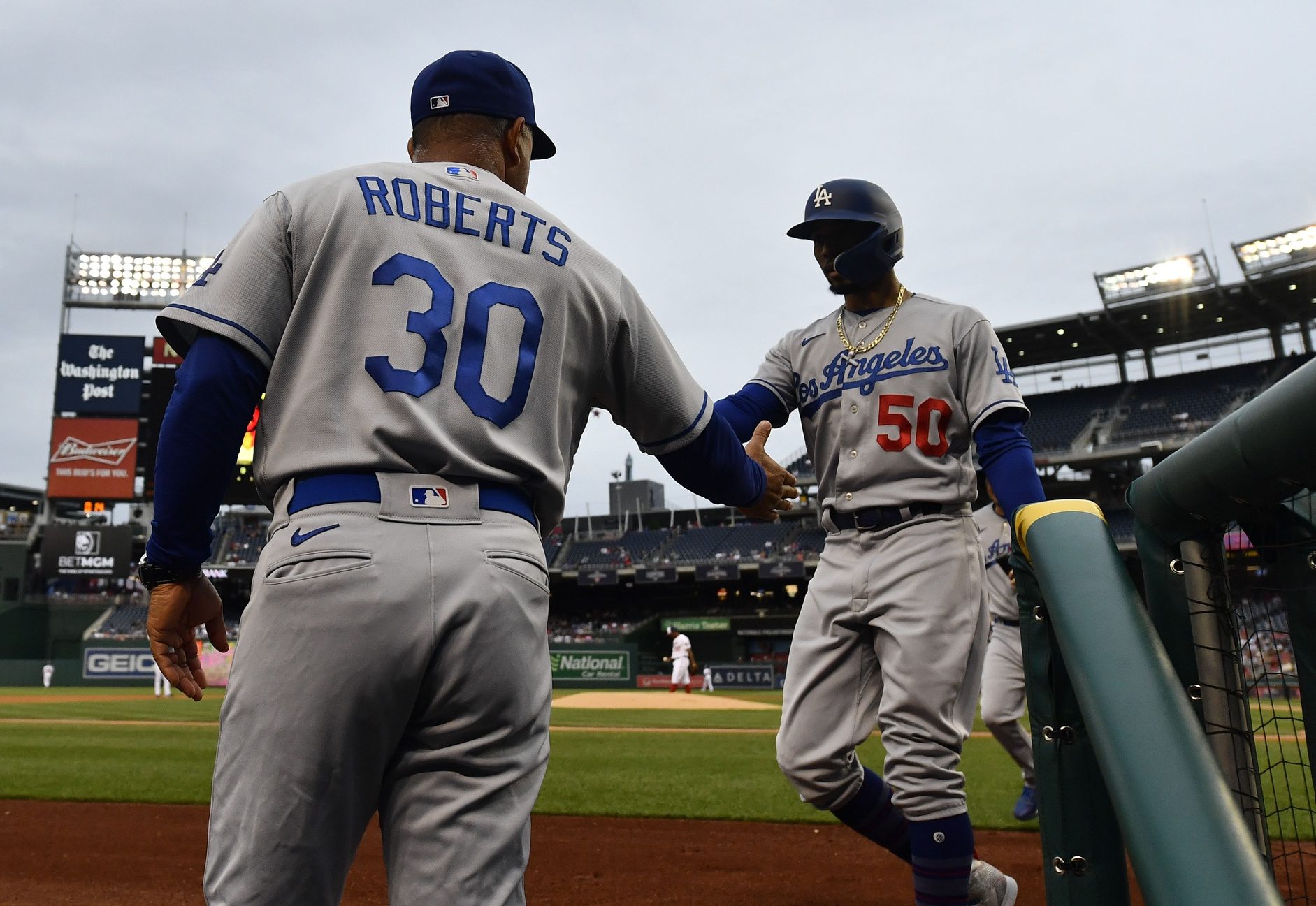 Dodgers Team News
Dodgers News: Doc Considers Mookie Betts "One of the Best in the Game" After Marlins Win
After Friday night's show, there's no doubt about it that the name of Mookie Betts has and will continue to go down in history.
That's his goal with every single game he plays.
The 29-year-old outfielder had himself quite the night on Friday keeping the Dodgers alive and hitting not one but two bombs into the stands allowing the LA team to secure a 10-6 win in the 10th inning. Watch his second homer of the night:
MOOKIE BETTS IS A DODGER FOR LIFE

— Doug McKain (@DMAC_LA) August 27, 2022
Dodgers manager, Dave Roberts was not surprised by his 4-for-6 night including 4 RBI and 2 homers but rather even more impressed with every accomplishment Betts picks up. He had this to say after the game (quote via Bill Plunkett of OC Register):
"It was just such a great performance. We needed every bit of it. That's why he's one of the best players in the game. It's fun to watch…He bailed us out. But there's been many times where other guys have bailed us out too. So tonight was Mookie's night to pick us up."
Twice, the six time All-Star helped the Dodgers regain the lead and even helped tie the game in the late innings.
His second homer of the night which came in the ninth inning set yet another record. 
Mookie Betts's 20th career multi-HR game out of the leadoff spot breaks a tie with Alfonso Soriano for the most such games in MLB history. pic.twitter.com/MwHDFDNMM2

— ESPN Stats & Info (@ESPNStatsInfo) August 27, 2022
After the game, Betts had this to say about the accomplishment and his performance:
"It's pretty cool, I guess, I've got a long time to play. We'll see what else I can do. I just want to win. It doesn't matter where we are in the standings. I just show up every day and I want to win. So I just do everything I can to help the team."
And Betts has done just that. he's led the team to 42 wins in the past 51 games and helped extend the team's lead in the National League West to 19.5 games. 
With this only being Betts' third year of his twelve year contract, Dodgers fans can sit pretty knowing that one of the best in the game will be on their side for quite some time. 
Have you subscribed to our YouTube Channel yet? Subscribe and hit that notification bell to stay up to date on all the latest Dodgers news, rumors, interviews, live streams, and more!
NEXT: Outman Continues to Make Noise Out in OKC