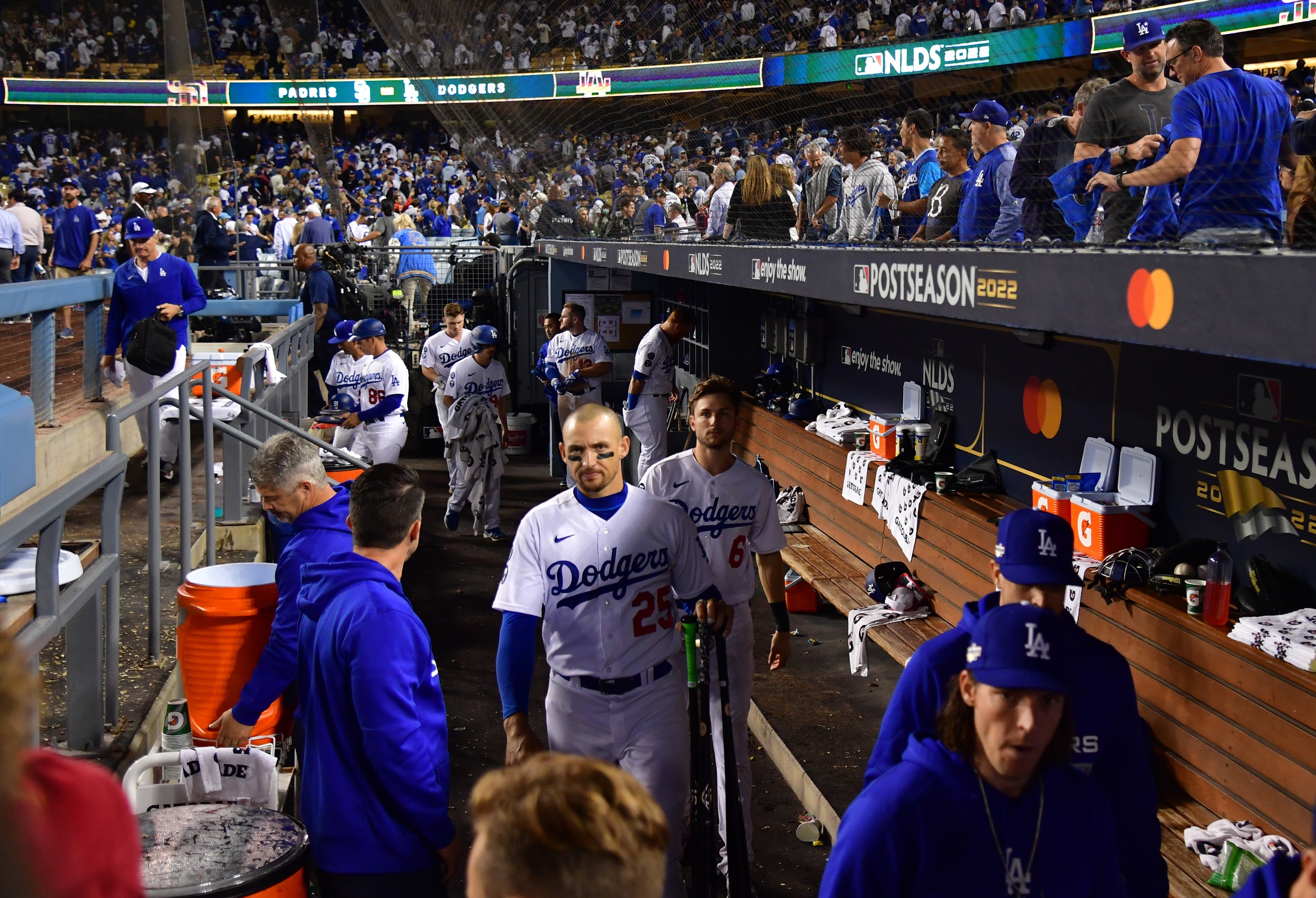 Dodgers Team News
Dodgers News: Fans Worried as LA's Offense Struggles in Run Scoring Situations
It's not very difficult to find the reason the Dodgers lost Game 2 of the NLDS against the Padres. It's the same reason they almost blew Game 1.
The offense, especially with runners in scoring position, has been abysmal.
The Dodger offense in run scoring situations:

Game 1: RISP 3-8, LOB 6
Game 2: RISP 0-8, LOB 10#Dodgers

— Clint Pasillas (@realFRG) October 13, 2022
The team is a combined 3-16 with RISP this series, and has left a whopping 16 runners on base. In Game 2, the Dodgers had runners on 1st and 3rd with nobody out in the 6th inning. They also had runners on 2nd and 3rd with one out in the 7th inning. They scored a combined zero runs.
The Dodgers' reliance on the home run ball has been worrying, and their inability to put the ball in play and score runs has been agonizing.
How worried are you about the #Dodgers reliance on home runs in this series?

4 of 8 total runs so far have come on a homer.

— Dodgers Nation (@DodgersNation) October 13, 2022
Dodger fans took to Twitter to share their concerns with the team's offense.
They have to be better with RISP. If you cannot bring the guys on base in during October, you won't go far. I'm not worrying quite yet, but the team squandered plenty of opportunities last night to bring home more runs.

— CJarrells03 (@cjarrells03) October 13, 2022
a little but we have to score runs outside of just home runs especially tomorrow since we're going up against Blake Snell

— 111 wins and nothing to show for it (@Terminatorfan11) October 13, 2022
I'm only worried if it's going to be the only way we garner runs. We need more situational hitting in addition to slugging.

— Zé Bleu (@strpsrchLA) October 13, 2022
What I never understood is this team's lack of situational hitting and awareness. 2nd and 3rd with no out and you produce no runs or something similar. Scoring position and less than 2 outs and you leave men on base. That's losing baseball. That's unacceptable for a 111 win team

— DeeWreck Texas (@CrowdVanier) October 13, 2022
These were just a few of the many good takes from Dodger fans on Twitter, so be sure to check those out and join the conversation.
Dodgers manager Dave Roberts did speak to the media today about his offense, and shared some encouraging words.
"I like where our offense is at. I really do," Roberts said. "I think certainly getting Mookie and Justin on track, I expect that to happen. But I think up and down the lineup, guys are taking good team at-bats. It'll be good to get C.T. in there, and Austin will be catching tomorrow. I think offensively, team offense, we're going to be okay in the next potential three games."
Hopefully Roberts is right, as the time is now for the Dodgers to figure things out. If they leave San Diego empty-handed, there will be a lot more questions entering the long offseason.
Are you worried about the team's lack of production with RISP? Let us know in the comments below!
Have you subscribed to our YouTube Channel yet? Subscribe and hit that notification bell to stay up to date on all the latest Dodgers news, rumors, interviews, live streams, and more!