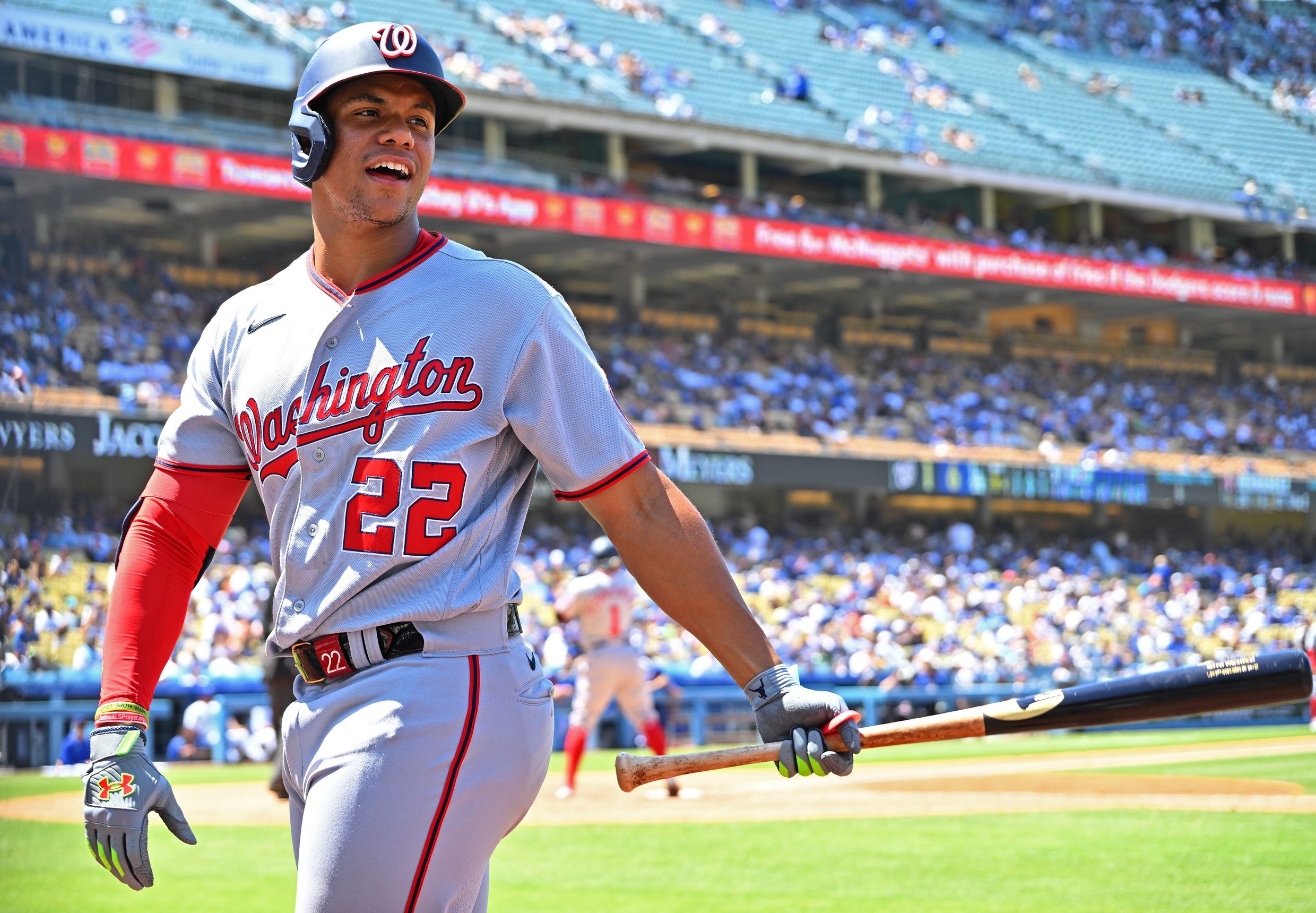 Dodgers Team News
Dodgers News: Padres Officially Land Juan Soto in Megadeal With the Nationals
The good news is that Dodgers fans can finally start wondering where Juan Soto is going to end up at the deadline. The bad news is that he is coming to the National League West to play for the Padres. The deal was announced today with the trade deadline coming up at 3 PM pacific time. And it's a massive one. 
With Soto, the Padres solve a lot of their current problems. They landed Josh Hader on Monday morning to help out with their bullpen situation, and Soto will help them on offense. And now the Dodgers will have to see him a lot more than in a normal season. 
Soto is one of the purest hitters in the game today. While he's only hitting .246 this year, he has still posted a .894 OPS and 151 wRC+. He will plug into the San Diego outfield and provide them with much more pop than they had. That short porch in right field should also help his power numbers go up. But he hasn't crushed against the Dodgers in 2022. 
Across 6 games playing the Dodgers this year, Soto has posted a .150 batting average and a meager .596 OPS. But he is still an incredible threat against any team he plays, and the Padres just upped their postseason chances. They chase Los Angeles by 12 games in the NL West heading into Tuesday. 
The deal initially hit a snag when Eric Hosmer exercised his no-trade clause to Washington. But the Padres pivoted and sent Hosmer to Boston, adding Luke Voit to the deal with the Nationals. All told, they also sent Mackenzie Gore, C.J. Abrams, Robert Hassell III, Jarlin Susana, and James Wood in the deal. 
Looking for more Dodgers News? Subscribe to our YouTube Channel! Subscribe and hit that notification bell to stay up to date on all the latest news, updates, rumors, interviews, live streams, and more!
Dodgers: Hot Stove Heats Up as LA Plays the Waiting Game; Outman's Trade Value Goes Up