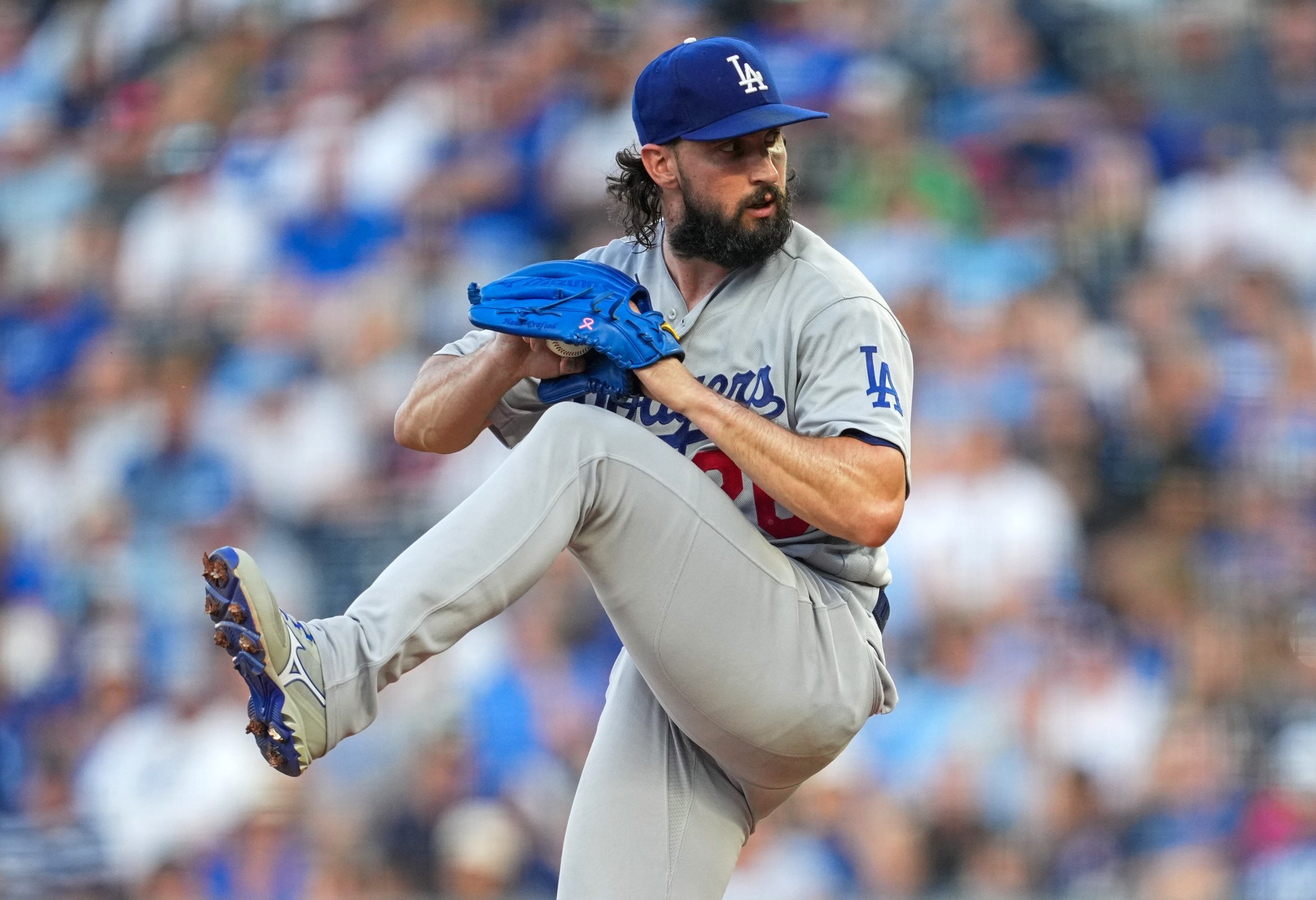 Dodgers Team News
Dodgers News: Roberts Gives a Peek Into Postseason Pitching Staff Thoughts
Dodgers starter Tony Gonsolin was a Cy Young candidate until a strained forearm landed him on the injured list at the end of August. While the initial hope was that he would only be out a couple weeks, Gonsolin's recovery has been slower than he and the Dodgers had hoped.
Gonsolin threw a bullpen session on Wednesday, and Los Angeles manager Dave Roberts said it was "encouraging," according to Bill Plunkett in the Orange County Register.
Roberts also left the door open for Gonsolin's role on the postseason pitching stuff to be in the bullpen, rather than the starting rotation.
"Kind of the theme of our pitching staff as we look out is having the sum be better than the individual parts in the sense of getting 27 outs in games in a postseason. I don't know how it will look like for Tony as far as potential buildup or workload. …

"Everything is on the table – as it should be. But it's all contingent on how he's feeling.

"It's about winning a baseball game, winning a series, preventing runs, scoring runs. So however we can do that – whether it's a little bit more creative or not normal, I don't think we're concerned about it. Nor are our players."
With scheduled off-days in the postseason, the Dodgers will only need four starting pitchers. As we were reminded during their division-clinching champagne party on Tuesday night, they have a lot more than that.
Presenting the best starting staff in baseball. #Dodgers pic.twitter.com/sAq4vlclrP

— Gail Johnson (@GJOH29) September 14, 2022
Clayton Kershaw and Julio Urias are locks to be two of the four starters in the postseason (assuming they're healthy). Tyler Anderson is a lock on merit, but he started the year as a piggyback starter with Gonsolin, coming out of the pen to a fresh inning later in the game. Andrew Heaney has been very good at times, but he is significantly better the first time through the order than subsequent times, so he might fit as a multi-inning reliever. It's not crazy to envision a pair of piggyback starts, with Gonsolin and Anderson hoping to go eight or nine innings in one game and Heaney and Dustin May looking for six or seven in the other.
As Roberts says, there's plenty of time to figure out the specifics. With Gonsolin, he's just focused on getting him back, and then they can figure out what capacity.
"My messaging to Tony was let's come out with a net positive each day. If we can continue to do that once we get closer we'll know what we have. For me to speculate what it looks like now is just not fair."
Have you subscribed to our YouTube Channel yet? Subscribe and hit that notification bell to stay up to date on all the latest Dodgers news, rumors, interviews, live streams, and more!