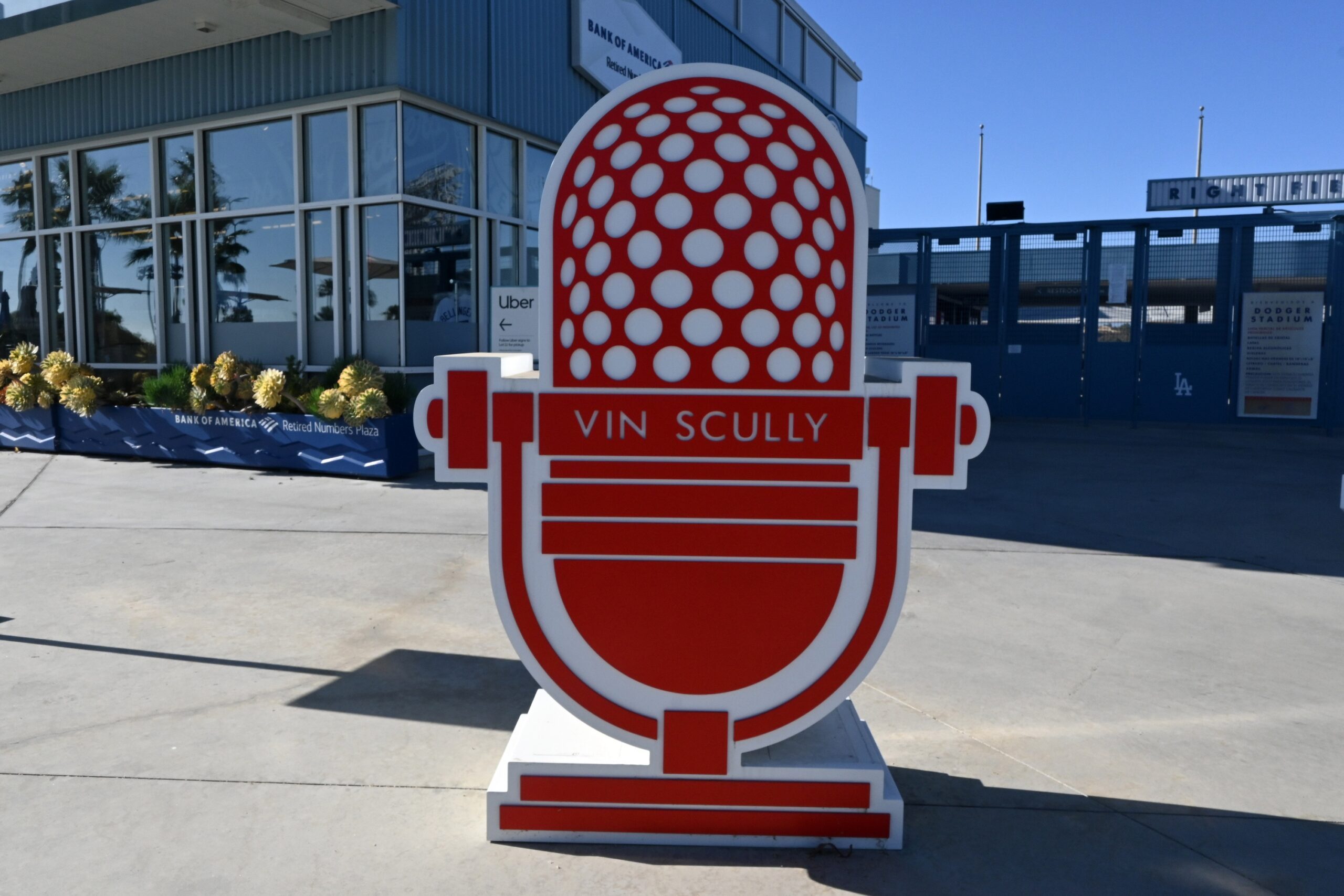 Dodgers Team News
Dodgers News: The Baseball World Pays Tribute to the Late, Great Vin Scully
On Tuesday night, fans received the unfortunate news that legendary Dodgers broadcaster and MLB icon Vin Scully had passed away at 94 year old. The news was devastating not just for Dodgers fans, but baseball fans, sports fans, and everyone in between.
Across the sports landscape, and even beyond the sports landscape, Vin Scully's millions upon millions of fans paid tribute to the legend.
The official Dodgers Twitter account released a touching tribute to Vin.
— Los Angeles Dodgers (@Dodgers) August 3, 2022
They also produced a simple, but fitting tribute to the longtime Dodgers broadcaster who called games for 67 years.
VIN forever. pic.twitter.com/Ep1DdMqEV5

— Los Angeles Dodgers (@Dodgers) August 3, 2022
Veteran broadcaster Bob Costas labeled Scully accurately, a true master of his craft.
"It's one thing to achieve excellence… or to achieve greatness… but with Vin, it was utter mastery. It was breathtaking, the command he had of the craft." – Bob Costas pic.twitter.com/LlIqVFpcru

— MLB Network (@MLBNetwork) August 3, 2022
Dodgers Spanish speaking announcer Jaime Jarrín, who's announced games for LA for 64 years, also paid his respects.
Se ha ido el más grande de los cronistas de béisbol y otros deportes. He perdido al arquitecto de mi vida profesional; un amigo entrañable: Vin Scully. Experimento ahora lo más difícil para hilvanar mis pensamientos y solo puedo decir paz en su tumba,volveremos a vernos pronto.

— Jaime Jarrín (@JaimeJarrin) August 3, 2022
AM570's David Vassegh noted how the Dodgers happened to be playing their game on Tuesday night at the stadium where Vin called his final game for LA.
#Dodgers are playing in San Francisco where Vin Scully broadcasted his final game. pic.twitter.com/r8JoXzJGWx

— David Vassegh (@THEREAL_DV) August 3, 2022
Joe Davis, who took over television play-by-play broadcasting duties after Vin, retired, recounted his first interaction with the man he knew there was no replacing.
.@Joe_Davis shares the story of his first interaction with the legendary Vin Scully. pic.twitter.com/Mih4u47yq1

— SportsNet LA (@SportsNetLA) August 3, 2022
Dodgers radio broadcaster Rick Monday, who worked with Vin for years, spoke from his heart about the loss of a man who meant so much to so many.
Rick Monday speaks out on the loss of #VinScully during our broadcast ?https://t.co/psbw6Y3ECn pic.twitter.com/k5Dv1Vri8E

— AM 570 LA Sports (@AM570LASports) August 3, 2022
Dodgers beat writer Bill Plunkett noted the historic importance of Scully's career.
Vin Scully gave West Coast baseball its voice, SoCal summers their soundtrack for generation after generation. As kind and friendly off the air as on. Another piece of #Dodgers rich history is gone.

— Bill Plunkett (@billplunkettocr) August 3, 2022
Magic Johnson, a fellow LA icon, honored the legend.
Dodger Nation, today we lost a Los Angeles and Major League Baseball legend, Vin Scully. Vin was the voice of the @Dodgers from Brooklyn to Los Angeles for over six decades. pic.twitter.com/MX6kNYbBrr

— Earvin Magic Johnson (@MagicJohnson) August 3, 2022
Former Dodgers general manager Ned Colletti put it best, there isn't enough space on Twitter fo Vin.
I will never know anyone as kind, as gracious, as talented as Vin. Twitter isn't big enough for all the memories, stories, instances of a person who was the best at what he did behind a microphone and who was even a better person than he was a broadcaster. Rest easy my friend.? https://t.co/wMDri5IMVg

— Ned Colletti (@realnedcolletti) August 3, 2022
ESPN reporter Jeff Passan highlighted the late broadcaster's grace on the air.
Vin Scully was a storyteller, and nobody ever told the story of baseball better. He called games with such elegance and grace. He spoke only when necessary, allowing the broadcast to breathe when it demanded. He made baseball a more beautiful game. RIP. https://t.co/cmQ2nGJW3Y

— Jeff Passan (@JeffPassan) August 3, 2022
The fans at Oracle Park, both those in blue, and in orange, paid their respects after the Dodgers-Giants game.
The Giants held a tribute to Vin Scully following tonight's game ? pic.twitter.com/9BaOlaNNDb

— SF Giants on NBCS (@NBCSGiants) August 3, 2022
Vin has so many signature calls, but his call of Hank Aaron breaking Babe Ruth's all-time home run record is right up there. 
It was only right that Vin Scully was on the call when Hank Aaron broke the all-time home run record pic.twitter.com/PeG4CsNv6m

— Jomboy Media (@JomboyMedia) August 3, 2022
The Dodgers Nation staff also paid homage to the man who's an integral part of the franchise we have the privilege of covering.
You really can't thank Sandi and Vin's entire family enough for letting us have him in our lives for so long. https://t.co/V1L6dTpIew

— Clint Pasillas (@realFRG) August 3, 2022
https://twitter.com/brookme3/status/1554687558709178369?s=20&t=xBvl-NjKvyUelKdWmYcXwg
Rest in Peace Vin. You will be missed.
Have you subscribed to our YouTube Channel yet? Subscribe and hit that notification bell to stay up to date on all the latest Dodgers news, rumors, interviews, live streams, and more!
Dodgers News: Watch Recent Call-Up Miguel Vargas Introduce Himself in Dugout