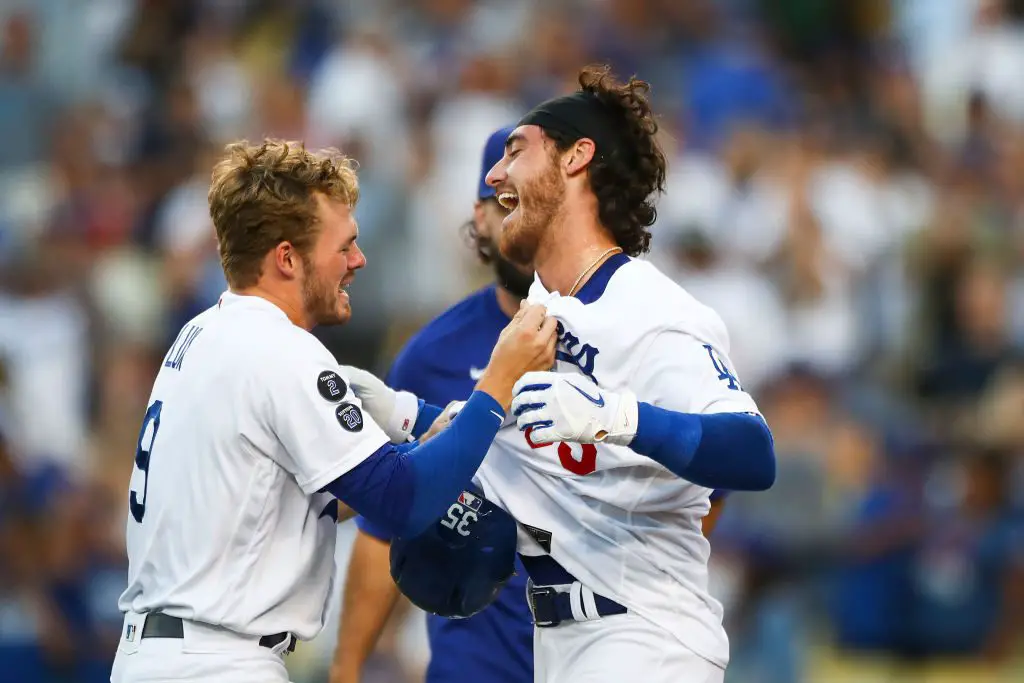 Dodgers Team News
Dodgers News: The Latest on Gavin Lux After Scary Hit Against Padres
The Dodgers had a comeback for the ages Wednesday night against the Padres, which is all anyone could talk about after it was over. Their 5 home runs in the 7th and 8th innings brought back memories of the infamous "4+1" game, which also happened to come against the Padres.
Through all the celebration, however, there was still a level of concern for utility man Gavin Lux, who took a nasty hit against the outfield wall trying to make a catch in the middle innings. The Dodgers' second baseman had never logged any innings in the outfield prior to this season, and that may have played a significant role in his injury. Lux would leave the game while holding his shoulder/neck area in pain, and not much was known after the game ended.
Prior to Thursday's series finale against San Diego, Dave Roberts provided an optimistic outlook for Gavin, who was not a part of the starting lineup.
[Gavin is] sore, but in a much better spot than we would have hoped or expected. As far as availability, I would say [he would be able] to run and potentially take an at-bat late.
This is great news for both the Dodgers and for Gavin, who has been on fire since the start of September. Over his past 16 games, Lux is hitting .367 with 18 hits and 9 RBI. He's been a spark plug for a team that has needed every bit of his production as they chase down a stubborn Giants team that refuses to lose.
While Lux might not be starting for the next few games, it's a great sign to see that he should be on track for the postseason. The Dodgers will need everyone healthy if they hope to make a deep October run, and that includes their young star.
There was a time when Gavin Lux was considered the best prospect in the sport. While he has yet to have consistent success at the major league level, he's shown flashes in recent days that explain why this front office has refused to move him.
NEXT: Start Time for the National League Wild Card Game Announced