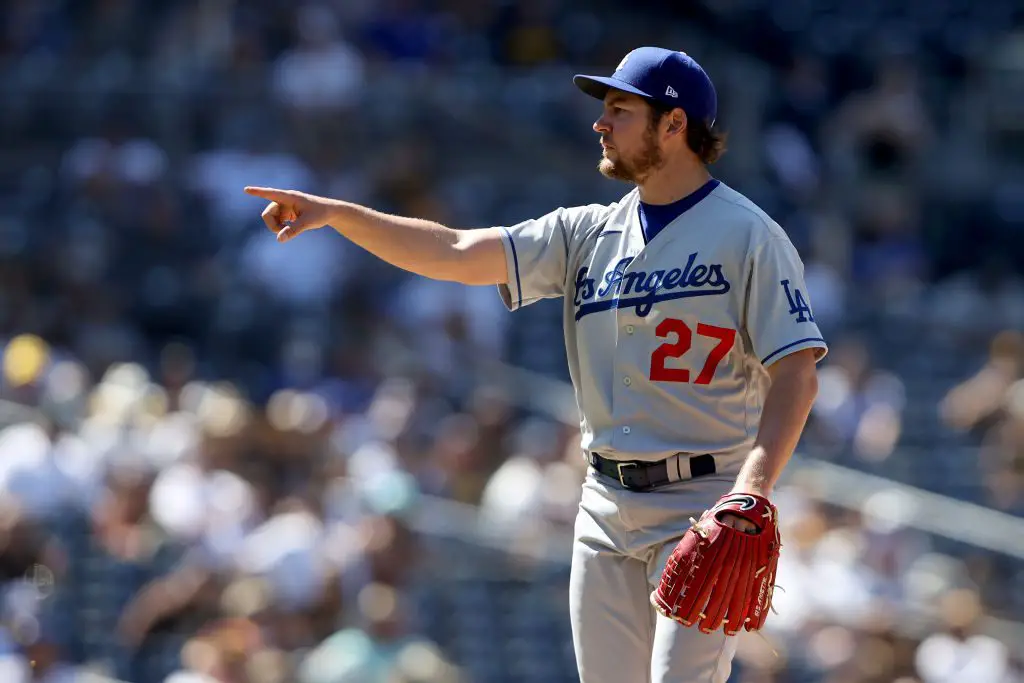 Dodgers Team News
Dodgers News: Trevor Bauer Issues a Warning to Padres' Fernando Tatis Jr
Dodgers versus Padres round 2 has come and gone and while the boys in blue lost 3 of 4, baseball fans were treated to some top-notch action once again. Sunday night's ESPN match up undoubtedly saw more eyes than any other game — I mean, it was a national broadcast — Saturday's game may have been the best of the set.
And no, not just because the Dodgers won… (ok, maybe a little).
The biggest headlines of the series featured LA hurler Trevor Bauer and San Diego superstar shortstop Fernando Tatis Jr once again exchanging blows via on-field celebrations. However, this one also spilled onto the internet.
Tatis took Trevor deep twice on Saturday night and celebrated hard along the way. He mocked Bauer's one-eye closed pitching technique as well as his famous copy of MMA star Conor McGregor's strut. 
In the internet age, Bauer was quick to hit fans with not only a breakdown of the moments but also some ratings.
WATCH
The right-hander gave the one-eyed celebration a 9 out of 10. However, the love for Tatis's attempt at the McGregor strut celebration wasn't as high.
"Now this is where I have an issue with it. If you're gonna do all these different celebrations, that's great… but you gotta go for it! You gotta make it more pronounced. Not as high marks on. I like the idea, but the execution a little bit low — I give this, like, a 6 out or 10."
But then it got good because Bauer called out Fernando's bush league peek at the catcher Will Smith.
Either be good enough to not have to look at the signs and then you can celebrate. Or, if you do have to look at the signs, I don't know about the celebration, man. It's a tough one… it brings up the question of unwritten rules… am I mad about the celebrations and the bat flips and all that stuff? No. However, if you start looking at signs — if you start pulling this bush league stuff — that's when people start getting pissed off. That's the kind of stuff that will get you hit in other games. Now, I'm more mild-mannered and I'm gonna send the message this way … but baseball policing itself, this is where it would have to happen.
So consider this to be Bauer's verbal warning to Tatis Jr. Keep up the bush league peeking and be ready to wear one. Celebrate all you want, but keep your head and eyes facing the pitcher, bud.
NEXT: 3 Things We've Learned From the First Two Series Against the Padres