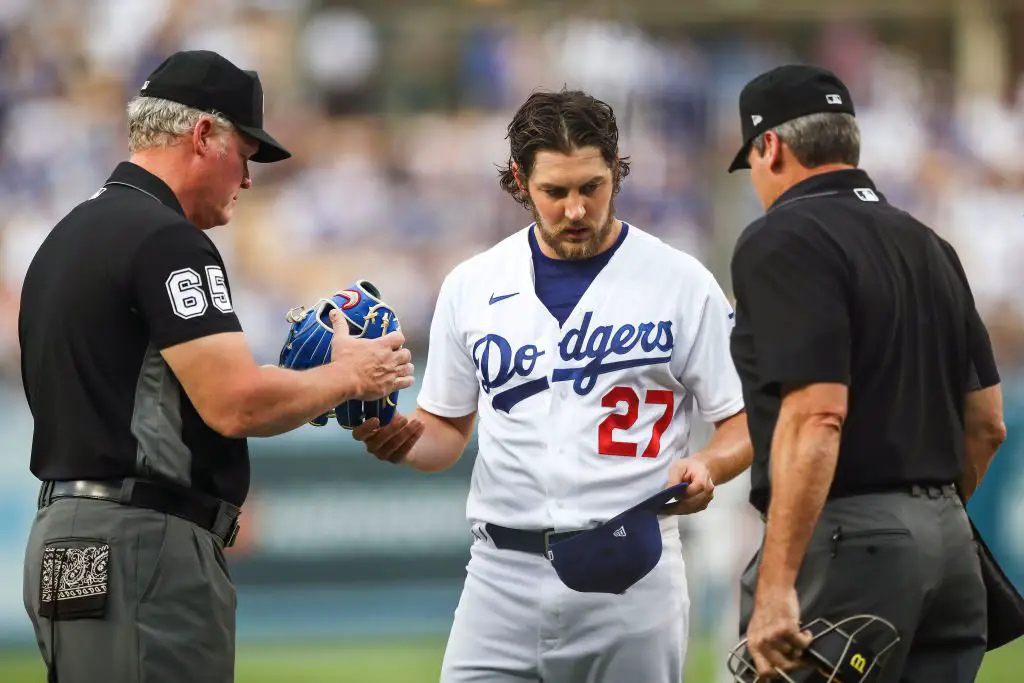 It has been almost 3 months since Trevor Bauer last threw a pitch for the Dodgers. He last appeared in a game against the Giants on June 28th when he tossed 6 innings and gave up 2 runs in a win. 
Not long after that, a report came out on the Dodgers pitcher alleging assault by a woman that Bauer had met at his home. He was later placed on administrative leave by Major League Baseball for 7 days, and that leave has been extended every week since. 
The investigation by Pasadena Police was handed off to the LA County district attorney, so that process will still need to play out. But MLB also has their own investigation into the Dodgers pitcher that seems to be waiting out possible charges. In the meantime, the latest report from Jon Heyman is that Bauer's season is done.
Trevor Bauer is expected to remain on administrative leave through the season and playoffs and not pitch for again this season. With things in a holding patter, time short and him understanding it's better not to be a distraction for the Dodgers, he is prepared to wait til 2022.

— Jon Heyman (@JonHeyman) September 10, 2021
The news isn't much of a surprise for Dodgers fans or baseball fans in general. By all indications, Bauer has not been allowed to throw or work with the team or coaches. Even if something dramatic happened in the legal case, chances are that he couldn't be ready regardless. 
But the legal battle very much plays a role in this decision. The DA could charge Bauer with a crime and proceed with the case, or they could drop it based on the evidence they currently have. Where they stand on that is still very much up in the air. 
For now, it's still a waiting game. 
UPDATE: ESPN's Jeff Passan is also reporting that Bauer's season has been ended by MLB and the Player's Association. He will continue to be paid under that agreement unless a suspension comes into play following the league's investigation.  
Dodgers: Taylor, Muncy, and More, LA Bats Running Out of Time to Put It All Together