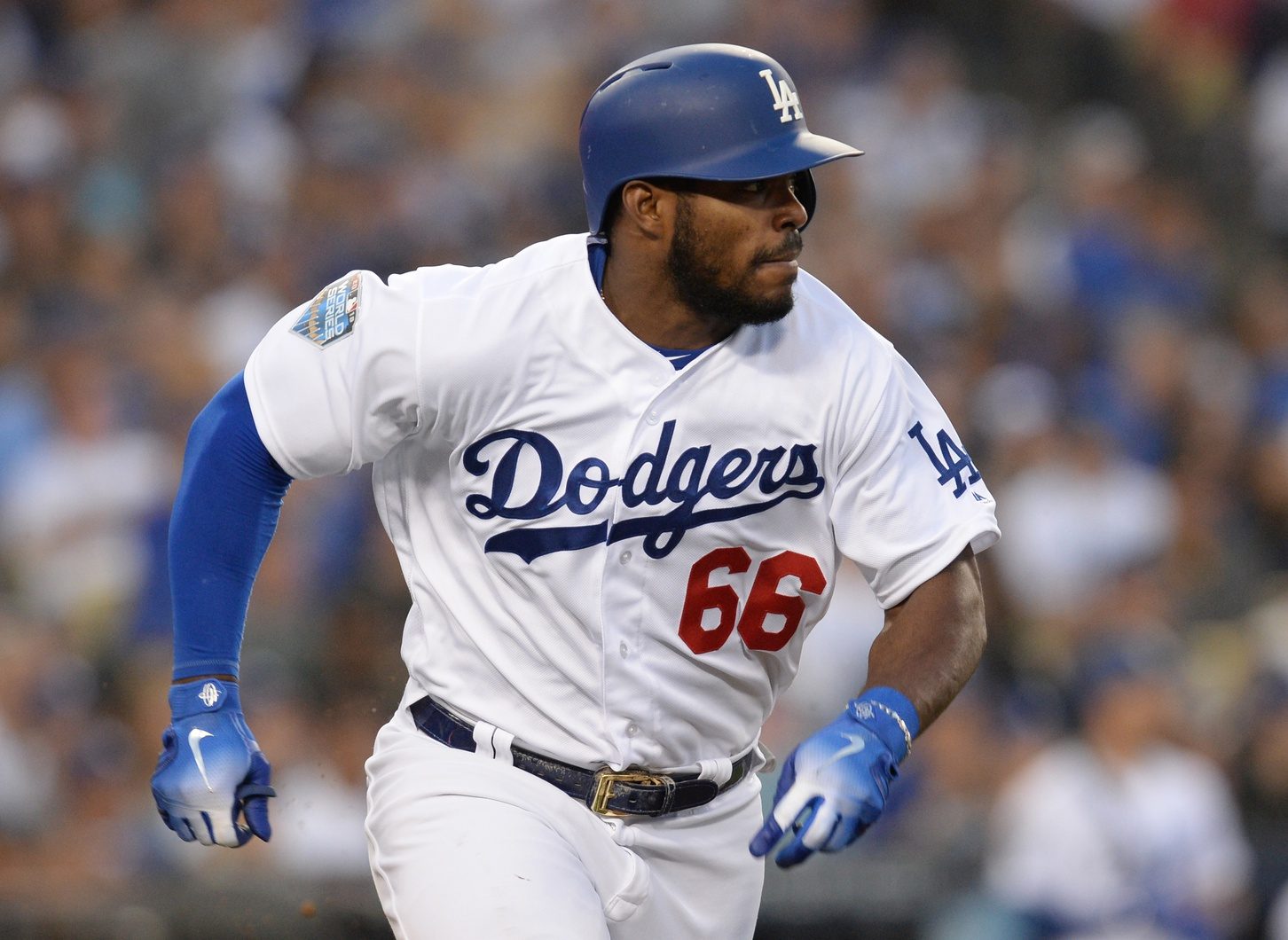 For former Dodgers outfielder Yasiel Puig, it has been an up and down rollercoaster of a career. From the heights of stardom in LA to being unable to find a job with an MLB team to now being in his second season playing out of the states, the 31-year-old hit rock bottom in his baseball life. But he's hoping to prove that things have changed — that he's changed — and is ready for a return to the big leagues…
Yasiel Puig, a former fan favorite in Dodgers Nation, has had a tough go of it over the last few years of his pro baseball career. He burst onto the scene in 2013 and became a superstar in Los Angeles. However, after a few years, things soured between him and the organization, and even some with him and the fanbase.
Eventually, the Cuban-born outfielder was sent to the Cincinnati Reds in a trade that brought the Dodgers salary relief and a pair of intriguing prospects that were later moved in parts of bigger blockbuster deals. Puig spend half a season with the Reds before he was traded to the Cleveland Indians at the 2019 trade deadline.
As he entered free agency for the first time, he had trouble finding a team for the 2020 season. His numbers in 2019 were roughly league average, which in and of itself is fine for most teams, but his reputation is what all 30 MLB teams were looking at.
On the field, his talent was evident over the first few years of his career. He hit .305 with 35 home runs over his first two seasons. In 2014 he earned an All-Star berth on the NL team. Then the rumors about him in the clubhouse got louder and the headlines became more and more questionable.
He was late to the ballpark often. He didn't always listen to the coaching staff. There were fights with teammates. There were issues with the law in the form of speeding tickets and a DUI arrest. Then there were reports of assault involving at least three women, all of whom he settled out of court with.
With teams not calling, Puig sat out the entire 2020 season. He tried to latch back on in 2021 but no teams were calling. Eventually, he returned to organized ball by joining the Mexican League where he performed well. Puig was hopeful that teams would consider offering him a chance to prove himself, but his agent couldn't get that done for him. After changing representation, he signed with the Korean Baseball Organization for the 2022 season.
Now, after being out of the Major Leagues since 2019, Yasiel is once again hopeful.
Puig told TMZ Sports that, while he's happy in the KBO, he still prefers the Dodgers or any other big league team.
"It's better to be in Los Angeles or MLB"
Baseball is a sport that never forgets, it seems. Just ask Barry Bonds or the cheating 2017 Houston Astros. Signing Yasiel Puig may come with a lot of questions for a ballclub to answer. He's a player that comes with a laundry list of past issues for sure. And he knows that.
"God put me in this spot to do the best I can to show people that I've changed from five or six years ago."
If he doesn't make it back to the states soon, he remains hopeful that his play in the KBO can change some minds. But big stats aren't always the fix to questionable behavior. This isn't the NFL.
Yasiel Puig Has Message for MLB, Truth Behind Puig's Time in LA, Should Dodgers Bring Back Puig?
Have you subscribed to our YouTube Channel yet? Subscribe and hit that notification bell to stay up to date on all the latest Dodgers news, rumors, interviews, live streams, and more!